Just when you thought that week 10 passed without a significant injury or two or five or...sigh, here we go again. Football is, indeed, a physical and violent game. Even some of the sport's biggest stars aren't immune to the ever-hungry injury bug. With some key week 11 matchups on deck, we'll sort through the latest spate of injury problems facing teams around the league. The action kicks off on Thursday night as the Jaguars and Titans square off in an AFC South battle, so go ahead and keep your eyes on the waiver wire and fire up those contingency plans as the games come fast.
Week 11 Fantasy Football Injury Report
- Week 11 means Tony Romo (clavicle) is eligible to return for Dallas. Jerry Jones has insisted that the Cowboys are not in tank mode, so if Romo is given the all-clear by the team's medical staff, there is a strong chance he will be under center when they face the Dolphins in Miami in week 11. The two-headed monster of Brandon Weeden and Matt Cassel have gone winless in Romo's absence. As of Monday, multiple reports suggest that Romo will indeed be under center against Miami.
- Steelers' QB Ben Roethlisberger returned to the field quicker than anyone -- including himself -- expected after Landry Jones was forced from Pittsburgh's week 10 win over the Browns with an ankle injury. Ben was surprisingly active as Jones' backup ahead of Michael Vick and showed no rust as he instantly hooked up with Antonio Brown for a string of big plays that ignited the Steelers' offense. With a bye in week 11, there should be absolute zero concern for Ben as he and Pittsburgh head toward a week 12 matchup with the Seahawks.
- Peyton Manning has been dealing with a few minor injuries, and that may have contributed to coach Gary Kubiak's decision to pull the league's all-time leading passer from Sunday's loss to the Chiefs. Brock Osweiler entered the game with Denver trailing 22-0 late in the third quarter. Kubiak said afterwards that Manning will remain the starter for week 11 "if healthy." Unfortunately for Manning, he is not healthy, and Osweiler has been named the starter for week 11. One of Manning's ailments is reportedly a partially torn plantar fascia in his right foot, which can be extremely painful when driving off of the foot to deliver passes. He also has a rib injury, which has affected his upper-body torque and throwing motion. Peyton should be considered day-to-day, if not week-to-week at this point. Meanwhile, WR Emmanuel Sanders exited the game around the same time with a finger injury, but it is not considered serious. Sanders had already been nursing an ankle injury in the buildup to week 10, but should be able to play in week 11 against Chicago.
- Jaguars rookie RB T.J. Yeldon was seen in a walking boot on Monday, perhaps signifying that his status for Thursday's game is in doubt. If Yeldon can not go, Denard Robinson and Toby Gerhart will step up in the Jags' backfield. Meanwhile, wideout Allen Hurns has been battling a painful abdomen injury, with local reports suggesting that sports hernia surgery may eventually be an option. Hurns seems keen to play through the injury, intending to delay any procedure until after the season. He should be monitored closely through the week.
- 49ers RB Carlos Hyde is still day-to-day with the foot injury that has bothered him throughout the season. If Hyde misses out in week 11, Shaun Draughn will be the chairman of a running back committee in the Niners' backfield. Wideout Anquan Boldin is still feeling soreness in his injured hamstring. He is likely to be limited through the week as San Francisco prepares to take on a Seahawks team that just lost to Arizona.
- Speaking of the Cardinals and Seahawks, WR Michael Floyd picked up a hamstring injury during Sunday night's win over Seattle. Floyd got hurt late in the game, and is shaping up to be considered day-to-day as week 11 approaches. With fellow wideout John Brown nursing two bad hamstrings, Jaron Brown and J.J. Nelson could see extra work alongside Larry Fitzgerald against the Bengals.
- Texans QB Brian Hoyer left his team's Monday night game in week 10 with a likely concussion. Hoyer was taken to the locker room for further observation and analysis, and remained there after the team's medical staff had returned to the sideline. Hoyer was replaced by T.J. Yates.
- Giants WR Victor Cruz will see his 2015 season come to an end before it ever really began due to the troublesome calf injury that has plagued him since training camp. Cruz missed the balance of last season with a severe knee injury, and will undergo a procedure to try and solve the issue which has prevented him from seeing the field this year. Cruz will hope to return at full-strength next summer. He has three years left on his contract.
- Bears' RB Matt Forte (knee) was inactive in week 10, but his odds of playing against the Broncos in week 11 should be greater. Forte has been limited at practice, and with Jeremy Langford performing well in his absence, the Bears may play it ultra-safe with their veteran back. That said, if Forte can practice in full and is cleared, Chicago will gladly welcome him back into the fold against the Broncos' dangerous defense.
- Andrew Luck (kidney) is expected to miss anywhere from 2-6 weeks, with recent reports suggesting a 4-week absence is most likely for the Colts' 26-year-old signal-caller. A bad season for Indy just got worse, and Matt Hasselbeck should take over while Luck recovers. Hasselbeck has led the team to two wins earlier in the season while Luck was nursing a shoulder injury. The Colts' receivers and tight ends will see a slight drop in their collective value for week 11 against Atlanta. Expect a healthy dose of Frank Gore.
- Packers' wideout Ty Montgomery will hope to return from his ankle injury in week 11 against the Vikings. Montgomery was able to practice on a limited basis ahead of week 10, but did not play after he was downgraded to doubtful for the second week in a row.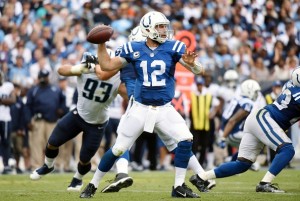 - Jets QB Ryan Fitzpatrick underwent thumb surgery on Friday morning as expected, and the team is still hoping to have him available to face off against one of his former teams, Houston, in week 11. Should Fitzpatrick not get clearance, Geno Smith would be in line to make the start against the Texans.
- Patriots wideout Julian Edelman left his team's week 10 game in New York against the Giants with a foot injury. Edelman was injured in the first half and did not return. Brandon LaFell and Danny Amendola both stepped up in Edelman's absence, and New England is bracing to be without the former Midshipman for several weeks as he is due to undergo surgery on Monday on what is being described as a Jones fracture, an injury similar to the one that kept Cowboys wideout Dez Bryant sidelined for 6 weeks.
- Sam Bradford looks like he may be in danger of missing the Eagles' next game against Tampa Bay after suffering injuries to his shoulder and head in week 10 against the Dolphins. He was driven into the ground on a third-down sack, and was later diagnosed with a concussion in addition to a grade 2 AC joint sprain to his non-throwing shoulder. Mark Sanchez would be in line to start against the Bucs if Bradford can not play. Ryan Mathews also sustained a concussion in the game, and will be in the league's head injury protocol through the week. If he can not play, DeMarco Murray and Darren Sproles would handle the majority of the load on their own.
- Per reports, Chargers wideout Malcom Floyd plans to rehab his shoulder injury through the rest of the year while continuing to play through the pain barrier. Floyd is expected to retire at the end of the year, so it makes sense that the veteran is hoping to give it a go. The Chargers are already without Keenan Allen (kidney) for the rest of the season. Floyd's name will likely be a mainstay on the injury report as he rehabs and receives treatment, and he should be considered day-to-day entering week 11. Dontrelle Inman is a name to watch, as he would see extra snaps in Floyd's stead.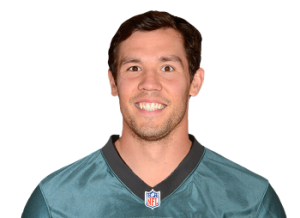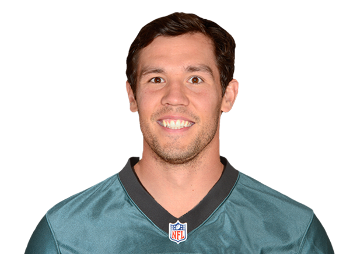 - Austin Seferian-Jenkins (shoulder) saw his comeback delayed yet another week as Tampa held off Dallas in week 10. ASJ has been trending toward a return for the better part of the last 3 weeks, yet Tampa has chosen to play it extra-safe with their talented second-year tight end. It would be quite an upset if Seferian-Jenkins did not suit up against the Eagles in week 11.
- Browns wideout Andrew Hawkins was released from the hospital on Monday after staying overnight for observation following his week 10 concussion. The 5-foot-7 180-pound Hawkins was injured in the fourth quarter after taking a big hit from Steelers LB Jarvis Jones. Hawkins has already suffered one concussion this season -- last month in St. Louis, which forced him to miss his team's next 2 games.
- The Titans will likely be without Justin Hunter for the rest of the season after he suffered a nasty-looking leg injury during week 10. Hunter was rolled up on from behind while blocking, and was quickly carted off the field with his injured leg in an air-cast. Dorial Green-Beckham and Harry Douglas stand to see increased work with Hunter out, while Kendall Wright (knee) hopes to return from an injury of his own in week 11. Wright may be considered a long shot due to the nature of the short week as Tennessee takes on Jacksonville on Thursday night. He was limited in Monday's practice.
The Jaguars and Titans will release their initial injury reports on Tuesday, with the rest of the league following suit on Wednesday.