The playoffs are almost here and teams on the cusp are probably desperate for a difference maker. The waiver wire is picked over, but there are still some solid RB sleepers that can help out in a pinch. Make those last minute claims to shore up your roster and continue to push on to the promised land.
Quarterback
Colin Kaepernick SF 16.5% owned
This may be the last time that Kaepernick can be discussed as a sleeper, if that point has not already passed. This is a quarterback that has scored 20, 15, 26 and 26 fantasy points in his last four games. The last one of those games was against a solid Cardinals defense. Kaepernick's rushing ability gives him a very high floor and also a high ceiling. It would be a surprise to see less than 20 points from Kaepernick this week, even going against the Patriots and their best in the business game planning.
Running Back
Chris Thompson WAS 27.1% owned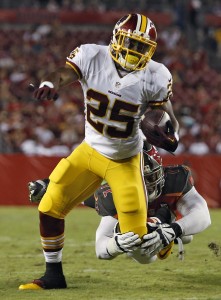 Everyone and their brother is talking up Rob Kelley as the back to own in Washington, and rightly so. Kelley is getting almost all of the work on rushing downs and that is probably going to continue. On the other hand, Thompson has had some nice games in his own right just based on his passing down role. The Packers are stronger versus the run than the pass and that could mean more touches for Thompson. The only caveat is that Thompson lost a fumble last week and with Jay Gruden that can lead to lost playing time.
Kenneth Dixon BAL 21.7% owned
The Ravens are in the midst of a full blown committee in the backfield with Dixon on the rise. His touches have increased each of the past four weeks, culminating with his 80 yard performance in week 10. The Cowboys are mediocre against the run and Dixon is a sneaky good play this week. There is a very good chance that he approaches 100 total yards and a touchdown is also well within reach.
Going Deep
Akeem Hunt HOU 0.3% owned
The Texans have been trending toward more of a committee approach to preserve starter Lamar Miller. This week the team will be without backups Alfred Blue and Jonathan Grimes. Akeem Hunt is left as the last man standing behind Miller, but he should not be overlooked. Last week against the Jaguars Hunt managed 52 yards on 8 carries. The Raiders have some playmakers on defense, but they can certainly still give up yards in chunks. With Miller a bit dinged up, Hunt could potentially see double digit touches. That kind of volume could make him worth a flex if your team is beat up or has players on a bye.
Wide Receiver
Tyler Lockett SEA 29.4% owned
Lockett has looked like a shadow of his former self for much of the season, but he is getting healthy. Last week he managed 72 receiving yards against the Patriots on only three catches. There will not be many games where he makes more than 3 catches, but Lockett has the potential to score any time he touches the ball. Now that he is back to looking like the speed demon that people thought they were drafting, he is worth a flier as a WR3/Flex.
Tyreek Hill KC 21.4% owned
He was listed in the waiver wire column this week, but Hill still qualifies as a sleeper to some as he is just over 20 percent owned. The Chiefs throw a ton of short passes, but Hill is their one big play threat. Week 11 brings a matchup with a Bucs defense that has allowed the second most points to opposing wide receivers. Relying on a Chiefs wide receiver can be a scary proposition, but all of the variables are lining up for Hill to have a big game.
Is He Still Playing?
Cordarrelle Patterson MIN 3.5% owned
Way back in week 7 it looked like Patterson had broken out after three weeks with at least 4 catches. He also managed to score two touchdowns in that time, but the team then remembered Stefon Diggs. Over the last few weeks, Diggs has been producing in a big way. His play has gotten the attention of coach Bruce Arians who says that Patrick Peterson will shadow him on Sunday. It is very likely that Sam Bradford is going to look away from Diggs with Peterson on him like a blanket, but who will benefit. My best guess is that the targets up for grabs will be split by Patterson and Thielen. Between these two, I would bet on Patterson's big play ability.
Tight End
Jesse James PIT 12.2% owned
Over the rest of the season, I would rather own Ladarius Green, but for week 11 Jesse James is a better bet to produce. As Green continues to round back into form, James already has a nice red zone rapport with Roethlisberger. The matchup against the Browns is laughable and the Steelers are probably going to score A LOT. This means that there should be plenty of trips to the red zone and I am betting that James cashes in on one of those trips.