There have been some surprising developments leading into the games of week 11. Quarterbacks were particularly intriguing as coaches discuss changes for the stretch run. The Bills will be playing Nate Peterman instead of Tyrod Taylor, at least for this week. In Minnesota it sounds like Teddy Bridgewater was considered for the starting role despite the excellent play of Case Keenum recently. For help with quarterback and every other position, here are the week 11 upside picks.
Quarterback
Eli Manning NYG
The Giants have been a model of dysfunction this season. I would never pick them to win this game, but fantasy is a different animal. There are a couple of decent options open to Eli Manning in the passing game and the Chiefs should have a big lead. There is reason to believe that there will be plenty of garbage time production in this one. It is setting up to be a big game for Eli Manning…in a loss of course. On most sites Manning is projected around 18 fantasy points. I'm more in the range of 25.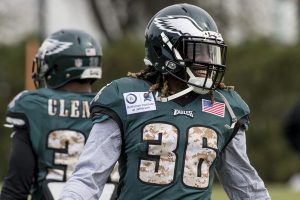 Running Back
Jay Ajayi PHI
The Eagles have been very inconsistent when it comes to running back play. They now have a full stable of capable backs at their disposal. Week 11 brings a matchup with a banged up, desperate Cowboys team. In this case desperation will not be enough to even stay competitive. Without Zeke Elliott to keep the defense honest, the Eagles are going to swarm Dak Prescott. This one is going to be over early and Jay Ajayi will eat up the clock along with chunks of yardage. He will have over 100 total yards and a score in this one.
Wide Receiver
Brandin Cooks NE
The Patriots number one receiver has been solid but unspectacular in 2017. Fantasy owners were expecting big things and have been disappointed at times. Week 11 is not going to be one of those times. The Raiders struggle to defend the pass and that is a recipe for failure when facing the GOAT Tom Brady. The deep ball to Cooks is going to be a part of the gameplan, and a successful part at that. I like Cook for well over 100 yards in this game.
Tight End
Vernon Davis WAS
The defense has been playing lights out for New Orleans with one exception. They are not great at covering opposing tight ends. That could put them in a pickle facing the wily veteran Vernon Davis. It has been two straight weeks of Davis topping 70 receiving yards. He has the trust of Kirk Cousins and likely at least one more start. The Redskins passing game leaves a lot to be desired with regard to wideouts so Davis should be a big part of the gameplan. He may be the main source of offense for Washington in week 11.
No Brainer Bonus Pick
Travis Kelce KC
It seems unlikely that anyone would be sitting Kelce regardless of matchup. Still, this one is so spectacular that I had to comment. A tight end with Kelce's skill set versus the Giants defense is like a flamethrower versus a mosquito. There is only one logical outcome. Of course, the fact that this is so amazingly obvious means that Kelce should finish with 2 catches for 30 yards or something because…fantasy football.
D/ST
NO Saints
It was mentioned above that the Saints have been playing out of their minds on D. There is no reason to think that this should stop when Washington comes to town. Kirk Cousins is a nice quarterback, but come on. He has a pack of stone handed wide receivers and a running back that couldn't beat out Rob Kelley. I still think that Vernon Davis should have a nice day but that is about it. There should be multiple turnovers by the 'Skins in this one as that is their thing when they press. Think NO@ CAR week 3, this should be about 30-13 with New Orleans on top, and 3 Washington turnovers along the way.
Those are my favorite upside picks for week 11. Make sure to check back tomorrow for the sleeper picks. For some extras, follow us on Twitter: @_knuckleheads, @BrendanCole16, and @JakeTrowbridge.