In week 10, several young running backs served the league with notice that they are the future. Two of them (Charcandrick West and Jeremy Langford) did so against top flight defenses, making their performances that much more impressive. Matt Jones faced the Saints who are putrid on defense, but he is still a talented young rusher. In addition, the usual suspects whacked opponents (Peterson, McCoy, Gurley). Looking forward, we'll see which players are on a bye and which should be a good play for week 11.
Key Players On A Bye: Duke Johnson Jr. CLE, Mark Ingram and C.J. Spiller NO, NYG Four Headed RB Monster, DeAngelo Williams PIT
Injury Concerns:
Matt Forte CHI Questionable, Eddie Lacy GB Questionable, T.J. Yeldon JAC Questionable Ryan Mathews PHI Questionable, Carlos Hyde SF Questionable, David Cobb TEN Questionable, Alfred Morris WAS Questionable
Week 11 Waiver Wire Picks: Quarterback And Tight End / Running Back / Wide Receiver / IDP
Elite Tier - Must Starts
1. Devonta Freeman ATL vs. IND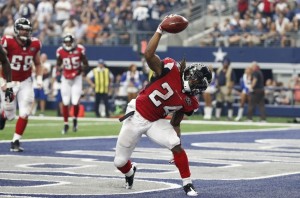 2. Charcandrick West KC @SD
3. Todd Gurley STL @BAL
4. Adrian Peterson MIN vs. GB
5. LeSean McCoy BUF @NE
6. DeMarco Murray PHI vs. TB
Devonta Freeman has a choice matchup this week and he moves back up to the number one spot. Charcandrick West has been amazing lately and the Chargers are not up to the task of slowing him down. Todd Gurley starts no matter what, this week is no exception. Ditto for Adrian Peterson. McCoy may not be able to run a ton because the Pats may have a lead; he'll make up for it in the passing game. DeMarco Murray should find little resistance in Tampa this week.
Strong Plays - Reliable, But A Notch Below
7. LeGarrette Blount NE vs. BUF
8. Jeremy Langford CHI vs. DEN
9. Lamar Miller MIA vs. DAL
10. Marshawn Lynch SEA vs. SF
11. Danny Woodhead SD vs. KC
12. Darren McFadden DAL @MIA
13. Latavius Murray OAK @DET
14. Jonathan Stewart CAR vs. WAS
Blount should have a strong week versus Buffalo and score at least once. Langford faces a tough defense in Denver, but he did last week as well and he dominated. Miller may lose a few touches to Ajayi, but against the Cowboys he'll still have a nice game. Lynch faces the 49ers and he should approach 100 yards. Woodhead is always a strong play as he is a favorite of Phillip Rivers. McFadden goes up against a Miami defense that cannot stop running backs. Murray draws Detroit; they have been a bit better on defense but still bad. Stewart is on a roll and the Panthers should be killing clock at the end of this game.
Risk/Reward - Potentially Shaky
15. Justin Forsett BAL vs. STL
16. Chris Ivory NYJ @HOU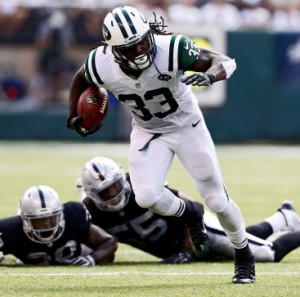 17. James Starks GB @MIN
18. Chris Johnson ARI vs. CIN
19. Frank Gore IND @ATL
20. Doug Martin TB @PHI
21. Giovani Bernard CIN @ARI
Forsett will face a St. Louis defense that was just shredded by Jeremy Langford. Ivory goes into Houston where they have not allowed a touchdown in 9 quarters; could be a tougher draw than you think. Starks was unimpressive last week and will probably be mediocre again. Chris Johnson may put up some points versus the Bengals, but temper your expectations. Gore has a decent matchup, but he is too up and down to rely on. Martin has also had issues with consistency. Bernard faces a strong defense and you never know when Hill will show up to vulture touchdowns.
Question Marks - RB2 Upside
22. Ronnie Hillman DEN @CHI
23. Antonio Andrews TEN @JAC
24. Charles Sims TB @PHI
25. Ryan Mathews PHI vs. TB Questionable
26. Karlos Williams BUF @NE
27. Matt Jones WAS @CAR
Hillman should still be the lead back for now and Brock Osweiler's effectiveness will likely determine how much running room is available. Andrews will get his chances for Tennessee and he may reach the endzone against the Jags. Sims should see plenty of passes in Philly; still a strong PPR play. Mathews would be ranked higher if he were healthier. Williams is always a threat to score, but his streak will end sometime and owners will be left out in the cold. Matt Jones has an awful matchup, but he will get enough touches to be worthy of a flex spot or maybe RB2.
Flex Appeal - Usable In A Pinch
28. C.J. Anderson DEN @CHI
29. Melvin Gordon SD vs. KC
30. Jeremy Hill CIN @ARI
31. T.J. Yeldon JAC vs. TEN Questionable
32. Alfred Blue HOU vs. NYJ
33. Eddie Lacy GB @MIN
34. Shaun Draughn SF @SEA
35. Alfred Morris WAS @CAR
36. Dexter McCluster TEN @JAC
Anderson will still see some carries and he is a threat to score. Gordon is unpredictable and definitely the second option in the San Diego ground attack. Hill is disappointing, but he is capable of multiple touchdowns at any time. Yeldon may not play and if he sits then Denard Robinson is a flex play. Alfred Blue has not done much with the starting job but he'll still get a lot of touches. Eddie Lacy has been about as impressive as Jeremy Hill, roll him out this week if you dare. Draughn is the lead back in San Francisco unless Hyde manages to play. Personally, I believe that Hyde sits for at least one more game. Morris looked good against the Saints but don't get used to it. McCluster scored last week and outside of PPR leagues that is the only way that he can be useful.
Tough Sledding - Let Them Be Someone Else's Problem
37. Jay Ajayi MIA vs. DAL
38. Andre Ellington ARI vs. CIN
39. James White NE vs. BUF
40. Ahmad Bradshaw IND @ATL
41. Darren Sproles PHI vs. TB
42. Brandon Bolden NE vs. BUF
43. Theo Riddick DET vs. OAK
44. Denard Robinson JAC vs. TEN
45. David Cobb TEN @JAC
46. Jay Ajayi MIA vs. DAL
47. Joique Bell DET vs. OAK
48. Mike Tolbert CAR vs. WAS
49. Chris Thompson WAS @CAR
50. Marcel Reece OAK @DET