You guys, it's already Week 11. That leaves just 3 weeks until the fantasy playoffs! By now, you should know what your team is. You know who your reliable, every-week starts are, and you know which guys only perform when the matchup is heavily in their favor. If you don't know that yet...might I suggest fantasy baseball?
If some of the matchup-dependent players on your roster appear they may be running into a brick wall made out of helmets this week, I offer you another batch of inconspicuous sleeper options.
Quarterback
Jay Cutler, MIA (vs. TB)
The last time I featured Smokin' Jay in this column, he made me look like a damned fool. Because that's what Jay Cutler does to people who trust him. Just ask Adam Gase. Yet, because this week's quarterback landscape is either a Hot or Not situation, there really isn't anyone else flying under the radar who's worthy of a sleeper candidacy. (I'm still not wholly comfortable relying on Ryan's Fitzmagic, even with Mike Evans back in the mix.) So congratulations, Jay. Like most things in your life, you've won a spot on this list by default.
And look, the matchup here looks great on paper. Unless it's the same paper you used last week when Josh McCown laid a big fat egg against the 27th-ranked Buccaneers pass defense. But even if that was the turning point for the struggling Tampa Bay unit, I like Cutler's chances. In his last four starts, he's thrown for multiple touchdowns and has limited his turnovers. Like always, he has the opportunity to make you look like an idiot. But I'm betting against that outcome, at least for this week.
Running Back
Danny Woodhead OR Javorius Allen, BAL (vs. GB)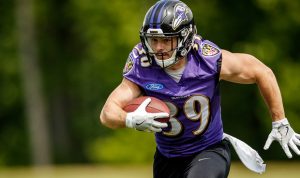 Just because Dom Caper's defense looked respectable last week against the Bears, no one should be anointing the Packers' D as a "unit to beat." Too often, the team's pass rushers look gassed and/or completely befuddled, and the linebackers repeatedly get beaten by the short passing game. The Packers have gotten wrecked against screen plays all year, including a 63-yarder by Theo Riddick in their Week 9 matchup with Detroit.
And guess who could be coming back into the fold? DANNY M'FING WOODHEAD! You know, the guy literally used to describe other running backs who somehow bludgeon defenses via tiny passes. (As in, "Andre Ellington fits the Danny Woodhead mold" or "James White is a Danny Woodhead type.") Woodhead had instant rapport with Joe Flacco, who's become much more reliant on short passes over the years, and although it's an extremely limited sample size, fantasy owners should be encouraged by his 3-for-33 stat line in the six snaps he played in the Ravens first game before sustaining a hamstring injury. If Woodhead isn't ready to suit up this week, Javorius "Buck" Allen is a worthy sleeper candidate. He won't catch as many passes as his veteran counterpart, but it's clear Baltimore prefers to use him in similar situations. Bottom line: You want whoever's catching short passes against this mediocre defense.
Week 11 High Upside Picks: Jay Ajayi Runs Over the Cowboys
Wide Receiver
Randall Cobb, GB (vs. BAL)
Green Bay's backfield is once again in turmoil. Surprise star Aaron Jones is out for at least 3 weeks with an MCL sprain and Ty Montgomery re-injured his ribs, which forced 4th round draft pick Jamaal Williams into the starting role. And although Williams proved he's fairly capable between the tackles, the Packers still need a third down/pass-catching piece to utilize alongside him. Last week against the Bears, Mike McCarthy reverted to using Randall Cobb as that piece.
It's not uncharted territory for Cobb, who was used on end arounds, wildcat plays, and even as a straight-forward runner long before Montgomery converted to running back. It seems unlikely Montgomery plays this week, and so we should see more of Cobb in the backfield. Added rushing bonus aside, Cobb has proven to be exactly the spark this struggling offense needed this past couple of weeks, as he's averaged 7.3 yards after the catch. Considering Brett Hundley's reluctance to throw the ball downfield, those short passes to Cobb likely won't go away anytime soon. And if he can keep putting moves on defenders and picking up 40-yard chunk plays, he can be a positive fantasy asset in what should be a competitive game against the Ravens. (Thanks to the aforementioned Danny Woodhead, no doubt.)
Tight End
Austin Hooper, ATL (vs. SEA)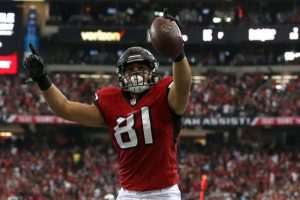 Don't you just hate it when fantasy analysts pat themselves on the back for making a good pick? It's like, "Hey butthole, that's your job. You don't get cookies for doing the thing you're paid to do!" And I totally agree with you. So I'm not going to say a word about my tight end pick from last week.
...However, I will say that I've been on a roll with this position and you should probably listen to me because if you don't you're just acting like a big dumb dummy. Ahem. The Seahawks, for all their defensive prowess, have consistently given up big yardage to opposing tight ends. Meanwhile, Matt Ryan has been looking to dump his passes off underneath quite a bit more these last few weeks, and his yards per attempt reached a paltry 7.4 last week against Dallas. Austin Hooper has benefitted from all that underneath work, as he's averaged 5.5 targets over the last five games. He also reeled in two touchdowns during that time, and should see more red zone action this Sunday with Seattle trying to shut down Julio Jones without the aid of Richard Sherman.