Week 11 is here, and the tight end landscape is as clear as ever. Gronk and Greg remain at the top of the pack, supported by a sturdy gaggle of high-end playmakers. The likes of Zach Miller, Brent Celek, and Scott Chandler have provided us with a bit of nostalgia, along with a reminder that outside of the very top of the tight end hierarchy, anything can happen on any given game day. Thankfully, we're in the final stage of bye weeks and, even better, the injuries at the position have tapered off, at least for now. Here's a look at our week 11 tight end rankings.
Remember: an asterisk (*) next to a player's name denotes a possible injury concern for that player.
Week 11 Tight End Rankings 1-10
1. Rob Gronkowski vs BUF- Water is wet.
2. Greg Olsen vs WAS- Rice is white. And brown. And black. And red. And yellow. And purple.
3. Tyler Eifert @ ARI- Had a couple of bad drops in week 10 that he'll be looking to rebound from. The Bengals will need him to get back to his best if they are to bounce back quickly from their first loss of 2015 against the high-flying Cardinals in week 11. His upside keeps him in the top-3 this week.
4. Jordan Reed @ CAR- 2 of his 3 catches went for touchdowns in week 10. The Panthers present a tougher test, but Reed is healthy, and Kirk Cousins' confidence is soaring after a nice performance against the hapless Saints' defense.
5. Antonio Gates vs KC- His knee should be just fine after the bye week. The Chargers could be a sneaky upset pick this week as they come off of their open date hungry for a victory against a Chiefs' team that may be a tad overconfident following a win in Denver. Gates has averaged nearly 11 targets this season, and he'll have plenty more coming his way with the Chargers' receiving corps a walking M*A*S*H* unit.
6. Travis Kelce @ SD- The flipside of that SD/KC matchup has Travis Kelce looking to expose a Chargers' defense that has surrendered the 11th-most fantasy points to opposing tight ends in 2015. Kelce has only scored once since week 1, but he's a strong weekly play. A good bet for another 7-10 targets this week.
7. Jimmy Graham vs SF- Things just haven't gone Jimmy Graham's way in Seattle this year. He hasn't scored since week 3, but Russell Wilson is beginning to trust him as a worthy target man, particularly in the red-zone, where he was targeted twice in week 10. The 49ers saw Jacob Tamme have a nice day in week 9, so perhaps Graham can make a similar exploitation.
8. Zach Ertz vs TB- Season-high 10 targets in week 10, though he took a backseat to Brent Celek in terms of overall production. With Mark Sanchez likely to start in place of Sam Bradford, Ertz may benefit some as Sanchize loves to keep things simple. That bodes well for the tight end. Tampa is right in the middle of the pack in terms of points surrendered to tight ends, but we like Ertz as a top-10 play this week. In a worst-case scenario, Ertz provides owners with a sturdy week-to-week floor now that he has established himself in the offense.
9. Jason Witten @ MIA- In case you haven't heard, Tony Romo is set to return in week 11. We assume Jason Witten is doing something akin to baking crownies as we speak. Miami is solid against tight ends, but they haven't seen anything like the Romo/Witten dream team that is headed their way in week 11. Even without Romo, Witten still averaged a solid 7 looks per game.
10. Martellus Bennett vs DEN- Much like Zach Ertz, Marty B took a backseat to his complimentary tight end, Zach Miller, in week 10. Part of the reason for Miller's outburst, which followed his catch-of-the-year contender in week 9, was Bennett's presence over the middle. Now that Miller has re-established himself as a seam threat, look for Bennett to bounce back in week 11 with no less than 7 targets coming his way against a Broncos team that is good but not great at covering tight ends.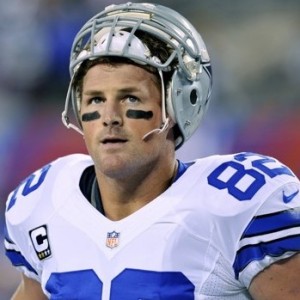 Week 11 Tight End Rankings 11-32
11. Delanie Walker @ JAX
12. Charles Clay @ NE
13. Eric Ebron vs OAK
14. Jacob Tamme vs IND
15. Richard Rodgers @ MIN
16. Jordan Cameron vs DAL
17. Julius Thomas vs TEN
18. Crockett Gillmore vs STL
19. Coby Fleener @ ATL
20. Kyle Rudolph vs GB
21. Vernon Davis @ CHI
22. Ladarius Green* vs KC
23. Darren Fells vs CIN
24. Dwayne Allen @ ATL
25. Jermaine Gresham vs CIN
26. Brent Celek vs TB
27. Owen Daniels @ CHI
28. Clive Walford @ DET
29. Zach Miller vs DEN
30. Scott Chandler vs BUF
31. Jared Cook @ BAL
32. Maxx Williams vs STL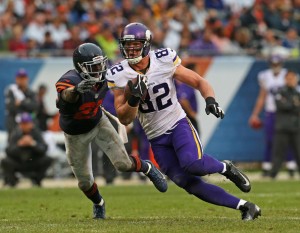 Week 11 Tight End Sleepers
Jacob Tamme vs IND- You're going to notice a theme here: Revenge of the tight ends. Tamme probably looks back on his time in Indy with fond memories, but it's always nice to show a former club why they were wrong to let you go. He's also coming off of a huge two-game spree in which he has posted 16 catches, 164 yards and 1 touchdown.
Jermaine Gresham vs CIN- Revenge! Still had a role in week 10 even with Darren Fells back in the fold. Scored against the Seahawks and will be looking to do the same against his former club.
Scott Chandler vs BUF- Revenge! Caught 1 pass for 1 yard and a touchdown in week 10 against the Giants. No one makes the most out of two-tight end personnel better than New England, and with Julian Edelman shelved for a few weeks, the Pats will need another receiver to emerge. The sure-handed Chandler posted a 3/23 line on 5 targets against his former club in week 2.
Zach Miller vs DEN- Reven-- oh, wait, nevermind. Nevertheless, welcome back to fantasy relevance, Zach. After pulling in the go-ahead score in acrobatic fashion in week 9, Miller broke loose against the Lions for a monstrous 5/107/2 line. We wouldn't exactly be scrambling to the waiver wire to procure his services, but he's definitely in the dart-throw discussion. A tip of the hat to you if you started him in a daily format last week.
Week 11 Tight End Injuries to Monitor
- Antonio Gates (knee)
- Ladarius Green (ankle)
- Austin Seferian-Jenkins (shoulder)
Good luck in week 11.