Week 12 is probably the beginning of the end for the Bengals offense without two stars, but maybe the backups can step up. Most of the sleepers are coming from injury riddled teams at this point. Of course there are always teams that are playing against the Packers incredibly feeble defense. Wherever they come from, here are the sleeper picks for week 12.
Quarterback
Carson Wentz PHI 33.8% owned
It has been a tough few weeks for Wentz after his excellent start to the season. He has not reached 20 fantasy points since week 3. There have been two occasions where Wentz did not even score double digits, but there is hope in week 12. That hope comes in the form of a putrid Packers defense. Green Bay cannot stop anyone and the Eagles should prove to be no exception. He has struggled with the steep learning curve of the NFL, but Wentz should find some respite in Green Bay.
Running Back
Rex Burkhead CIN 4.2% owned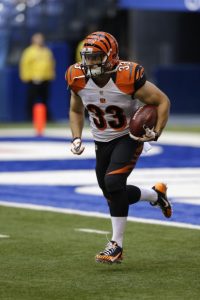 The Bengals have lost about half of their offensive production with injuries taking A.J. Green and Giovani Bernard. This offense is likely to struggle down the stretch, but someone will benefit in fantasy. One of the likely parties is Rex Burkhead, who will be thrust into the backup role behind Jeremy Hill. Burkhead is a favorite to take over some of the receiving duties vacated by Bernard and that could mean some decent value. In PPR leagues Burkhead is more attractive, but he is a decent dice roll in any deeper format.
Jonathan Williams BUF 0.2% owned
The Bills are hurting in the backfield, but it looks like LeSean McCoy will try to play. It has already been determined that Mike Gillislee is not going to be available, so Jonathan Williams will be the backup. Reggie Bush is technically in the mix, but he will probably not see many carries if any. It is hard to imagine McCoy handling his full workload after the gruesome thumb injury that he suffered in week 11. That should mean that Jonathan Williams will see a decent number of touches. The Bills offense is missing some pieces, but they are still good enough at running the ball to give Williams some value.
Watch The Injury Report
Wendell Smallwood PHI 39.2% owned
This is a precarious play because there are so many unknowns with the Eagles injury situation. Darren Sproles and Ryan Mathews are both dinged up, but they also both may play. Smallwood has been very productive when given a chance, but it is difficult to predict how many touches the coaches will give him. The best way to handle this may be to check around game time and see who will play. If Sproles or Mathews are out, Smallwood is a high upside play.
Wide Receiver
Tyler Boyd CIN 32.8% owned
Like Burkhead above, Boyd is going to be given extra chances due to the Bengals being shorthanded. There is a huge void at wide receiver and it will need to be filled by Boyd and Brandon LaFell. There is some upside to LaFell as he has been moderately productive in the past. Boyd has the higher ceiling and will probably see more touches. The coaching staff should be looking to see what they have in the young receiver, but his time to learn was just cut to zero. Boyd is going to see a lot of targets, what he does with them will determine whether this is a one week recommendation or not.
Marquise Lee JAC 6.2% owned
In three of his last five games, Lee has managed double digit fantasy points. The Jaguars are constantly behind and they throw a lot as a result. Lee has been one of the more reliable targets for Blake Bortles this season and that should be true again in week 12. Buffalo has a solid defense, but they can be vulnerable to the pass at times. This should be a solid output from Lee, but it may be time to cut bait after as the Broncos and Vikings come to town in weeks 13 and 14.
Back To The Lineup
Jeremy Kerley SF 11.9% owned
After being a waiver wire darling earlier in the season, Kerley has faded back to the abyss. He should not be trusted on a weekly basis due to short receptions and a quarterback that derives value from rushing. Against the Dolphins in week 12, Kerley should see enough action that he will go back to having some value. Jay Ajayi is probably going to run rampant over the 49ers terrible run defense. That will leave Kaepernick and the Niners playing catch up all day long. There should be a lot of passes thrown and there are very few reliable targets for San Francisco. Kerley is not going to catch any long touchdown passes, but as a volume play he should be acceptable.
Tight End
Logan Paulsen CHI 0.1% owned
The talent level of Paulsen is a big drop off from Zach Miller, but there should be plenty of opportunity. The Titans defense is not fearsome, but Matt Barkley is going to be at the helm for Chicago. The only reason that Barkley and Paulsen may be able to put a little something together is that they should be familiar with each other from practicing with the backups. Garbage time is probably going to come early in this contest and Barkley to Paulsen could come to fruition against the Titans 3rd string defenders late in the game.