If I could turn back time, if I could find a way, I'd take back those words that hurt you. And you'd stay.
I never thought I'd start a column with lyrics from a Cher slow jam, but I also didn't expect my sleeper picks from last week to make me weep the tears of a thousand clowns. It was a rough one. Jay Cutler continued doing the thing Smokin' Jay is best at: Disappointing anyone who dares to believe in him. Danny Woodhead clearly didn't have the rust knocked off quite yet. Randall Cobb was given the silent treatment from his feeble quarterback. And Austin Hooper somehow ended up with negative yards.
So an apology is in order to anyone who dared put their lineups in my hands. I really pulled a Cutler on you, and for that I'm sorry. But this week I'll once again try to reach the stars...and give them all to you. Then maybe you'll love me like you used to do? (Okay, that's officially the last Cher reference for today. I promise.)
Let's get to the picks already.
Quarterback
Jacoby Brissett, IND (vs. TEN)
According to the stats, the Titans have been absolutely awful against opposing quarterbacks all year, allowing the 12th most points to the position. Those stats are actually a tad misleading, as Tennessee is much, much worse than the numbers show. Setting aside matchups with Blake Bortles (Week 2), Jay Cutler (Week 5), and DeShone Kizer (Week 7), the Titans have conceded an average of 280 yards and 2.7 TDs through the air.
Brissett is part of that average, though he was dragging down the numbers with just 212 yards and a single touchdown back in Week 6. Six weeks later, Brissett should be able to do more damage at home against the defense that just awoke Ben Roethlisberger from hibernation and allowed him to post his highest fantasy total of the year.
Running Back
J.D. McKissic, SEA (vs. SF)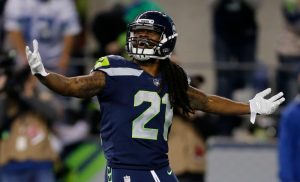 J.D. McKissic has suddenly found himself as the most trusted asset in the Seattle backfield. And while Thomas Rawls and Eddie Lacy might see some snaps in this extremely favorable matchup against the 49ers, they're the Lance Bass and Joey Fatone to McKissic's Justin Timberlake. (An earnest boy band reference in a fantasy football article? Yes. Mark it down.) This is McKissic's backfield to rule, at least for the week.
In November, only Dough Baldwin and Jimmy Graham have had more receptions than McKissic, which bodes well heading into a bout with a San Francisco defense that's given up more receiving yards to running backs than any other team. There's a lot to like here.
Wide Receiver
Dontrelle Inman, CHI (vs. PHI)
If you're a big gambler, you can take a guess at which random wideout for the Giants steps up in Sterling Shepard's absence this week should he be sidelined with his migraine issues (my money is on Roger Lewis), but if you want to avoid the guessing games, take a look at Dontrelle Inman. Two weeks in a row, Inman has led all Bears receivers in yards. Last week, he was the leader in targets and offensive snaps, as well. Granted, being the best wide receiver for the Chicago Bears is kind of like being the best parallel parker in middle school, but you could do much worse than Inman this week.
Philadelphia is putting up more points per game than any other team in the league, forcing their opponents to play from behind and abandon their running game in the process. Jordan Howard will still get his touches, but Mitch Trubisky will have to chuck the ball often if the Bears have any chance of hanging around in this one. Being the rookie's favorite target just might pay off, and it doesn't hurt that Inman's averaging a crisp 14.5 yards per reception, either.
Tight End
Tyler Kroft, CIN (vs. CLE)
I don't know if you know this, but Cleveland is bad against tight ends. ("How bad are they?" you ask, like I'm Johnny Carson and you're an audience member who doesn't understand that I can't hear you through my laptop. To which I respond, "They're so bad, Jeff Fisher would happily start them on a weekly basis. ZING!") The Browns have allowed the most receptions to the position in the league and have coughed up 8 touchdowns along the way. Only the Giants have given up more TDs to tight ends.
Not so coincidentally, Kroft put together the best performance of his young career when he played Cleveland in Week 4, posting a 6-68-2 stat line. The opportunity to feast will be there again this week, as Kroft is constantly on the field. (He played 86 percent of the Bengals' offensive snaps last week.)