There are only two weeks left of the regular season in most fantasy leagues. That means that it is time to buckle down and finish strong before the grind of the playoffs. Some interesting options are out there on many waiver wires. Let's dive in and see what gems can be unearthed going into the finale of the 2019 season.
Quarterback
Nick Foles JAC Rostered - 20%
Nick "Napoleon Dynamite" Foles made a triumphant return to starting for the Jaguars with a serviceable stat line. Without a doubt there was some rust to shake off, but the talented young receivers in Jacksonville made things easier for the veteran QB. The Jaguars have a very manageable schedule down the stretch and Foles should have some nice utility for the quarterback needy.
Sam Darnold NYJ Rostered - 12%
The Jets finally showed some willingness (and ability) to push the ball downfield in week 11. Darnold looked good as he shredded the Redskins to the tune of 293 yards and 4 scores. Say what you will about the level of competition with the abysmal Redskins, that is a great stat line. I do believe that the young QB needs a positive matchup at this point in his career. Luckily, the Jets face the Bengals and then the Dolphins coming up. That gives you two solid weeks of starting from Gang Green's quarterback.
Running Back
Derrius Guice WAS Rostered - 47%
I tend to list more lightly owned players in my column, but I feel that this one bears repeating just in case. Guice looked explosive in limited action last week and should be featured as we come down the stretch. The Redskins medical staff is probably the worst in the league, so they will use Guice as much as they want despite his recent injury history. If he is available, there is a hundred percent chance that Guice is the most talented back on waivers.
Jonathan Williams IND Rostered - 0%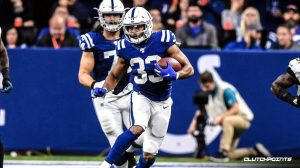 If Guice is already gone, you need to drop a bunch of FAAB on Jonathan Williams. The Colts have an excellent run game and Williams will be option 1 or 1A along with Jordan Wilkins as long as Marlon Mack is out. There is not much more to say, the Colts starting back is a very valuable piece and there is some real doubt surrounding Mack even after week 12.
Keep An Eye On...
Darrel Williams KC Rostered - 5%
It has already been proven that Williams has some utility when KC has another back dinged up. The trouble here is that the Chiefs has a bye week coming, so the status of Damien Williams and LeSean McCoy are murky. If you have the roster space, stashing Darrel isn't a bad move. Otherwise, watch the status of all of KC's running backs and keep the second Williams in mind for week 13.
For The INCREDIBLY Desperate
Kalen Ballage MIA Rostered - 34%
In terms of real football, Ballage is very bad. For fantasy football, however, Ballage is....also very bad. The one redeeming factor is that he is getting a lot of the rushing workload for the Dolphins. Best case scenario, Ballage scores a touchdown.
Handcuff Holding
Tony Pollard DAL
Alexander Mattison MIN
Darrell Henderson LAR
Ryquell Armstead JAC
Reggie Bonnafon CAR
Wide Receiver
Deebo Samuel SF Rostered - 33%
Keep an eye on the injury status here as Deebo got dinged up at the end of the Niners last game. If he is a full go, the rookie is one of the top receivers in the league over the past month. He has a nice matchup in week 12 and should continue to see a healthy target share from Jimmy G.
Darius Slayton NYG Rostered - 22%
Last we saw Slayton, he was going off for 10 catches 121 yards and two scores against the Jets. While he will not have that type of success every week, the rookie is still looking like the go-to guy for Daniel Jones. He has a daunting matchup against the Bears in week 12, but after that the Giants get the Packers, Eagles, Dolphins and Redskins. With that type of schedule down the stretch, I could see Slayton being a top receiving option in the fantasy playoffs.
Temporary Help
Randall Cobb DAL Rostered - 31%
The Cowboys top two are going to be Cooper and Gallup whenever they are healthy. At the moment, it seems like Cooper is far from top form though. Since Cooper is battling multiple injuries, Cobb is seeing plenty of extra volume and he is making the most of it. At the moment it seems like he should get at least one more week of starter-worthy volume.
Stash?
N'Keal Harry NE Rostered - 10%
There is a chance that Harry does not make much of an impact this season. At this point it looks like he could be the team's number one receiver in week 12, however. Phillip Dorsett is battling an injury and if he sits, then Harry would take over number three duties. If the rookie can get that uptick in playing time, it could open the door for him to be a bigger part of the Pats gameplan.
Tight End
Kyle Rudolph MIN Rostered - 41%
It is looking like Rudolph is a weekly starter at this point. He started the season very slowly, but has now scored in four out of five weeks and has 5 TDs in that span. Kirk Cousins is looking for his big tight end often, especially without his safety blanket, Adam Thielen. It is hard to say how things will change if Thielen comes back, but with the sparse options at tight end, Rudolph is a nice option for the moment.
Cameron Brate TB Rostered - 2%
The Bucs have put OJ Howard back in the doghouse after he turned the ball over in week 11. Brate has been easily the superior option from a fantasy standpoint and that should continue in week 12, as the Bucs face a weak Falcons defense. If Brate continues to handle the receiving work at tight end next week, he should put up a very serviceable stat line.
Check out our weekly positional rankings before you set your week 12 lineup. Follow me on Twitter for some extras and questions answered.