The prospects are a bit thin at quarterback and tight end at the moment. Difference makers are still available, but it takes a bit of digging to find the guys that should be on a roster. New injuries and roster moves are opening space, but it can be tough to predict what players will find success.
Week 11 Recommendations Results (Standard League Scoring) Quarterback
· Sam Bradford MIN – 20-28 169 yards 1 touchdown 1 fumble lost 10 Fantasy Points
· Colin Kaepernick SF – 16-30 206 yards 2 touchdowns 4 rushes 32 yards 21 Fantasy Points
· Recommend Against Carson Wentz PHI – 23-45 218 yards 2 touchdowns 2 interceptions 14 Fantasy Points
The strong defense of the Cardinals looked even stronger when faced with Sam Bradford. Taking away Diggs was a smart strategy, but Bradford should have been able to manage something. Either way, he has easier matchups ahead. Kaepernick continues to put up strong fantasy numbers with little help from his supporting cast. The bloom is off the rose for Wentz's rookie season. He is a difficult starting option going forward.
Week 11 Recommendations Results (Standard League Scoring) Tight End
· Vernon Davis WAS – 0 receptions 0 yards 0 Fantasy Points
· Cameron Brate TB – 2 receptions 18 yards 2 Fantasy Points
· Ladarius Green PIT – 0 receptions 0 yards 0 Fantasy Points
It was a devastating week for the tight end waiver wire picks, although I think that all three of them still have value going forward. Davis may need an injury to a receiver for that value to manifest. Brate is a risky start but he has upside. Green has the most potential to succeed, but he has not shown much so far.
Week 12 Waiver Wire Picks – Quarterback
Double Down
Colin Kaepernick SF 17% owned
It is astonishing that Kaepernick is not much more widely owned based on the fantasy numbers he is putting up. Three straight games with over 20 fantasy points and he is on the waiver wire in most leagues. A lot of the damage so far has been done on the ground, but he is not turning the ball over either. The points are not going to stop coming; the upcoming matchups are Miami, Chicago, New York Jets and Atlanta. PICK UP KAEPERNICK! He has by far the highest ceiling of any quarterback that is available on the waiver wire. In a good week, Kaepernick can just about win a fantasy matchup on his own.
For The Brave
Josh McCown CLE 0.6% owned
It seems like this is more of an endorsement for picking up Kaepernick than anything. This is the type of quarterback that is generally on the waiver wire by week 12. McCown has had success in spurts, but lately he has not made good decisions. The Browns are going to be throwing a lot, so that could mean a lot of points. It could also mean a lot of turnovers.
Not Right Now
Ryan Tannehill MIA 17%
He has not been good lately, but Tannehill has been decent in three of the past four games. The matchup with the 49ers coming up in week 12 seems like a nice one for Tannehill and it is. The problem is that the Niners struggle against the run even more than the pass. It may seem like Miami will throw the ball all over the yard, but in reality it is more likely that Jay Ajayi goes off for 200 yards.
The Rest Of The Waiver Wire Picks
Week 12 Waiver Wire Picks – Tight End
Jared Cook GB 2.7% owned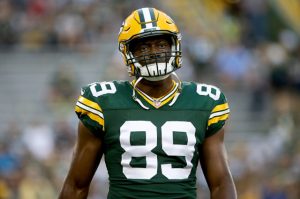 We have all seen this before, a big game by Jared Cook making him look like a strong waiver target. The difference this time is that he has an all time great quarterback throwing him the ball. The Packers have no run game, but short passes are replacing it to an extent. That should mean lots more Jared Cook if he can stay on the field.
Charles Clay BUF 13.9% owned
It is a bit surprising that the ownership is as high as it is for Clay. He has basically done nothing all season long, but that may change in week 12. The Bills have very few pass catchers capable of taking the field against the Jags. Just based on the fact that he can suit up, Clay should see a healthy number of targets for at least a week. There are also nice matchups on the horizon versus Oakland, Cleveland and Miami.
Digging Deep
Will Tye NYG 1.8% owned
The Giants have not had a strong tight end option since Jeremy Shockey, but they are occasionally productive enough for a start. Tye has been building up to being a decent fill-in over the last few weeks. Week 11 saw only 2 catches for 12 yards, but Tye also scored. He has increased his point output in each of the last three weeks and gets the Browns in week 12.