The hits kept on coming in week 11, with some costly injuries taking down high profile running backs. That means opportunities for new players in some cases. There are some very good backups that may have big games on the horizon, but there are also players that were on the bench for a reason.
Week 11 Recommendations Results (Standard League Scoring)
· James Starks GB – 9 carries 25 yards 5 receptions 46 yards 1 touchdown 12 Fantasy Points
· Rob Kelley WAS – 24 carries 137 yards 3 touchdowns 31 Fantasy Points
· Matt Asiata MIN – 5 carries 20 yards 1 touchdown 1 reception 7 yards 8 Fantasy Points
· Jeremy Langford CHI – 6 carries 8 yards 1 touchdown 3 receptions 30 yards 9 Fantasy Points
Starks has not shown much and is looking slow, but the running back job is his for now and that is worth a lot. In stark (sorry) contrast, Kelley looks phenomenal and should be a big part of the Redskins offense for the rest of the season. The name of the game for Asiata is touchdowns and he got one in week 11. The Bears are in disarray, but Langford is seeing enough touches to be borderline useful.
Week 12 Waiver Wire Picks
Mike Gillislee BUF 26.3% owned
In limited duties this season, Gillislee has been very good. Averaging 5.8 yards per carry, Gillislee has also scored four touchdowns in the last 6 games. There is talk that LeSean McCoy could play in week 12, but I'm not buying it. McCoy suffered a dislocated thumb that required a surgical procedure to put it back in place. That sounds like an injury that will at the very least limit him. Grab Gillislee as a RB2 or flex for week 12.
The Rest Of The Waiver Wire Picks
Wendell Smallwood PHI 2.3% owned
This guy was a popular stash candidate before the season, but he has only been given limited opportunities. Now it looks like Ryan Mathews and/or Darren Sproles will miss some time. That means that Smallwood should see a decent number of touches over the next week or two. Week 12 brings a reeling Green Bay run defense that just allowed 137 yards and 3 touchdowns to Rob Kelley. There is a good chance that Smallwood will be in for a nice day at home versus the Pack.
Kenneth Dixon BAL 23.3% owned
It is tough to say on a weekly basis what Dixon will be allowed to do. He has been given more touches, but not quite enough to really show off his skills. Recommending a start would be a bit too far, but Dixon has flashed enough talent that he should be on a roster in most leagues. If the coaching staff ever decides to give him a real chance, Dixon could be a difference maker down the stretch.
He's Back
Dion Lewis NE 45.1% owned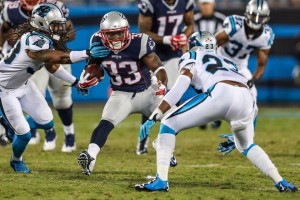 In his first game back, Lewis showed the elusive shiftiness that made him a fantasy darling last season. Unfortunately, the Patriots also showed that they are not putting Blount and White on the shelf to feature Lewis. There is a good chance that Lewis is going to get more touches going forward, but the Patriots have a lot of weapons on offense. Now that the team is getting healthy, it is getting to the point where it is difficult to predict which player will produce in a given week. That is great for Bill Belichick, but it can be a nightmare for fantasy players. Nevertheless, Lewis has too much potential to be on the waiver wire.
Stash Or Watch
Rex Burkhead CIN 0% owned
The Bengals are reeling after losing two of their biggest playmakers in week 11. Giovani Bernard is one of the guys that will not be playing again in 2016. This is a big boon for Jeremy Hill as he will move closer to feature back status. It should also mean that Rex Burkhead will get some run as the pass catching back. This is a wait and see type of thing, but the Bengals have a lot of targets that have to go somewhere. If Burkhead flashes some playmaking ability, he could carve out a nice niche. Otherwise, Hill will touch the ball a ton or the Bengals may bring in an outside player.