There were some big performances out of nowhere in week 11. Some of these players are worth a shot in the week 12 waiver wire picks, but others are a flash in the pan. Time to decide who is who and get those picks in. Remember that there are a lot of players going on Thursday in the Thanksgiving games.
Quarterback
10 Team Leagues
Pick Your Poison - Jacoby Brissett or Tyrod Taylor
Both of these quarterbacks offer upside in a putrid pool of options. For a ten team league, I'm looking for a dual threat quarterback to set a high weekly floor. Brissett has proven his ability to produce even in tough matchups. He has had double digit points in every game since week 2. Taylor, on the other hand, knows that he is playing for a starting job next year. Not with Buffalo of course, but with many other quarterback needy teams in the league. These two players could put up 30 points in any given week. The only caveat here is that Taylor may be benched at any time in favor of Uncle Rico...I mean Peterman.
12 Team Leagues
Ryan Fitzpatrick TB 30% Owned
There are no perfect options at quarterback this late in the year. Anyone that is a definite every week starter is someone's every week starter. There is a good chance of Fitzpatrick producing though. He has some decent matchups and two high level wide receivers. If you were starting Josh McCown, it may be time to switch over to some Fitzmagic as the Jets schedule gets very rough. Dial up the bearded genius if things are getting desperate at your quarterback position.
Running Back
10 Team Leagues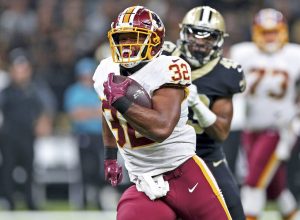 Samaje Perine WAS 28% Owned
Injuries have propelled this early season disappointment to lead back status. There was plenty of buzz regarding Perine until he fumbled his way to a firm bench role in the first couple of weeks. Now he is looking like a top-20 option over the rest of the season. Perine is coming off a 117 yard 1 touchdown performance against the greatly improved New Orleans defense. Next he faces the hapless Giants and should find more running room. Grab Perine for the stretch run, he could be a real difference maker if he can hold onto the ball.
Devontae Booker DEN 9% Owned
Owning a piece of the Denver running game is not a sure ticket to success. Still, if Booker can continue to see the lion's share of touches his receiving ability makes him intriguing. In week 11, Booker saw 14 carries and 6 targets. That kind of workload could start to yield some moderately impressive statistics. He just missed breaking double digit fantasy points in the last contest and his role is still growing. He is a risky start, but Booker should certainly be grabbed before the fantasy playoffs begin.
12 Team Leagues
Austin Ekeler SD 20% Owned
Some of the statistics put up by Ekeler have been deceiving. In the Chargers last game, he came in for mop up duty and padded his stats. They were palatable at the end because of garbage time. At the same time, garbage time still counts and so do the fantasy points. I can talk myself out of Ekeler all day, but the fact is he has double digit fantasy points in 4 of the last 7 games. He is not a reliable option, but there is a high ceiling there if you don't mind some risk.
Please Don't
Any Seahawks Running Back
The only fantasy worthy rusher on the Seahawks is Russell Wilson. He has a good chance to put up 70+ rush yards in any given contest. Their running back options on the other hand, are lucky to get more than 7 yards. Do not waste roster space on any running back with this next to their name: SEA. They will only disappoint you, whether or not they get every carry in the game, they will be irrelevant.
Wide Receivers
10 Team Leagues
Kenny Stills MIA 27% Owned
This pickup is largely dependent on the Dolphins starting Matt Moore. Stills has some value with Cutler, but like everyone else on the team it is limited. Moore looks to Stills often and the results, in this game anyway, were amazing. In each of the last two weeks, Stills has seen 8 targets. His target total over the last four weeks is 30 combined. It is safe to say that Miami is looking to get the ball into his hands and that can bring good things. Even with a lot of touches, there have been down weeks for Stills. He also has two 20+ point performances this season. In a year where there are very few reliable wide receivers, Stills is bordering on a weekly starter at this point.
Kenny Golladay DET 11% Owned
After missing a lot of time due to injury, Golladay fell of the radar of many fantasy owners. He is still a big play threat and a monster in the red zone. The playing time is once again increasing for Golladay and he may be set for a big game. He is averaging 19.8 yards per reception and one game could drastically change his ownership percentage. He has a couple of tough matchups with Minnesota and Baltimore in weeks 11 and 12. Still, a guy his size in the red zone can make coverage irrelevant. This is likely your last chance to grab Golladay for free.
Tight End
10 Team Leagues
Charles Clay BUF 49% Owned
If the owner in your league got sick of waiting for Clay, take advantage. The Bills do not have much going on offense, but Tyrod Taylor may be back in the picture. Taylor made Clay very valuable early in the season and will have a chance to do so again if he starts. I love the duo of quarterback and tight end for Buffalo over the remainder of the season. That is mostly because I hate their personnel at wide receiver though.
12 Team Leagues
O.J. Howard TB 11% Owned
Grabbing Howard is a risky proposition, but there is not a lot out there at tight end. So far, Howard has failed to put together back to back solid performances. The Bucs do throw the ball a ton, so he should have plenty of chances going forward. He will be the epitome of boom or bust, but Howard has all of the ability you could wish for in a tight end.
Get those waiver wire picks in right away. Setting your lineup early is more important than ever in Thanksgiving weeks. Check back tomorrow for some high upside plays and sleepers will follow shortly. If you can't get enough, follow us on Twitter for more: @_knuckleheads, @BrendanCole16, and @JakeTrowbridge.