The fantasy football playoffs are almost here and everyone is still dreaming of playing for the title. For teams that are just battling for seeding, a gamble could be in the cards. Those no lucky enough to have a spot yet might be ready for a desperation play. Those teams eliminated entirely probably just don't care. But why not throw a sleeper out there to spoil someone else's day?
Quarterback
Matt Barkley CHI 2.2% owned
If you are desperate for a quarterback this week and you want one that is sure to be available Barkley is your man. A decent showing versus the Titans last week has him on the radar, but he is still tough to trust. The Bears have had some success passing the ball this year (when Cutler was not playing). The 49ers tend to be terrible on defense so there is some sleeper appeal here. Many teams are down to this week for a playoff appearance and a gamble on Barkley could punch that ticket.
Running Back
Kapri Bibbs DEN 7.8% owned
The Broncos have been struggling to run the ball with Devontae Booker averaging under 3.5 ypc. Bibbs has been getting more touches over time, but has not had a breakout performance. He may not blow the doors off the Jaguars, but there is a solid chance that Bibbs gets double digit touches in this one. With Paxton Lynch starting for Denver they will probably try to lean on the run game. That should mean that Booker or Bibbs will put up decent numbers.
Denard Robinson JAX 1.9% owned
There was an increase in activity for Robinson last week as the Jags other runners were injured. He did not do a ton with the opportunity, but he did jump back into the Jacksonville running back conversation. This week, T.J. Yeldon should play some, but Ivory will not. That means that Robinson will probably get a fair number of touches versus the deceptively beatable Broncos run defense. Since Bortles will probably not be able to throw on the Broncos, the Jags will try to pound the run the same way that Denver will. If I'm correct this is shaping up to be a boring one, but the running backs could have more value than normal.
One Of These Days…
Kenneth Dixon BAL 46.9% owned
Calling him a sleeper at this point is a stretch, but he has been hyped as one since the preseason. There have been a couple of useful games on Dixon's resume, but he has not flashed his full skill set yet. The emergence of Terrance West early in the season hampered Dixon's rise to a meaningful role in Baltimore, but he is playing more now. The fact that Dixon can be a major factor on the ground and through the air makes him very useful. This week should bring double digit fantasy points, but probably no more than 10-12.
Wide Receiver
Taylor Gabriel ATL 35.8%
Over the last four weeks Gabriel has been locked in, but few people know who he is. The Falcons have the luxury of having arguably the best receiver in the league playing for them in Julio Jones. That moves the best defenders to his area of the field leaving space for players like Gabriel to flourish. The Chiefs are no cupcake on defense, but the Falcons have enough weapons to spread the field. That is a recipe for more success from the speedy Gabriel.
Talent Plus Opportunity
Dorial Green-Beckham PHI 6.5% owned
Things are looking increasingly bleak for Jordan Matthews playing this week and Nelson Agholor is inactive. That means that Dorial Green-Beckham could be, for all intents and purposes, the number one receiver in Philadelphia. This is a dubious honor as Carson Wentz has struggled mightily of late, but targets are targets. While he is a head case, Green-Beckham has the skills to make big plays with enough touches. There is a solid chance that DGB could put up borderline WR1 numbers in week 13.
Kenny Stills MIA 14.1% owned
The Dolphins have been more willing to throw the ball recently with the production of Jay Ajayi tapering off. This week, it looks like DeVante Parker may not play due to injury. That would leave the role of deep threat to Kenny Stills. With two touchdowns in the past three games, Stills should be up to the task of attacking the Ravens' secondary. He has the same number of targets as Jarvis Landry (18) over the past two weeks and a nice rapport with Tannehill. Stills is a sneaky play that is likely to net some decent points for the week.
Tight End
Hunter Henry SD 31.1% owned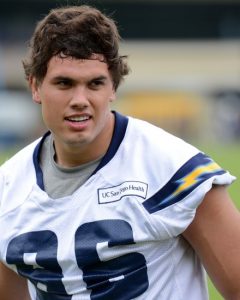 He has not been seeing a lot of looks for weeks now, but Hunter Henry is still a regular visitor to the end zone. This week brings a visit to Tampa Bay, where the Bucs allow the second most yards per catch to tight ends. Henry may only get two or three catches, but there is a good chance that one of them is a touchdown. This game even has sneaky potential for the first decent yardage total since week 6.