Week 12 was a strange sort of throwback with Eddie Lacy and C.J. Anderson playing like top running backs. Going forward, it is difficult to say exactly how much they will contribute but they did a lot of their damage last season in the closing weeks. In what has been an up and down season for many of the top running backs, any sign of life is enough to move up in the rankings. With the playoffs looming, it is time to forge ahead and see exactly where each running back rates heading into week 13.
Injury Concerns:
Andre Ellington ARI Questionable, Devonta Freeman ATL Questionable, Karlos Williams BUF Questionable, Jeremy Hill CIN Questionable, Charcandrick West KC Questionable, Ryan Mathews PHI Questionable, Carlos Hyde SF Questionable, Chris Thompson WAS Questionable
Week 13 Waiver Wire Picks: Quarterback And Tight End / Running Back / Wide Receiver / IDP
Elite Tier - Must Starts
1. Devonta Freeman ATL @TB Questionable
2. Thomas Rawls SEA @MIN
3. Adrian Peterson MIN vs. SEA
4. DeAngelo Williams PIT vs. IND
5. Jonathan Stewart CAR @NO
6. Todd Gurley STL vs. ARI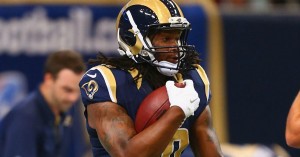 Freeman should play this week and should be back with a vengeance. Rawls will continue to pile up points against the Vikes. Peterson has a bad matchup, but at least Minnesota is at home. Williams does not have a tough matchup, but the Pittsburgh defense could let this become an aerial battle. Stewart let me down last week, but against the Saints he should be a safe bet unless Tolbert vultures a score or two. Gurley is abnormally low in my rankings due to a meeting with the Cardinals.
Strong Plays - Reliable, But A Notch Below
7. LeSean McCoy BUF vs. HOU
8. Eddie Lacy GB @DET
9. Giovani Bernard CIN @CLE
10. C.J. Anderson DEN @SD
11. Doug Martin TB vs. ATL
12. Javorius Allen BAL @MIA
13. Chris Ivory NYJ @NYG
McCoy has been great and that should continue, even against an improving Houston defense. Lacy looks like he is back and the Lions defense should let that continue for at least another week. Bernard faces the Browns who should be demoralized after last week's fluke loss. Anderson looked revitalized in week 12 and the Broncos should lean on him to give Osweiler some openings when he drops back. Martin should put up strong numbers at home against the Falcons. Allen gets the weak Miami D and he should be well into double digit fantasy points. Ivory has been up and down, but he will have a decent showing against the G-Men.
Risk/Reward - Potentially Shaky
14. Darren McFadden DAL @WAS
15. Charcandrick West KC @OAK Questionable
16. David Johnson ARI @STL
17. LeGarrette Blount NE vs. PHI
18. Shaun Draughn SF @CHI
19. Mark Ingram NO vs. CAR
20. Lamar Miller MIA vs. BAL
McFadden is facing a Redskins team that still has playoff hopes; with the Cowboys out of the hunt DMC may have less incentive to play through bumps and bruises. West is a stud if he plays, but some doubt still lingers there. Johnson will likely get the start for Arizona and that would likely put him in line for decent numbers. Blount will likely be relied on more with the Pats playing without Gronk. Draughn has been reliable, especially in PPR leagues. Ingram has a tough test versus the Panthers, but the Saints are a different team at home. Miller disappeared last week and his owners will have their fingers crossed for a better showing in week 13.
Question Marks - RB2 Upside
21. DeMarco Murray PHI @NE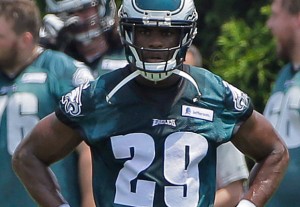 22. Latavius Murray OAK vs. KC
23. Matt Forte CHI vs. SF
24. T.J. Yeldon JAC @TEN
25. Ronnie Hillman DEN @SD
The Eagles really look like they have quit and New England is not easy on running backs. Latavius Murray may not see a ton of chances as the Raiders tend to air it out. Forte has an easy matchup, but his health is still a question. Yeldon goes into Tennessee and he will have some chances, but the rookie wall is looming. Hillman should still see some touches, although there is a chance that he gets pushed aside if Anderson keeps producing.
Flex Appeal - Usable In A Pinch
26. Frank Gore IND @PIT
27. James White NE vs. PHI
28. Jeremy Langford CHI vs. SF
29. Danny Woodhead SD vs. DEN
30. Antonio Andrews TEN vs. JAC
31. Spencer Ware KC @OAK
32. Duke Johnson Jr. CLE vs. CIN
33. Alfred Blue HOU @BUF
34. James Starks GB @DET
35. Matt Jones WAS vs. DAL
Gore is the lead dog and Bradshaw is out of the picture; that still may not amount to much. White may be able to take advantage of a Philly defense that has been smoked over the last couple of weeks. Langford is a risky play, but if Forte struggles he could be useable. Woodhead is always a threat but Denver may shut him down. Andrews is still getting touches but not doing a lot with them. Ware is in a similar situation to Langford as he needs West on the bench to ensure playing time. Johnson may find a bit of room to run versus Cincinnati. Blue has a tough matchup in Buffalo, but the Bills have had some sloppy games this season. Starks will see a few touches even if Lacy is at his best. Jones has big play potential, but is limited by the committee approach in Washington.
Tough Sledding - Let Them Be Someone Else's Problem
36. Alfred Morris WAS vs. DAL
37. Melvin Gordon SD vs. DEN
38. Jay Ajayi MIA vs. BAL
39. Brandon Bolden NE vs. PHI
40. Ameer Abdullah DET vs. GB
41. Darren Sproles PHI vs. NE
42. Tevin Coleman ATL @TB
43. Rashad Jennings NYG vs. NYJ
44. Mike Tolbert CAR @NO
45. Theo Riddick DET vs. GB
46. Charles Sims TB vs. ATL
47. Ryan Mathews PHI @NE Questionable
48. C.J. Spiller NO vs. CAR
49. Daniel Herron IND @PIT
50. Shane Vereen NYG vs. NYJ