The end of the regular season is here for fantasy football and now it is time to get serious. If you have playoff hopes hinging on this week, then odds are you could use a last minute catalyst to send your team to victory. Even the locked-in-for-a-bye-week-top-seed type can use some help going forward. Whatever your situation, follow along and make the needed adjustments to take your team to fantasy greatness.
Quarterback
Ryan Tannehill TEN Rostered - 15% A lot of fantasy players have been hurt by Ryan Tannehill in the past, but it's time to let that go. This retread quarterback has found his stride in a new home. The power running game with Derrick Henry along with some solid young weapons has given Tannehill new life. This former Dolphins flop has averaged 24.78 ppg over the last 5 weeks and looks like a solid option down the stretch.
Sam Darnold NYJ Rostered - 19%
Despite the terrible season for the Jets, the offense has shown signs of life recently. Sam Darnold's bout with mono cost the team any chance of being competitive on a larger scale, but he is now providing cause for optimism. Former Ghostbuster Darnold appears to have exorcised his issues and has topped 24 points in each of the last three weeks. With the Bengals and Dolphins on the schedule the next two weeks, it should be smooth sailing for Darnold. Maybe consider an alternative for week 16 though (Foles, Fitzpatrick, and Trubisky have easy week 16 matchups), as the Ravens could be an ugly matchup.
Running Back
Rashaad Penny SEA Rostered - 29%
So far it has been a fairly dismal season for the former first round pick. Penny has taken a back seat to Chris Carson and seen the field only sparingly. That changed on Sunday after Carson lost his fourth fumble of the season (eighth total fumble) and Penny took over. The young back ended up carrying 14 times for 129 yards and a score. Pete Carroll has shown a willingness to ride the hot hand, making things sticky for fantasy managers. If Carson is still in the doghouse, then Penny should be a decent option, even against a stout Vikes front.
Jonathan Williams IND Rostered - 30%
The Colts gave Williams a chance to fill in as the lead back in week 12 and he....ran with it. He took 26 carries for 104 yards and a touchdown and added 3 catches for 17 yards. This gives the career backup two straight games with over 100 rush yards. Odds are he will not reach that mark again versus the Titans, but it looks like he is the top dog in this backfield, at least for another week.
Benny Snell PIT Rostered - 4%
As long as James Conner is sidelined, it appears that Snell is going to be the top back in Pittsburgh. That does not mean that you want to start him, but I know that this is not a perfect world and you may need a deeper option. The rookie went over 100 total yards against the Bengals, but that is not the most impressive feat. He is a scary option on a bad offense, but the volume should be there.
Handcuff Holding
Tony Pollard DAL
Alexander Mattison MIN
Jordan Wilkins IND
Darrel Williams KC
Malcolm Brown LAR
Ryquell Armstead JAC
Wide Receiver
Darius Slayton NYG Rostered - 23%
As with all rookie receivers, things are up and down for Slayton. One thing that he has going for him is that he is option 1 or 1A for his young quarterback. The Giants don't always tend to put up points in bunches, but Slayton is a risk to score any time that he touches the ball. At the very least, this ownership number should be much higher.
Robby Anderson NYJ Rostered - 45%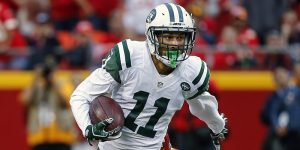 The breakout season for the Jets deep threat never quite materialized. Like Darnold, however, he has a couple of plus matchups in a row and could put up week winning numbers. More likely than not, Anderson is on a roster in a competitive league. If that is the case, then consider this a START recommendation.
James Washington PIT Rostered - 22%
At this point it is not easy trusting Steelers to carry your fantasy team. Washington has had big games at times but little consistency. If you are looking for a high upside flex, this could certainly be your guy. He has a good rapport with the carousel of Steelers quarterbacks and some easy matchups down the stretch. One thing is for sure, Pittsburgh will have to throw a lot, because they'll be playing from behind.
Boom/Bust Lottery Tickets
A.J. Brown TEN
Mecole Hardman KC
Tre'Quan Smith
Tight End
Kyle Rudolph MIN Rostered - 39%
With the barren wasteland that is the tight end position, it is a true mystery that Rudolph is not universally owned. He has a proven track record and has been on fire over the last month or so. The only downside here could be the return of Adam Thielen, which may take away some targets. At this point, it seems like Cousins has come to rely on the big tight end and that should lead to more fantasy dividends.
David Njoku CLE Rostered - 20% The return date for Njoku is not definitive yet, but it appears to be in the next week or two. This speaks to the quality of the position, when one of my top two options may not play in week 13. The best I can say is that picking him up early is probably a smart idea, because the other options are sort of unilaterally uninspiring.
Make sure to stop by and check out our week 13 positional rankings. Follow me on Twitter for some extras and questions answered: @brendancole16.