Some unlikely players put up big numbers in week 12 (Trevor Siemian and Matt Barkley?!). While those performances are tough to predict, there are still some trends that can be exploited. Just look at the 49ers offense if you want to find a difference maker that is probably available.
Week 12 Recommendations Results (Standard League Scoring) Quarterback
· Colin Kaepernick SF – 29-46 296 yards 3 touchdowns 1 interception 10 rushes 113 rush yards 35 Fantasy Points
· Josh McCown CLE – 25-43 322 yards 1 touchdown 2 lost fumbles 16 Fantasy Points
· Recommend Against Ryan Tannehill MIA – 20-30 285 yards 3 touchdowns 6 rushes 34 rush yards 29 Fantasy Points
Kaepernick is lighting up the opposition every week, but he is still very lightly owned. McCown is a usable but unspectacular quarterback option most weeks. Tannehill gave me a shock with these numbers, but the bigger shock was Jay Ajayi. I expected the running back to light up the 49ers, but instead he made them look like a viable run defense.
Week 12 Recommendations Results (Standard League Scoring) Tight End
· Jared Cook GB – Plays Tonight
· Charles Clay BUF – 2 receptions 17 yards 1 Fantasy Point
· Will Tye NYG – 2 receptions 12 yards 1 Fantasy Point
Cook takes the field tonight and his role in Green Bay will become a bit more clear. Clay seems like he is even more useless than he seemed now that Watkins is back. Will Tye makes plays but he can also disappear at times (like whole weeks).
Week 13 Waiver Wire Picks – Quarterback
Once Again
Colin Kaepernick SF 22.7% owned
This is a QB1 that can be picked up for free in almost 80 percent of fantasy leagues. Any team with a less than stellar quarterback should be chomping at the bit to pick up Kaepernick. Since he took over as the 49ers starter he has not scored less than 15 fantasy points; he has scored less than 20 only once. The next three weeks of the schedule bring matchups with Chicago, New York Jets and Atlanta. This is a difference maker still available on waivers going into week 13, get him right now.
Ryan Tannehill MIA 20.5% owned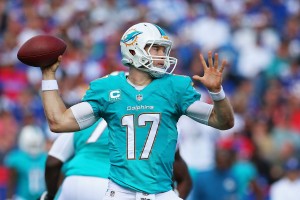 Starting Tannehill is a recipe for indigestion, but when he is on he can light up the scoreboard. The Dolphins have been pounding the run lately, but that changed versus the 49ers on Sunday. It will take some time to see if this will bring a change of plans or just a blip on the radar. In the mean time, it may be a wise move to stash Tannehill going into the playoffs. If the Dolphins go pass-heavy, they have the weapons to put up some gaudy numbers.
The Rest Of the Waiver Wire Picks
Maybe…?
Ryan Fitzpatrick NYJ 9.1%
Speaking of guys named Ryan that can make you sorry you started them – Ryan Fitzpatrick. There have been some very rough patches for Fitzpatrick and the Jets this season, but he performed well versus the Pats. Week 13 brings a much easier matchup against the Colts oft-shredded secondary. There is reason for hope with San Francisco and Miami on the schedule after the Colts. If Fitzpatrick can build some momentum, he could have a very usable three game stretch leading into the playoffs.
Week 13 Waiver Wire Picks – Tight End
C.J. Fiedorowicz HOU 43.8% owned
He is working with one of the worst quarterbacks in the league, but the upcoming schedule is appealing. Fiedorowicz faces the Packers, Colts, Jaguars and what's left of the Bengals. These are teams that are some combination of dumpster fire and/or no secondary. Even Brock Osweiler should be able to complete a pass or two in these cases. Fiedorowicz is still seeing a decent number of passes thrown his way, so that should translate into some nice stat lines.
Lance Kendricks LA 12.5% owned
The Rams offense has been faring better than expected with Jared Goff at the helm. Along with this, Kendricks has seen a nice number of touches (4 catches each in the past two games). The remaining schedule is a mixed bag, but there are some beatable matchups left. Despite a few down weeks, Kendricks has been one of the steadier tight end options this season and he should be usable in the playoffs.
Ladarius Green PIT 10.8% owned
The catches are not impressing anyone yet, but Green is seeing most of the tight end targets at this point. The Steelers offense can be explosive on a good day and Green is likely to go off for some major fantasy points at some point. His health is always a gamble, but Green could be a difference maker down the stretch if he gets on the same page with Roethlisberger soon.