Week 12 featured some nice performances from running backs that looked set for big seasons. Mark Ingram and LeSean McCoy showed up for the first time in a while. Their owners may be out of the playoff hunt, but if not I'm sure it was a welcome boost. There are not many stud backs left on waivers, but here are some players that can help with the playoff push.
Week 12 Recommendations Results (Standard League Scoring)
· Mike Gillislee BUF – DNP due to injury
· Wendell Smallwood PHI – Plays Tonight
· Kenneth Dixon BAL – 13 carries 49 yards 4 catches 31 yards 7 Fantasy Points
· Dion Lewis NE – 6 carries 24 yards 4 catches 34 yards 5 Fantasy Points
· Rex Burkhead CIN – 5 carries 29 yards 2 catches 19 yards 3 Fantasy Points
The Bills have McCoy back and Gillislee is just a handcuff at this point. There is a chance that Smallwood emerges as the Eagles back to own down the stretch. Dixon is outsnapping Terrance West at this point and that gap could widen. Dion Lewis cannot carve out enough touches in New England to be a huge factor. Burkhead looked better than I thought for Cincinnati and he could actually be a decent matchup-based flex play.
Week 13 Waiver Wire Picks
Derrick Henry TEN 46.4% owned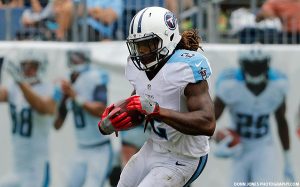 The fact that Henry outplayed DeMarco Murray on Sunday can be written off as an anomaly. On the other hand, Henry is getting enough touches to remain a factor even with Murray starting. The Titans offense can sustain both running back at a decent level of production at this point. There is also talk that the Titans will be using Henry more in short yardage situations. That could mean that some goal line touchdowns are going to shift to the rookie and that would be a big value boost.
Double Down
Kenneth Dixon BAL 25.1% owned
This guy is a staple in waiver wire columns everywhere as he is always "just about to break out". At the risk of being ridiculous, I still agree with that sentiment. Dixon is touching the ball slightly more than West, but he also looks better and is outperforming him statistically. The Ravens coaching staff is moving closer to Dixon being the lead back and it is probably just a matter of time. Grab Dixon and hang onto him for your playoff run.
The Rest Of The Waiver Wire Picks
Matt Asiata MIN 43.1% owned
There is little chance that Asiata is going to win a matchup for you, but he always produces. The vast majority of the time, this plodder can be counted on for double digit points. Despite a small number of touches, the touchdowns and points keep on coming. Give me Asiata over McKinnon any day, there is something to be said for steady output.
In A Pinch
Shaun Draughn SF 1.6% owned
The 49ers are Carlos Hyde's team on the ground, but Draughn makes some valuable contributions. With Kaepernick at quarterback, Draughn does well as the receiving back when the game script calls for it. Since that game script is the Niners being behind, there is a good chance that he will have some more decent games down the stretch. This one is a bit of a gamble given the uneven number of touches, but this gamble can pay off in a big way.