With injuries piled up around the league, wide receiver play is tough to predict on a weekly basis. Schedule will determine the top performers in the fantasy playoffs, but the potential difference makers can still be acquired in many cases.
Week 12 Recommendations Results (Standard League Scoring)
· Tyler Boyd CIN – 5 receptions 62 yards 5 Fantasy Points
· Tajae Sharp TEN – 2 receptions 11 yards 1 Fantasy Point
· Sammy Watkins BUF – 3 receptions 80 yards 8 Fantasy Points
· Corey Coleman CLE – 3 receptions 38 yards 1 touchdown 9 Fantasy Points
Boyd did not have a huge day in his first outing as the Bengals number one, but he is a WR2 going forward. The Titans have a lot of mouths to feed and that means that Sharpe will disappear sometimes. It looks like Watkins is back and already asserting himself as the Bills top target. The Browns have work to do developing Coleman, but his potential is clear every time he takes the field.
Week 13 Waiver Wire Picks
Quincy Enuwa NYJ 40.7% owned
Despite being an up and down player, Enuwa is always capable of performances like Sunday. He put up 109 yards and a touchdown on 5 catches. There is plenty of room for improvement in his game, but he still has Brandon Marshall rotating defenders away. The upcoming schedule is easy and that should mean more production from Enuwa and the Jets offense.
Just In Case
Sammy Watkins BUF 59% owned
I don't know where these leagues are that Watkins is on the waiver wire, but grab him if you can. It looked like there was no lingering injury problem for the fragile Watkins on Sunday. Coach Rex Ryan said that he did not suffer any setbacks and that likely means more playing time going forward. For a team starved for playmakers, Watkins should be a godsend. Barring another injury (which is always possible) Watkins is a top-flight receiving option rest of season.
The Rest Of The Waiver Wire Picks
For The Gamblers
Tyreek Hill KC 26.5% owned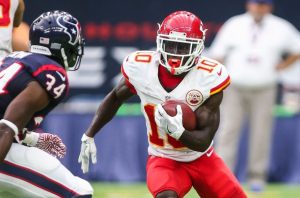 When looking for playmakers, Tyreek Hill should be near the top of the list. He is not one of the biggest or most technically sound receivers in the league, but he makes things happen. On Sunday night he had a rushing touchdown, a receiving touchdown and a kick return touchdown against the Broncos. There are going to be some lulls in productivity due to the Chiefs weak offense, but Hill has as much potential as almost any receiver out there. When it comes to high-risk, high-reward Tyreek Hill is the poster child.
Dontrelle Inman SD 6.5% owned
There have been a couple of games this year where Inman dominated, but he sees touches each week. The Chargers have to make plays where they can using backups in their dinged up passing game. Inman happens to be one of the beneficiaries of their playmaker void. Going forward, the Bolts get Tampa, Carolina, Oakland and Cleveland. That should mean plenty of points to go around for the passing game. It is going to depend on who catches Rivers' eye on a weekly basis, but Inman has weekly potential to win matchups.