The fantasy football playoffs are a hair's breadth away, and after a wild week 12, things won't slow down as a whole new slate of important games come to the forefront. Thanksgiving is in the rear view, but week 13 could well be "Thanksreceiving" with some interesting matchups on the schedule. Bye weeks are history, but injuries are still very much a part of the present, so we'll sort it all out for you in our week 13 wide receiver rankings.
Remember: an asterisk (*) next to a player's name denotes a possible injury concern for that player.
Week 13 Wide Receiver Rankings 1-10
1. Julio Jones @ TB- Week 12 was another off week for the Falcons, and this time it bled over to Julio. Expect that to change against Tampa. Jones has feasted on Tampa in years past. He put up a 12/162/1 line last month and has averaged just over 9 catches, 147 yards, and a touchdown in 3 meetings against Tampa in the Lovie Smith era.
2. Antonio Brown vs IND- From Richard Sherman to Vontae Davis, Brown's assignment this week doesn't get much easier, but his volume won't change. Legion of Brown still saw 12 targets against the Legion of Boom. Ben Roethlisberger (concussion symptoms) should be good to go, so expect Brown to trend back towards the 15-20 points his owners usually bank on each week.
3. DeAndre Hopkins @ BUF- Contained by the Saints? What has this world come to? He'll get a difficult date with Stephon Gilmore and Buffalo in week 13, but should be in line for a healthy dose of 10-15 targets. Brian Hoyer should be back in his groove, which bodes well for Nuk.
4. Odell Beckham Jr. vs NYJ- Another insane touchdown catch under his belt, Beckham heads into a difficult matchup on paper with the likes of Darrelle Revis and Antonio Cromartie beckoning. Beckham, beckoning; have we mentioned out love for alliteration lately? He's averaged over 15 targets in his last three games, so don't expect Eli Manning to stop looking his way in an all-New York battle.
5. Alshon Jeffery vs SF- He's not quite 100 percent, and hasn't been all year, but Jeffery has a dream matchup with a 49ers squad that has surrendered the 5th-most fantasy points to receivers this season. With a few extra days off between weeks 12 and 13, Jeffery should be as healthy as he'll be all year heading into this game.
6. Calvin Johnson* vs GB- Megatron was due for a big game, and didn't disappoint on Thanksgiving with 3 touchdowns. Now that he has reacquainted himself with the end-zone, the arrow is pointing way up for Johnson as he prepares to face the reeling Packers. He has failed to top 100 yards in his last 3 meetings with Green Bay, but that should change in week 13 as the Lions look to keep their positive late-season momentum going.
7. A.J. Green @ CLE- It's been 4 straight games since A.J. topped the 100-yard mark, but his 2 week 12 touchdowns were promising. Green now heads into a wonderful week 13 matchup against the struggling Browns. He's playing more out of the slot, and could be further counted upon if Tyler Eifert (neck) can not play.
8. Larry Fitzgerald @ STL- Played the role of security blanket for Carson Palmer in week 12 as he gathered 10 catches for 66 yards. Expect more explosive plays out of Fitzy against a Rams unit that saw A.J. Green break loose for a couple of scores last weekend.
9. Brandon Marshall @ NYG- Marshall looked like the early-season Brandon Marshall in week 12. He'll look to outshine Odell Beckham Jr. in week 13 as the Jets and Giants square off in an all-New York battle. He's scored in 4 straight games, and has seen double-digit targets in his last 3 despite playing through a myriad of injuries.
10. Jarvis Landry vs BAL- PPR beast who paid dividends in standard leagues with a touchdown to go along with his 13 catches and 165 yards. Miami was in catch-up mode throughout week 12, further aiding Landry's wares, but he's such a big part of the offense that his volume will always be high regardless of game flow. Baltimore has given up the 4th-most points to receivers this year.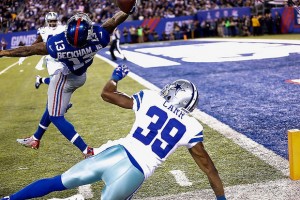 Week 13 Wide Receiver Rankings 11-60
11. Allen Robinson @ TEN
12. Michael Crabtree vs KC
13. Emmanuel Sanders @ SD
14. Sammy Watkins vs HOU
15. Mike Evans vs ATL
16. Dez Bryant @ WAS
17. Randall Cobb @ DET
18. Amari Cooper vs KC
19. Demaryius Thomas @ SD
20. Jeremy Maclin @ OAK
21. Brandon LaFell vs PHI
22. Brandin Cooks vs CAR
23. Eric Decker @ NYG
24. Danny Amendola* vs PHI
25. Martavis Bryant vs IND
26. T.Y. Hilton @ PIT
27. John Brown @ STL
28. Marvin Jones @ CLE
29. Kamar Aiken @ MIA
30. Golden Tate vs GB
31. Stevie Johnson vs DEN
32. Vincent Jackson vs ATL
33. Travis Benjamin vs CIN
34. Allen Hurns* @ TEN
35. Devin Funchess @ NO
36. Jordan Matthews @ NE
37. Donte Moncrief @ PIT
38. DeSean Jackson vs DAL
39. Doug Baldwin @ MIN
40. James Jones @ DET
41. Michael Floyd @ STL
42. Anquan Boldin @ CHI
43. Ted Ginn Jr. @ NO
44. Willie Snead vs CAR
45. Nate Washington @ BUF
46. Stefon Diggs vs SEA
47. Rueben Randle vs NYJ
48. Tavon Austin vs ARI
49. Kendall Wright vs JAX
50. Markus Wheaton vs IND
51. Malcom Floyd vs DEN
52. Cecil Shorts III @ BUF
53. Jermaine Kearse @ MIN
54. Pierre Garcon vs DAL
55. Davante Adams @ DET
56. Marques Colston vs CAR
57. Chris Givens @ MIA
58. Dontrelle Inman vs DEN
59. Jamison Crowder vs DAL
60. Tyler Lockett @ MIN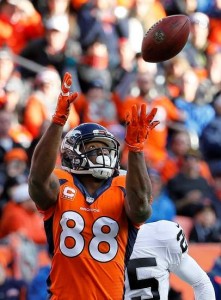 Week 13 Wide Receiver Sleepers
Devin Funchess @ NO- He's finally established himself in the offense and gets the Saints in week 13.
Jamison Crowder vs DAL- The 'Boys always struggled with Santana Moss. Crowder has a bit of that explosiveness to his game and could feature on the inside with DeSean Jackson, Pierre Garcon, and Jordan Reed clearing things out.
Jermaine Kearse @ MIN- Jimmy Graham is out for the year, so Kearse, who scored twice in week 12, should have a bigger role to play moving forward.
Seth Roberts vs KC- Been gaining steam as an underrated target for Derek Carr. 2 scores in week 12.
Week 13 Wide Receiver Injuries to Monitor
Danny Amendola (knee)
Rishard Matthews (ribs)
Calvin Johnson (ankle)
Allen Hurns (concussion)
Good luck in week 13.