The fantasy football playoffs are here and it's time to lay it all on the line. Matchups and trends are more important than ever in this one and done environment. For teams that are dealing with injuries or subpar play, it may be time to throw a sleeper pick into the mix.
Quarterback
Joe Flacco BAL 26.1% owned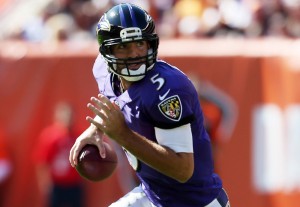 Flacco and the rest of the Ravens offense have been solid since their bye week. Last week Flacco went off for 381 yards and 4 touchdowns, but that is not likely to be repeated. The Ravens suddenly have a glut of weapons in the passing game with the continued emergence of Kenneth Dixon and Breshad Perriman. There is a chance that the Patriots will try to grind the clock with LeGarrette Blount, but the Ravens defense is brutal on opposing rushers. This game will be decided through the air and that means that Flacco may have another nice day.
Jared Goff LA 3.2% owned
There have been mixed results for Goff in his two starts, but he had a nice game versus a weak Saints defense. This week the Rams will play the Falcons and that is a nice matchup for any quarterback. Starting a rookie is always a risky proposition and Goff is no exception. For teams in the fantasy playoffs I would probably avoid this move, but in DFS Goff could be a nice value versus the soft Atlanta D.
Running Back
Christine Michael GB 44.6% owned
The Packers face the Seahawks in week 14 and Michael will have something to prove. The problem with this is that the Packers offensive line may not be able to help him make his point. Last week Michael carried 9 times for 19 yards, but at least he is getting touches. There is every reason to think that Seattle will stuff the run in this game, but Michael showed this season that he can flourish when given an opportunity.
Jacquizz Rodgers TB 26.9% owned
The running back situation in Tampa is murky, but Rodgers has had a lot of success when given chances this year. Charles Sims is returning from the IR and Doug Martin is in the mix of course, but the coaches like Rodgers. The matchup against the Saints means that Martin, Rodgers and Sims could all have some flex appeal, but Rodgers may be the easiest to grab from waivers.
Still Sleeping
Justin Forsett DEN 15.3% owned
It seems like all season long Forsett has been in the "sleeper" category and he is still sleeping. There may be some cause for optimism at the moment because he is reunited with Gary Kubiak in an offense that he understands. Word is that Forsett will see playing time right away and he is a good enough pass catcher that there are a number of ways he could contribute. It is a long shot that Forsett has a really good showing, but running backs getting touches must be noticed at least.
Wide Receiver
Taylor Gabriel ATL 37.5% owned
Week 13 was the first time since week 7 that Gabriel was not in double digit fantasy points. He is an important part of the Atlanta offense, but he could be more important this week. Julio Jones is questionable to suit up with a turf toe injury. The good news is that Gabriel will probably get a few extra looks if Jones can't go. The bad news is that the defense can key on lesser receivers if Julio is not out there. In the end the extra touches warrant attention from owners, but temper expectations.
Ted Ginn Jr. CAR 22% owned
The Panthers offense has had their troubles this season, but Ted Ginn at least has gotten on the right track. He has scored in three straight games and to say that he is on the same page with Newton would be an understatement. Ginn is a savvy veteran capable of making a big play at any time and that is the type of player that can help win a playoff matchup.
Who?
Robby Anderson NYJ 1.2% owned
For owners needing a boost at wide receiver in deep leagues, here is a guy that is available almost universally. Bryce Petty is the quarterback going forward and he clearly has a strong rapport with Anderson. In relief of Ryan Fitzpatrick last week, Petty targeted Anderson 12 times. That kind of volume is enough to make just about anyone a valuable commodity, especially with the 49ers next on the schedule.
Tight End
Dwayne Allen IND 18.2% owned
No, Allen is not going to grab another 3 touchdown passes in week 14. On the other hand, Allen and Luck looked like they were reading each other's minds out on the field. The tight end and quarterback looked like they could do no wrong, albeit versus a disinterested Jets defense. The Texans should put up a bit more of a fight, but if Luck keeps looking toward Allen he could be a pleasant surprise again.
Vance McDonald SF 13.9% owned
Speaking of that disinterested Jets defense, this guy gets to face them in week 14. The Niners were beyond disastrous on offense last week, but they can only improve from there. McDonald has the occasional usable game and facing the Jets could be just what he needs to produce one of them. This is far from a sure thing, but someone on the San Francisco offense is going to get theirs in week 14 so why not McDonald?