In the playoffs, finding players with a high weekly ceiling is more important than ever. Having a couple of low risk guys is great, but that potential home run will win matchups. For the purpose of the article, I'll stay away from the incredibly obvious-of course I think that Tom Brady and LeVeon Bell will do well. Instead, the focus will be on players that are either widely available or seen as questionable starters.
Quarterback
DeShone Kizer CLE
The Browns very suddenly look like a viable offensive squad. Their wide receivers have gone from Kenny Britt and Ricardo Louis to Josh Gordon and Corey Coleman. Add in the maturation of David Njoku and Duke Johnson Jr. as a wild card and things start to look explosive. The match that will light this powder keg is a matchup with the Packers' defense.
Even with inferior targets, Kizer was showing some improvement. Granted this is more from a fantasy football perspective than actually having a chance to win games. Kizer has scored at least 15 points in four of the last five games. In two of those games he has scored over 20 points. I think that against a bad defense, with a full complement of weapons, Kizer has a shot at 30+ fantasy points.
Running Back
Kenyan Drake MIA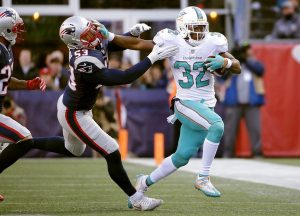 The Dolphins are starting to set up a track record of dominating running back play down the stretch. Last season, Jay Ajayi carried fantasy owners in the second half of the season. Now Drake is looking like he could be a huge contributor in the last few weeks of the season. In week 13 he had 141 all purpose yards in addition to reaching the end zone against the Broncos. Now he faces the Patriots and their undeniably improved defense, but the upside is still looming.
Despite being better on defense, the Pats still allow 4.99 yards per carry to opposing backs. Their defensive improvement has been predicated on turnovers and keeping opponents out of the end zone. They still allow a lot of yardage in the process, though. From a fantasy perspective, the Patriots are not a bad matchup. I expect Drake to, at worst, match his yardage total from last week. His point total could be truly staggering if he can find a way into the end zone as well.
Wide Receiver
Sterling Shepard NYG
The Giants are a mess, but things should be improving soon. Lame duck head coach Ben McAdoo is out the door and the Geno Smith mishap has ended. The presence of Smith under center was a death blow to the fantasy value of everyone but Evan Engram. Now, with Eli Manning back, Sterling Shepard should see a boatload of targets.
Pass defense is a foreign concept to the Cowboys and that bodes well for Giants receivers. This should be Shepard's best game of the season as the players look to show that the coach was the problem, not Eli. There should be a sigh of relief from fans of the team and fantasy owners as I expect an inspired performance from the G-Men.
Tight End
Hunter Henry LAC
It appears that this young tight end has stepped out of the shadow of Antonio Gates permanently. Early in the year the division of labor was close, but this is Henry's team now. Henry has exploited positive matchups all season and another one is on the way. The Redskins are beyond banged up and they have a hard time defending the tight end position. Look for Henry to take advantage and put up some big numbers. This could be the game of the year for Hunter Henry, at the perfect time for fantasy owners.
Check back often for more exclusive content from Fantasy Knuckleheads. If you like what you see, follow us on Twitter for some extras: @_knuckleheads, @BrendanCole16, @JakeTrowbridge, and @Eric_theClark.