For those of you headed to the playoffs in your fantasy leagues, you have no doubt made some shrewd running back moves. This year has been a train wreck for a good portion of the top talent. I doubt that most people thought that they would head into the playoffs starting guys like Thomas Rawls or Charcandrick West but here we are. With that in mind, we push on forward to the running back rankings for week 14.
Injury Concerns:
Andre Ellington ARI Questionable, Karlos Williams BUF Questionable, C.J. Anderson DEN Questionable, Ryan Mathews PHI Questionable, Carlos Hyde SF Questionable, Dexter McCluster TEN Questionable, Chris Thompson WAS Questionable
Week 14 Waiver Wire Picks: Quarterback And Tight End / Running Back / Wide Receiver
Elite Tier - Must Starts
1. LeSean McCoy BUF @PHI
2. Thomas Rawls SEA @BAL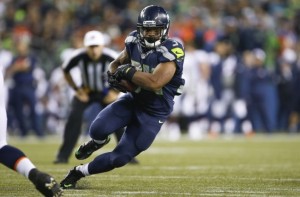 3. Todd Gurley STL vs. DET
4. Doug Martin TB vs. NO
McCoy will have a nice matchup versus a Philadelphia squad that has been giving up points in bunches. Rawls is a beast and he should continue his roll in Baltimore as the Ravens defense has not been scary in a couple of seasons. Gurley should find more running room against Detroit than he has been seeing lately. Martin heads into a matchup with the porous Saints defense as one of the hottest backs in the league.
Strong Plays - Reliable, But A Notch Below
5. Jonathan Stewart CAR vs. ATL
6. DeAngelo Williams PIT @CIN
7. Devonta Freeman ATL @CAR
8. Ronnie Hillman DEN vs. OAK
9. Lamar Miller MIA vs. NYG
10. Adrian Peterson MIN @ARI
Jonathan Stewart has had a couple of duds, but for the most part he has been one of the bigger bargains of the season. DeAngelo Williams will find success similar to his former backfield mate Stewart. Freeman has a tough test, but he will still be good for double digit points in this one. Hillman surges up in the rankings as it sounds like Anderson may not suit up against the Raiders. Miller should find some room against a Giants team that has been unreliable stopping the run. Peterson has not been good versus some of the better defenses, so temper your expectations.
Risk/Reward - Potentially Shaky
11. Chris Ivory NYJ vs. TEN
12. David Johnson ARI vs. MIN
13. Shaun Draughn SF @CLE
14. Mark Ingram NO @TB
15. Matt Forte CHI vs. WAS
16. Charcandrick West KC vs. SD
The Titans are not pushovers but Ivory should get enough touches to put up some points. Johnson will see the majority of the carries in the Cardinals backfield for the second week in a row. Draughn is a sneaky play; he should produce in Cleveland as he has every week since taking over the starting job. Ingram is no longer a must play; the Saints are a different team on the road (not for the better). Forte should be rounding into form and he is a decent play against the Redskins. West should see some carries against a battered Chargers team as the Chiefs will be running out clock in the second half.
Question Marks - RB2 Upside
17. T.J. Yeldon JAC vs. IND
18. Javorius Allen BAL vs. SEA
19. Darren McFadden DAL @GB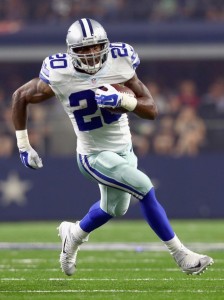 20. Ryan Mathews PHI vs. BUF Questionable
21. Jeremy Hill CIN vs. PIT
Yeldon should find running room against the Colts, but the Jags love to throw. Allen is a big talent but the Seahawks will put a damper on his numbers for a week. McFadden seems to be wearing down, Turbin may start taking more carries in the next week or two. DeMarco Murray seems to have fallen out of favor and if Mathews suits up he may be the starter against Buffalo. Hill has the upside in the Bengals backfield, although his downside is also tremendous.
Flex Appeal - Usable In A Pinch
22. LeGarrette Blount NE @HOU
23. James Starks GB vs. DAL
24. Frank Gore IND @JAC
25. James White NE @HOU
26. Spencer Ware KC vs. SD
27. Latavius Murray OAK @DEN
28. DeMarco Murray PHI vs. BUF
29. Matt Jones WAS @CHI
The Texans defense will be after Tom Brady so New England may use Blount to slow the rush. Starks could see a decent amount of action as the coaching staff just does not like Lacy. Gore should have room to run, but he does not hit the holes like he used to. White could see a lot of passes as the receiving options are dwindling for the Pats. Ware may get a fair number of carries as the Chiefs should be up big in this one. Murray has been around 20 carries for the last two weeks, but there is always the threat of the Raiders going pass-first. DeMarco Murray saw little action last week and that may be the trend going forward. Matt Jones got a fair amount of carries last week, but did little with them; he is a wild-card.
Tough Sledding - Let Them Be Someone Else's Problem
30. C.J. Anderson DEN vs. OAK Questionable
31. Giovani Bernard CIN vs. PIT
32. Jeremy Langford CHI vs. WAS
33. Ameer Abdullah DET @STL
34. Duke Johnson Jr. CLE vs. SF
35. Darren Sproles PHI vs. BUF
36. Theo Riddick DET @STL
37. Shane Vereen NYG @MIA
38. Antonio Andrews TEN @NYJ
39. Danny Woodhead SD @KC
40. Alfred Blue HOU vs. NE
41. Bilal Powell NYJ vs. TEN
42. David Cobb TEN @NYJ
43. Brandon Bolden NE @HOU
44. Melvin Gordon SD @KC
45. Alfred Morris WAS @CHI
46. Rashad Jennings NYG @MIA
47. Jay Ajayi MIA vs. NYG
48. Daniel Herron IND @JAC
49. Chris Polk HOU vs. NE
50. Charles Sims TB vs. NO