The playoffs are here and it's time to put the pedal to the metal. There are plenty of great matchups in week 14, so streaming is a nice approach here. If you need a kicker, defense, quarterback, or all of the above we've got what you need. Pick through the week 14 streamers and see which ones are a good fit with your roster.
D/ST
Dallas Cowboys
The Cowboys defense has not been a dominant unit this year. The major exception to this rule has been NFC East teams not from Philadelphia. In three games against the Giants and Redskins, the Cowboys have put up 12, 15 and 16 points.
Now Geno Smith brings his high flying interception circus back to the big apple just in time to score points for the defense. The Cowboys are a good bet for multiple sacks, multiple picks and maybe a score.
New York Jets
Once a feared defensive unit, the Jets have fallen off in recent years. The good news is that they get to face the Denver quarterback flavor of the week. The Broncos have allowed no less than 8 points to opposing defenses since week 4. The Jets are no longer terrorizing opponents, but they are good enough to take advantage of this matchup. There is reason to believe that Gang Green should be in double digit defensive points this week.
Check Out Our Bold Predictions From Week 13
Kicker
Patrick Murray TB
The 2017 season has been disappointing for the Bucs. They have shown flashes of greatness on offense, but cannot sustain their production. Now Jameis Winston is back...and they have more of the same. It looks like the Bucs will be tough to predict on offense from week to week.
One thing that has been reliable lately is Patrick Murray. He has scored no less than 8 points in the last four games. The Lions defense should keep Tampa in check for the most part and that may mean a lot of field goal chances. If that pans out, Murray will be up to the challenge and points will follow in bunches.
Ka'imi Fairbairn HOU
In week 13, Tom Savage looked like a professional quarterback; I'm not buying it. The Texans offense played well and that showed just how bad the Titans are on defense. On the bright side, the 49ers aren't much better.
San Francisco has been a favorable matchup for kickers. They rank in the bottom third of the league in points allowed to opposing kickers. Combine this with Fairbairn's recent success and it should make for a nice scoring performance in week 14.
Quarterback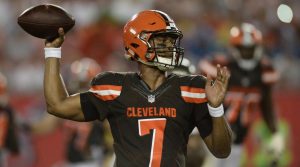 Deshone Kizer CLE
This is a hard recommendation to make, because Kizer has been one of the worst in the league so far. Keep in mind that he now has these targets: Josh Gordon, Corey Coleman, David Njoku, and Duke Johnson Jr. This is a tremendous improvement over what he has been working with. Josh Gordon looks like he is ready to fly right away as he had 4 catches for 85 yards against maybe the best corner in the league.
Against a Packers team allowing points in bunches to opposing quarterbacks, Kizer could surprise. If he gets fully on the same page with Gordon and Coleman it would make for a huge day. With 15 or more fantasy points in four of his last five games, Kizer has actually been an under the radar reliable quarterback lately.
Jimmy Garoppolo/C.J. Beathard SF
It is unclear which quarterback will start for San Francisco in week 14. What is clear is that the Texans are a great matchup for any quarterback. Granted, the biggest games against Houston have come at the hands of Tom Brady and Russell Wilson. They have also given up huge point totals to Alex Smith and Jared Goff, who are good but not great.
I like Garoppolo better as a passer, but Beathard's mobility may actually give him a higher point ceiling for the week. Either way, I like a 49ers quarterback for streaming purposes.
With the playoffs about to start, be sure to check back tomorrow for Eric Clark's waiver wire picks. Later in the week we will bring you high upside picks, sleepers and more. For some extras, follow the Knuckleheads on Twitter: @_knuckleheads, @BrendanCole16, @JakeTrowbridge, and @Eric_theClark.