There were a few strong storylines in week 13, but none stuck out like the impossibly bad performance of Colin Kaepernick. What the hell?! I have never seen an NFL quarterback play most of a game and not even reach double digit passing yards. It would be interesting to know how many teams lost out on a playoff spot due to the inexplicable performance of Kaepernick.
Week 13 Recommendations Results (Standard League Scoring) Quarterback
· Colin Kaepernick SF – 1-5 4 yards 6 rushes 20 yards 2 Fantasy Points
· Ryan Tannehill MIA – 29-40 226 yards 1 touchdown 3 interceptions 9 Fantasy Points
· Ryan Fitzpatrick NYJ – Plays Tonight
The performance of Colin Kaepernick is best described with a long string of profanities and obscenities. So much for his high floor. Tannehill putrid as well, but he looked like Tom Brady compared to Kaepernick.
Week 13 Recommendations Results (Standard League Scoring) Tight End
· C.J. Fiedorowicz HOU – 6 catches 44 yards 4 Fantasy Points
· Lance Kendricks LA – 2 catches 13 yards 1 Fantasy Point
· Ladarius Green PIT – 6 catches 110 yards 1 touchdown 17 Fantasy Points
Fiedorowicz had a decent number of touches but did not manage to reach the end zone. Kendricks and the Rams were decimated by the Seahawks; not much upside in that game for Los Angeles. The bright spot in these picks was Ladarius Green. He finally broke out, but can he keep it up. There are a lot of talented offensive players in Pittsburgh fighting for touches every week.
Week 14 Waiver Wire Picks – Quarterback
Joe Flacco BAL 24.7% owned
If you managed to survive hurricane Kaepernick and need a qb, Flacco could fit the bill. Expecting a repeat of week 13 would be ridiculous, but Flacco has scored at least 15 points in each of the last 5 weeks. He has gone over 20 points twice in that span. The Ravens have some emerging weapons like Kenneth Dixon and Breshad Perriman bolstering what had been a stagnant offense. The Patriots are a tougher challenge than some of the recent matchups, but if the youngsters step up Flacco should continue to thrive.
The Rest Of The Waiver Wire Picks
Brock Osweiler 7.9% owned
I have to admit that I was stifling my gag reflex over this pick. As quarterbacks go, Osweiler is not what you would call "skilled" or "worthy of an NFL roster spot". Luckily for him, the Texans have some soft matchups on the horizon. It seems like Osweiler has also remembered that DeAndre Hopkins is on his team. 20 fantasy points is probably a pretty solid ceiling, but the late season waiver wire can be cruel.
One More Chance
Colin Kaepernick SF 49% owned
This article began with several lines about the awful performance by Kaepernick. At some point it has to be mentioned that he was only allowed to throw the ball five times. The game was in sloppy conditions and passing was tough, but Chip Kelly is on the hook for the struggles of Kaepernick's fantasy owners. The Jets come to town next week and they bring an awful pass defense with them. If someone in your league dropped Kaepernick, grab him right now.
Week 14 Waiver Wire Picks – Tight End
Dennis Pitta BAL 47% owned
How can two touchdown receptions for Pitta not be a fluke? He never scores touchdowns, but suddenly became Joe Flacco's favorite red zone target in week 13. It would probably be foolish to hope for similar results in week 14, but maybe Baltimore will start looking to their big tight end in the red zone due to his success. Either way, a performance like that cannot be completely ignored because it came from a skilled receiver with a good quarterback.
Double Down
Ladarius Green PIT 11.6% owned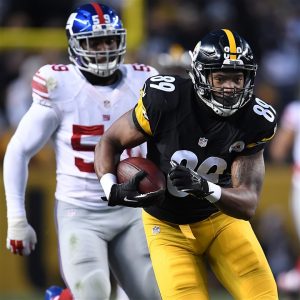 The Steelers are laden with talent on offense and Green is the latest player to blow up. He has always had the talent to be one of the league leaders at tight end, but opportunities have been fleeting. Now it looks like the Steelers may have him on full display if he can remain healthy. There is a good chance that Green is breaking out just in time for the fantasy football playoffs. This is great news since so many owners are scrambling for tight ends with no Gronk and Jordan Reed always dinged up.
Jermaine Gresham ARI 13.1% owned
He was once a decent middle of the pack tight end, but since leaving the Bengals Gresham has not done much. In the past three games he has had a mini renaissance, however. Gresham has scored touchdowns in two of the past three games and he has had five catches in two of three as well. The Cards offense starts and ends with David Johnson, but Gresham appears to have carved himself out a nice niche of his own.