Wide receiver production is a fluky thing to predict sometimes. Who would have guessed that five of the top six scorers this week would be Golden Tate, Tyler Lockett, Albert Wilson, Brandon LaFell and Ted Ginn Jr.? The only somewhat predictable name to flourish was Jordy Nelson. The good news is that means there are some players to be grabbed from waivers that could propel your team to fantasy greatness in week 14.
Week 13 Recommendations Results
· Quincy Enuwa NYJ – Plays Tonight
· Sammy Watkins BUF – 3 catches 38 yards 3 Fantasy Points
· Tyreek Hill KC – 5 catches 53 yards 2 carries 19 yards 6 Fantasy Points
· Dontrelle Inman SD – 2 catches 49 yards 1 touchdown 10 Fantasy Points
Enuwa is the 1A to Brandon Marshall's 1 in the Jets offense for the rest of the season. In an unfortunate turn, Sammy Watkins has a broken bone in his foot and his effectiveness for the playoffs is very questionable. The offense in Kansas City does not revolve around Tyreek Hill, but his presence changes the way teams defend them. The Chargers are low on playmakers but Inman is a steady source of production, for fantasy at least.
Week 14 Waiver Wire Picks
Tyler Boyd CIN 32.9% owned
Things are not great for the Bengals offense right now, but they are about to get better. A trip to Cleveland is a great remedy for an anemic offense. Boyd has not emerged as the number one receiver in Cincinnati, but he is still probably the most talented with A.J. Green down. Week 14 should be a good chance for Boyd to have a breakout game, not that anyone will see. Who would be watching the Browns play the Bengals?
The Rest Of The Waiver Wire Picks
Tyler Lockett SEA 25.1% owned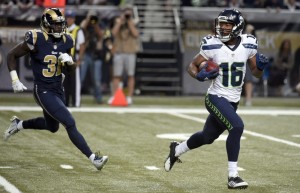 Week 13 was a big one for Lockett, but most of the production came on a 75 yard touchdown run. Next week should be solid as well because the Packers cannot defend receivers. Lockett is getting enough touches that he should be able to make something happen with his speed and playmaking ability. Just keep in mind that Green Bay is awful versus tight ends, so a lot of the production is going to be gobbled up by Jimmy Graham.
Time To Get On Board
Malcolm Mitchell NE 19.8% owned
Relying on a single Patriots player can be scary because they have so many weapons. At this point, it seems like Mitchell is going to be a solid week to week option, however. Gronk is gone and the Patriots are playing more three wide receiver sets. This means that Mitchell is on the field quite a bit of the time. Now it looks like Danny Amendola is going to miss some time due to injury (shocker), so Mitchell will be seeing even more looks. Three double digit performances in a row are enough to be called a trend, but beware week 15. The matchup with Denver is a scary one and Mitchell may be better of on the bench at that point.
Adam Thielen MIN 16.9% owned
People have been reluctant to believe in Thielen this season, myself included. At this point it is tough to dispute the results, but the ownership level does not reflect them yet. He has scored 8 or more fantasy points in each of the last 5 weeks. In PPR leagues that total is inflated even more due to playing with the checkdown king Sam Bradford. Most weeks Thielen is right up there with the team leaders in touches, but he has more going for him. The Vikings have upcoming matchups against the Jaguars, Colts and Packers. That should mean some easy production against those soft defenses.