The playoffs are in full swing and there is no more allegiance to certain players. Some people believe in always starting your studs, but injuries and matchups have to be taken into consideration. For owners of players like Julio Jones, here are the best fantasy football sleepers to keep in mind if your to guys don't take the field this weekend.
Quarterback
Matt Moore MIA 0.2% owned
For an owner to look at starting Moore they would probably have to be in a bind, but he has a great matchup. The Jets have all but given up on the 2016 season and it shows in their play. The Jets defense should be a daunting task for Moore, but in reality they are preposterously easy to throw on. The Dolphins have big time weapons in the passing game and if Moore can get in a rhythm he could put up a surprisingly useful stat line.
Matt Barkley CHI 1.8% owned
The Bears are going to be playing catch up or at least keep up with the Packers this week. That should mean a lot of Barkley throwing against the ugly Green Bay secondary. The Packers have been a bit better defensively, but the return of Alshon Jeffery is a big boost for Barkley. He is nowhere near the stud that some people thought he would be coming out of USC, but the weapons and matchup make Barkley a quarterback sleeper.
Running Back
Mike Gillislee BUF 30% owned
The Bills have officially declared Gillislee the goal line back, although their behavior had alerted the public to this fact already. The matchup this week is as good as it gets, facing a terrible Browns team with nothing to play for. The Bills are pretty much out of the playoff hunt as well, which could mean that Gillislee gets a few more carries than would otherwise be the case. Either way, he is an offensive player facing the Browns and that is a recipe for success.
Chris Thompson WAS 19.9% owned
He has seen sporadic success, but Thompson sometimes seems forgotten in the Redskins gameplan. Last week he managed 38 yards and a score on only three carries. That may be a fluke, but he has looked as good as or better than Rob Kelley lately which could mean some extra time on the field. Thompson is an asset as a rusher and a receiver, but his uncertain playing time make him a risk for fantasy owners. If the Panthers bottle up Kelley, Thompson could see some extra touches and be an interesting flex.
Blast From The Recent Past
Justin Forsett DEN 18% owned
The Patriots are very tough against the run, they allow the fifth fewest rushing yards to opponents. With that said, Forsett is carving out a spot for himself in Gary Kubiak's offense and that is worth something. Not only is Forsett getting a decent number of carries, he is a superior receiver to Devontae Booker. That means that if the Patriots get a lead, Forsett could see most of the action in this game. As a receiver he may actually put together a stat line worth taking note of.
Wide Receiver
Corey Coleman CLE 35.7% owned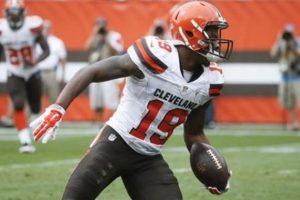 The Browns' first round pick is a big name, but he is sparsely owned because he has not produced in quite a while. That could change this week as Robert Griffin III gets his feet under him a bit. Griffin targeted Coleman heavily last week, seemingly preferring the youngster to top receiver Terrelle Pryor. If Griffin and Coleman get on the same page there is plenty of big play potential. The Bills are a solid defensive team, but Coleman is a playmaker and lots of touches could mean fantasy goodness.
Robby Anderson NYJ 3.9% owned
After being featured as a sleeper last week, Anderson finished with six catches for 99 yards. He was targeted 11 times and Bryce Petty seems certain to keep throwing it his way. He is still available in almost all leagues, but in my opinion he is worth a start in all but the shallowest formats. Anderson should be good for double digit targets and there is a good chance that he finds the end zone if that is the case.
Lottery Ticket
Breshad Perriman BAL 1.8% owned
Perriman is sort of a halfway version of what Torrey Smith was on the Ravens. That may seem like an insult considering how long it has been since Smith has been relevant, but it means that Perriman will have a big week now and again. He has actually been fairly consistently productive lately. Perriman has had either at least 50 receiving yards or a score in four of his last five games. While this may not be the week that he goes off, he is a solid bet to be around 10 points.
Tight End
Charles Clay BUF 9.7% owned
Last week was one of the first times this season that Clay has been productive. That may seem like an anomaly, but I attribute it to the fact that the Bills finally have weapons in the passing game and defenses can't key on certain players. The defense should not present much problem this week because the Bills are playing the Browns. Last week they got beaten up by Tyler Eifert. He is a much better player than Clay, but there is still a good chance for a touchdown in this game.
Jermaine Gresham ARI 14.2% owned
A steady commodity of late, Gresham seems to be good for five catches per game. He has had exactly five catches in each of the past three games. His yardage has been between 35 and 52, with a touchdown in one of those games. This week he faces the Saints on the road and it seems like a good opportunity for Gresham to pick up another TD. There is a fairly solid ceiling on his production, but his floor is not low, especially in PPR.