2017 has been a rough season for injuries. David Johnson. Odell Beckham Jr. Aaron Rodgers, Deshaun Watson. Now, we can add Carson Wentz to the list. But all is not lost! There is hope. Here are my waiver wire adds for Week 15. If you need a quarterback, take a look at the streaming picks, otherwise carry on for these hot waiver adds.
Running Back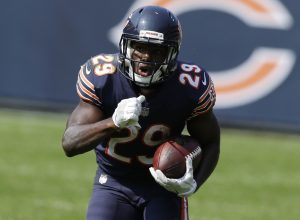 Tarik Cohen, RB, Chicago Bears- Cohen had a solid game in what turned out to be a dominant win for the Bears. Cohen would've had an even better outing if one of his touchdowns wasn't called back for stepping out of bounds. He is an electrifying playmaker, and it was encouraging to see a performance that was more indicative of Cohen's talent. The Bears change of pace back ran 12 times for 80 yards and caught 2 passes for 5 yards Sunday.
Rod Smith, RB, Dallas Cowboys- Rod Smith was deadly in the passing game against the Giants. He exploded for 5 catches and 115 yards and a touchdown, and added six carries for 47 yards and a score. Smith has been extremely productive in Ezekiel Elliot's absence, and has proven to be more than serviceable. He will have good value until Elliot returns from suspension.
Jonathan Stewart, RB, Carolina Panthers-No one expected Jonathan Stewart to obliterate the stingy Vikings defense-but that's exactly what went down on Sunday. Stewart absolutely gashed the Vikings defense for 103 yards rushing on 16 rush attempts in what was a huge day for the veteran running back.
Check Out All Of The Waiver Wire Content
PPR Special
Theo Riddick, RB, Detroit Lions- Riddick had a solid day against Tampa Bay, and made the most of his opportunities, rushing for two touchdowns on the day. With the possibility of Ameer Abdullah entering back into the fold next week, there is a possibility of a timeshare role. This prolific pass catcher is most valuable in PPR leagues.
Wide Receiver
Corey Coleman, WR, Cleveland Browns- Conventional wisdom would tell you that with Josh Gordon in the mix, Coleman's role might diminish as a result. That assumption couldn't be more false. While Gordon's presence has provided a boost to Cleveland's passing game, it has  also opened up opportunities for Coleman. Coleman actually equaled Gordon in total targets, and managed to score a touchdown. His final line for the day was 5 of 6 targets for 62 yards and a score.
Tyler Lockett, WR, Seattle Seahawks- Lockett had 90 yards  and a touchdown versus the Jaguars. Russell Wilson has found Lockett for a score for the second straight week. Any time you can score against the Jaguars top pas defense, those efforts can't go unnoticed. Lockett's ability to stretch a defense makes him a dangerous weapon, and he's a big play waiting to happen.
Tight End
Jesse James, TE, Pittsburgh Steelers- Jesse James had a productive night against Baltimore. He nearly had 100 receiving yards in what was his statistically his best game of the season. With Vance McDonald out with a shoulder injury, look for Jesse James to be heavily involved in the passing game.
Kicker
Robbie Gould, K, San Francisco 49ers- Yes you're seeing this correctly. A kicker has made this weeks waiver adds. Not just any kicker though-Robbie Gould. Gould has been on the top of his game as of late. He connected on all 4 of his attempts vs Houston, and has entered himself into Pro-Bowl conversations. 49ers coach Kyle Shanahan said of Gould, " I know he has missed a couple, which they all do, but Robbie has been great," he said. (Chicago Tribune). Gould has benefited from the 49ers increase in offensive production. The team's improvement in that area has subsequently increased his scoring opportunities as a result.
What happened during your league's regular season doesn't matter-whether you had a winning record, or a losing record, all that matters is how you perform this week. It's the playoffs, and it's critical that you bring your A game Sunday.  Now's the time to show what your really made of.