The second week of the playoffs is coming, congratulations to those of you that made it. It's time to explore the streaming options that can keep you alive for one more week. There is still help available, so good luck and for those about to play, we salute you!
Kicker
Dan Bailey DAL
Over the course of his career, Bailey has been a perennial top scoring kicker. This season, he has been largely derailed by injuries and offensive dysfunction. Now the Cowboys seem to have their act together, though. The offense is clicking again and week 15 brings a great matchup with the Raiders. Oakland is one of the very worst in the league at keeping kickers from scoring points. This should be a big week for a guy that is normally a star kicker.
Brandon McManus DEN
Speaking of offensive dysfunction, how about a Bronco for your team. It may seem counter-intuitive to grab a kicker for such an up and down team. In this case it will work out because of the opposition. The Colts are just about as bad as the Raiders when it comes to keeping teams from scoring. The Broncos are not going to score a lot, but what they do score should come off the foot of McManus.
D/ST
Indianapolis Colts
As I mentioned above, the Broncos are not going to score a lot of points. It has been a season of disappointment for the Colts defense, but even they can force turnovers against Denver. The Broncos offense is run by subpar quarterbacks and that means good things for opponents. Aside from a thrashing at the hands of the Jaguars, the Colts defense has actually gone from awful to average. Take away that Jaguars game and the Colts average 6.3 points since week 7. Not bad for a waiver wire streamer.
Washington Redskins
Not only do the 'Skins have a nice matchup in week 15, another one follows in week 16. This week they face a Cardinals team with no quarterback and nothing to play for. Opposing defenses are scoring an average of 3.1 points more versus the Cardinals than the league average. That means that Washington will have every opportunity at a big game this week. They should have good utility in championship week as well, since they face the Broncos in week 16.
Quarterback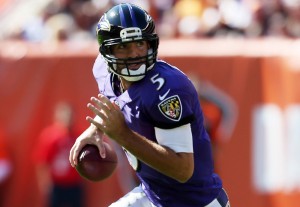 Joe Flacco BAL
I never thought that I would type this name outside of saying "never play Joe Flacco". I laughed when Jacob Trowbridge recommended him for a ROS pickup. Two weeks later, Flacco has put up 21 and 19 points going into a matchup with the Browns.
Cleveland comes into the game fresh off of giving up 28 points to Brett Hundley. That's right, BRETT HUNDLEY. Their offense has been energized, but the defense still cannot stop the pass. The Ravens, on the other hand, have seen an offensive renaissance. The return of Danny Woodhead has not paid huge statistical dividends, but it makes opponents pay attention. There are players at every level that can make the defense pay and that opens things up. Flacco should be right around 20 points again; not bad for a waiver pickup.
Deep League Desperation
Nick Foles PHI
I think that everyone is pretty comfortable saying that Foles should not be a franchise's starter. He can fill in for a couple of games though. In the past, Foles has shown that he can be very effective in small doses. The Eagles had better hope that is still the case, because Wentz could be done for the season. Eagles' training staffers believe that Wentz has a torn ACL. Even if he does not, he probably isn't playing in week 15.
The Eagles have a great matchup against the Giants this week. All of the weapons are in place for Foles to succeed. If he can pull of some semblance of a quarterback impression, he should have a big game. It is a major risk to play a guy coming off the bench. Depending on your desperation level, Foles could have a high reward upside.
Good luck to everyone this week. That championship game is just around the corner now. Check back tomorrow for some hot waiver wire picks. For extras, follow us on Twitter: @_knuckleheads, @BrendanCole16, @JakeTrowbridge, and @Eric_theClark.