The playoffs are in full swing and there have already been some eliminations. If you have the good fortune to still be alive with a shot at the prize, congratulations to you. Be sure that you do not sit idle, there were some big injuries last week and changes must be made.
Quarterback
Mitchell Trubisky CHI Rostered - 19%
This is a scary thought in the semifinal round of the playoffs, but Trubisky is on fire. It appears that Matt Nagy has got the offense turned around and Trubisky has been humming. He has put up over 20 fantasy points in 4 of the last 5 matchups. The Packers have a solid defense, but there are plenty of weapons to choose from when Trubisky drops back.
Eli Manning NYG Rostered - 5%
I promise, I'm not just naming bad quarterbacks to sabotage your team. The Giants are an awful squad, but they have some weapons on the offensive side. Darius Slayton has been a major boom/bust matchup slayer, and Manning may have Engram back as well. All this and a soft Dolphins defense should have this two time Super Bowl champ looking like vintage Eli for one more week.
Running Back
Adrian Peterson WAS Rostered - 41%
Somehow, 34 year old Adrian Peterson is once again the lead back for the Redskins. After yet another injury, Derrius Guice heads back to the sidelines. While the matchup against Philly is far from tempting, getting the main back in a team's running game at this point in the season is worth a waiver pickup.
Raheem Mostert SF Rostered - 24%
The 49ers running game is money in the bank, but nobody is ever sure who is going to cash in. It seems like Mostert is as safe a bet as any to be involved lately. He topped 20 fantasy points in each of the last two games, against serious defenses no less (BAL and NO). Since Tevin Coleman has not looked good, it should be a safe bet that Kyle Shanahan is smart enough to see the writing on the wall. Although I learned a long time ago to never trust a Shanahan with my running backs.
Patrick Laird MIA Rostered - 11%
In his first game as a starter, Laird totaled 86 all purpose yards and looked serviceable. Things should be a bit easier in week 15, as the Dolphins go up against a lackluster Giants defense. Laird is a sneaky pick to win some matchups this coming week, especially in PPR formats.
Watch The Injury Report
(Backups With Potential Value)
DeAndre Washington OAK
Alexander Mattison MIN
Benny Snell PIT
Darwin Thompson KC
Wide Receiver
A.J. Brown TEN Rostered - 31%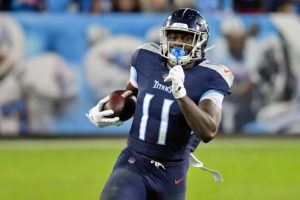 I try to steer clear of hyperbole, but Brown looks like he could be a top 5 receiver in the league within a year or two. This guy has all of the skills and is occasionally dominating as a rookie. He has at least 80 receiving yards in three out of the last five games and is averaging 20 yards per catch. It would be a surprise if the Titans don't work to incorporate Brown more often down the stretch.
Darius Slayton NYG Rostered - 32%
This is a guy that can win you a fantasy matchup in any given week. He has two games with over 20 fantasy points and there is a great chance that he could make it three in week 15. He had an instant rapport with Eli Manning and faces a bad Dolphins defense next.
Deebo Samuel SF Rostered - 47%
I'm feeling like a broken record on this one. Another week, another double digit fantasy point performace. Pick up Deebo if he is available.
Tight End
David Njoku CLE Rostered - 23%
He plays against Arizona in week 15...that's it.
Tyler Higbee LAR Rostered - 11.4%
The Rams tight end has two 100 yard games in a row in the absence of Gerald Everett. This offense is featuring the tight end position in a way that they never have in the past. Assuming Higbee is the main option at tight end again, he would be a great start.
Make sure to come and check out our weekly positional rankings before you set your playoff lineup. Follow me on Twitter for some extras and lineup questions answered: @brendancole16. Good luck in those playoff matchups!