There were some truly awful quarterback performances in week 14 from trusted names and scrubs alike. The playoffs are a difficult time to make fantasy personnel decisions, but here are a few names to consider if a change to your roster is necessary.
Week 14 Recommendations Results (Standard League Scoring) – Quarterback
· Joe Flacco BAL – Plays Tonight
· Brock Osweiler HOU – 14-24 147 yards 1 interception 5 Fantasy Points
· Colin Kaepernick SF – 15-26 133 yards 1 touchdown 12 Fantasy Points
The Ravens offense looks to keep rolling tonight and Flacco should be a solid start. Osweiler was just starting to convince me that he might be an NFL quarterback and then he Osweilered hard on Sunday. It's official, Colin Kaepernick is broken again. He may not even keep the starting job next week.
Week 14 Recommendations Results (Standard League Scoring) – Tight End
· Dennis Pitta BAL – Plays Tonight
· Ladarius Green PIT – 2 catches 25 yards 2 Fantasy Points
· Jermaine Gresham ARI – 5 catches 45 yards 4 Fantasy Points
Don't give up on Ladarius Green yet; LeVeon Bell was the Steelers' game plan Sunday. Gresham continues to see a decent number of targets and is a decent TE2.
Week 15 Waiver Wire Picks – Quarterback
Trevor Siemian DEN 10% owned
The offense in Denver is not the powerhouse that it was for a couple of years, but Siemian is not awful. The offensive line has struggled this year, but when they get him a bit of time Siemian has top notch receivers to throw to. The next two matchups (NE and KC) are not brutal, but they are also not easy. Siemian is not going to set the world on fire so I would reserve him as a replacement for Tannehill or maybe Stafford depending on how his injury affects his throwing.
Roll Of The Dice
Robert Griffin III CLE 4.2% owned
The former first round pick has plenty of potential, although it was not evident against the Bengals. For the first time in recent memory, the Browns have a couple of decent receivers on their roster. If RG3 is able to get on the same page with someone, he could put up passable numbers for a starter, but there is not much hope for this at the moment.
The Rest Of The Waiver Wire Picks
Double Down
Joe Flacco BAL 26.2% owned
Regardless of how Flacco plays versus New England tonight, he is easily the most talented quarterback available in most leagues. He is inconsistent at times, but Flacco is far and away better than the rest of the borderline talent on the waiver wire. For teams in desperate need of a quarterback he should be the first name that comes to mind.
Week 15 Waiver Wire Picks – Tight End
Hunter Henry SD 27.1% owned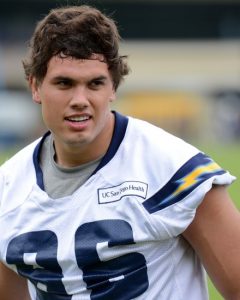 The low volume of catches for Henry is concerning, but he has scored in three of the past four games. Phillip Rivers has been struggling and he is going to have to try something different soon. Hopefully he will try throwing to Henry a lot more as that was successful earlier in the year. The one thing to watch out for is Antonio Gates being very close to the all-time touchdown record for tight ends. Rivers is going to try to get him the record and that could affect Henry's chances down the stretch.
Charles Clay BUF 9.1% owned
The Bills offense is getting healthier and Clay is benefitting from the attention being given to Watkins and Woods. Last week Clay caught three balls for 52 yards and a touchdown. In week 15 the Bills square off against the hapless Browns and anything can happen. The Browns cannot stop anyone and Clay seems to have a bigger role, so he might be worth a roll of the dice for tight end poor teams.
Universally Available
Trey Burton PHI 0.2% owned
Over the past two weeks, Burton has received at least 9 targets per game. Carson Wentz is looking to his tight ends early and often which has some value moving forward. Of course Ertz is the tight end to own, but the number of targets that Burton is seeing gives him some sneaky value as well. Week 15 is a rough matchup as the Ravens cover tight ends very well, but with enough chances the Eagles should get something going between Ertz and Burton.