In order to win the championship, most teams are going to need to gamble a bit. The saying goes "fortune favors the bold"; while that is not always the case the payoff can be huge. Here are some players that could pay off in a big way for brave owners. It's the high upside picks for the championship round.
Quarterback
Blake Bortles JAC
It has been a while since the old, unreliable Bortles has ruined a fantasy lineup. He has scored at least 19 points in seven of the last 8 games. Over the last four games, Bortles has scored at least 21 points with 28 in two of those matchups. The Jaguars face an improving 49ers defense in week 16, but Bortles has some dynamic young receivers and a wrecking ball at running back. This preseason punch line is ready to deliver a championship to your fantasy team and then...maybe for the Jaguars as well.
The Full Weekly Rankings Are Here For You
Running Back
Dion Lewis NE
The three headed monster of Pats running backs is dinged up right now. Rex Burkhead is not going to play and James White is listed as questionable. That should mean that Dion Lewis sees a very healthy workload against the Bills lackluster run defense. It is likely that the disappointing Mike Gillislee gets back into game action. At this point, Belichick knows what side his bread is buttered on, though. Dion Lewis is easily the most dynamic back on the Patriots roster and he is in for a very big day.
Wide Receiver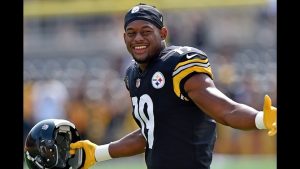 JuJu Smith-Schuster PIT
Fresh off a 6 catch 114 yard effort versus the Patriots, JuJu gets the depleted Texans defense. The Steelers are likely to put up a lopsided number in this one, even without Antonio Brown. There is a chance that Martavis Bryant will have decent numbers as well, but his stats are too mercurial to trust. The rookie has been a fairly sure source of points in plus matchups this year. Jump on board with #teamjuju and you should be rewarded with over 100 yards and a score.
Tight End
Ben Watson BAL
When it comes to tight ends with upside, the cupboard is bare. Outside of the top 3-5 at the position, things are kind of similar all over. With that being said, this would not be much of an article if I did not have some kind of opinion. If you don't have Gronk and are shopping for a tight end, Watson has a decent matchup.
The Ravens are playing much better on offense and Watson is a major part of that. His receiving numbers in non-Browns games aren't impressive, but he occasional touchdown bolsters Wason's value. Opponents of the Colts are averaging 12.7 yards per reception to tight ends, so there should be some room to run if Watson gets his looks. All in all, he is one of the best bets to put up a usable fantasy day in week 16.
For more team recommendations, check out the streaming kicker, d/st and quarterback picks for the week. Check back soon for week 16 sleepers and good luck in the championship. Be sure to follow us on Twitter for some extras: @_Knuckleheads and @BrendanCole16.