Some fantasy owners are filled with excitement heading into the championship week, but others are playing just to finish. For those in leagues that play the championship this week, waivers are extremely important. Even if the semis are still going on, it is still one loss and you're out. No matter what the current situation, read on and find out what reinforcements are likely available in your league.
Week 15 Recommendations Results (Standard League Scoring) Quarterback
· Trevor Siemian DEN – 25-40 282 yards 1 interception 12 Fantasy Points
· Robert Griffin III CLE – 17-28 196 yards 8 rushes 48 yards 1 touchdown 19 Fantasy Points
· Joe Flacco BAL – 16-30 206 yards 2 touchdowns 1 interception 1 fumble lost 14 Fantasy Points
Siemian took a step back, but he should still see good passing volume in week 16. RG3 earned another start, but the majority of his points came on the ground. Given his injury history that is tough to rely on. The Ravens offense played fairly well, but Flacco ruined a decent day with two turnovers.
Week 15 Recommendations Results (Standard League Scoring) Tight End
· Hunter Henry SD – 3 receptions 37 yards 1 touchdown 9 Fantasy Points
· Charles Clay BUF – 7 receptions 72 yards 1 touchdown 13 Fantasy Points
· Trey Burton PHI – 2 receptions 2 yards 0 Fantasy Points
The upside of Henry depends on scoring touchdowns, which he was able to do in week 15. For some reason the Bills had Charles Clay play the role that most people thought Sammy Watkins would fill. He would be a risky play in the championship, but he clearly has the trust of his quarterback right now. The widespread availability of Trey Burton did not signal opportunity, he did nothing in his matchup.
Week 16 Waiver Wire Picks – Quarterback
Matt Moore MIA 1.2% owned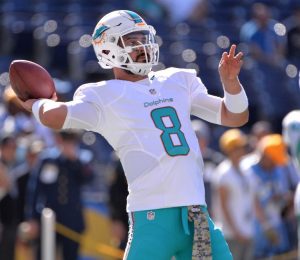 As one of my week 15 sleeper picks, Moore delivered and then some. The longtime backup threw for 236 yards and 4 touchdowns against a disinterested Jets secondary. This is a player that many coaches thought might be a franchise quarterback early in his career. He has some ability and Miami provides him with a ton of weapons. The Bills aren't a dream matchup, but their playoff hopes are gone. There is a good chance that Moore can throw at will as both teams just play out the string.
Double Down
Trevor Siemian DEN 10.7% owned
The numbers were not impressive in week 15, but Siemian has been surprisingly productive over the last few weeks. The Broncos take on the Chiefs in week 16 and that could bode well for Siemian. The Chiefs defense has been daunting in the past, but in week 12 Siemian carved them up for 368 yards and 3 touchdowns. It would be a bit much to expect a repeat performance, but passable stats for a starter are well within reach.
The Rest Of The Waiver Wire Picks
Matt Barkley CHI 1.8% owned
Starting Matt Barkley sounds scary, and that is because it is. On the other hand, he has thrown for over 300 yards in two of his four starts. The Bears have a top flight running back and Alshon Jeffery is back in the fold. The Redskins defense will not be a cakewalk, but the Bears always end up throwing a ton. The kind of volume that will be required in this game could make Barkley worth playing even if he turns it over 3 or 4 times.
Week 16 Waiver Wire Picks – Tight End
Charles Clay BUF 9.7% owned
The last two weeks have been very kind to Charles Clay. He was an afterthought for most of the season, but now he has scored in back to back weeks. In addition to the touchdowns, he has put up yardage totals of 52 and 72 respectively. His biggest game came against the Browns, but he is seeing a huge uptick in volume anyway. The Dolphins may present a tougher challenge, but given the limited receiving options for the Bills Clay could be a sneaky good play for week 16.
Jack Doyle IND 18.4% owned
He has not turned out to be the dynamo that showed up early in the season, but Doyle is usable. Most weeks he is not going to go off for a lot of fantasy points, but he does see a steady supply of targets. Next week the Colts take on the Raiders. Oakland is a very good team this year, but their pass defense is not their greatest strength. With the passing game of the Colts banged up, Doyle could be in line for an expanded role that could pay off for owners.
Way Off The Radar
Dion Sims MIA 0.3% owned
The previously unknown Sims has done almost nothing in 2016. That changed when Matt Moore stepped in to start and threw a pair of touchdown passes to Sims. The quarterback and tight end clearly have a good rapport and that could mean more good things going forward. Most leagues only have one game left, but for teams looking for a championship Sims could give a boost. A repeat performance may be asking too much, but another score is well within the realm of possibility.