There were some big games for running backs in week 15. Defenses are starting to wear down toward the end of the season and some elite names are taking advantage; Devonta Freeman, LeSean McCoy and Ezekiel Elliott to name a few. This trend should continue in week 16 and beyond, but there are players beyond the elite that will benefit from the late season surge.
Week 15 Recommendations Results (Standard League Scoring)
· Bilal Powell NYJ – 16 carries 84 yards 11 receptions 78 yards 15 Fantasy Points
· Dwayne Washington DET – 14 carries 31 yards 2 receptions 9 yards 3 Fantasy Points
· Rex Burkhead CIN – 7 carries 32 yards 2 receptions 18 yards 4 Fantasy Points
· Paul Perkins NYG – 11 carries 56 yards 5 Fantasy Points
I recommended Bilal Powell in each of the last two weeks. If you didn't pick him up it's too late now because he is owned in 85% of leagues. The Lions still cannot run the ball and Washington is a low end RB3. Burkhead still has value, but Jeremy Hill makes sure that the value is very limited. Despite running well, Perkins did not manage to factor into the passing game. Getting carries helps, but Perkins is best when getting the ball in space.
Week 16 Waiver Wire Picks
Dion Lewis NE 43.2% owned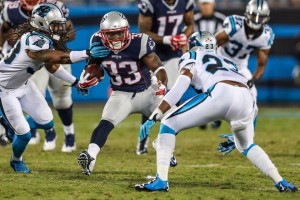 After last season it is hard to believe that Lewis would be on waiver, but he has not gotten much going in 2016. This past week finally saw Lewis getting very involved in the Pats gameplan. He ran for 95 yards on 18 carries, but Blount and White are still in the mix. Next week brings a matchup with the Jets who look like they are already thinking about the offseason. The Pats have every reason to roll up the Jets and their awful defense. The one factor to be careful of here is that Belichick may not keep his starters in the game if the Patriots get a big lead.
Weekly Waiver Wire Picks
Derrick Henry TEN 41.3% owned
As promised by Titans' coaches, Henry was the goal line back on Sunday. He managed two touchdown runs of four and one yard. In addition to the touchdowns, Henry ran for 58 yards averaging 6.4 yards per carry. The Titans may want to see a bit more of Henry as the season winds down which would lead to extra carries. Even if the workload stays the same, Henry has proven that he can be a weapon with limited touches.
Bank On A Score
Mike Gillislee BUF 28.9% owned
The Bills have been riding LeSean McCoy as the main source of offense all year. The running game does not end there, however, as Gillislee continues to put up touchdowns. Gillislee has 8 scores on the year, but he can still be a risky play due to his lower volume of carries. The Bills season is just about done, but so far they have still been rolling out the starters. There is the possibility that players like McCoy and Watkins will start seeing their playing time scaled back in the hope of saving them for next season.
Christine Michael GB 37.3% owned
Last week could look like an upward trend for Michael, but in reality he had one long touchdown run. The Packers gave Michael 4 carries in relief of Ty Montgomery. It was Montgomery that played like a starting running back, but Michael does still see just enough looks to have some value. He may actually be better in a limited role as he seemed to wear down as the feature back for Seattle. If the Packers can use him correctly and sustain a running game, C Mike could be worthy of a flex.