Is there a better time of year to receive than Christmas? No. Is there a better time of year to be alive and in the mix for a fantasy football league championship? Well, this is the only time of year for that, so on to the business at hand. Whether you are playing for that title this week or next or just hoping to limp into that consolation championship thereby waiving your league's entry fee for next season, we've got you covered with the week 16 wide receiver rankings. We hope St. Nick brings you what you're asking for. If that happens to be a league title, good luck; we asked him for that each of the last four years and all we've got are a couple of aforementioned waived entry fees. Ho, ho, and indeed, ho. Here are your week 16 wide receiver rankings.
Reminder: Odell Beckham, Jr. is suspended this week. I know, I know.
Remember: an asterisk (*) next to a player's name denotes a possible injury concern for that player.
Week 16 Wide Receiver Rankings 1-10
1. Antonio Brown @ BAL- Brown and Big Ben Roethlisberger are back in sync. All is right in the world.
2. Odell Beckham Jr. @ MIN- As of now, OBJ is suspended. In the extremely unlikely case that his appeal is successful, we'll go ahead and leave him in this space. Had a topsy-turvy week 15 in which he and Josh Norman's on-field antics overshadowed their actual matchup within the game.
3. Allen Robinson @ NO- Beautiful matchup against the Saints, though he'll likely see plenty of the underrated Delvin Breaux. The Jags offense will look to shine on the fast track inside the Superdome. Don't sleep on Allen Hurns this week either.
4. Alshon Jeffery* @ TB- Hamstring injury will be something to watch, but Jeffery should be penciled in as a top-5 play if he can go. The only thing that has really managed to stop Alshon this season is the myriad of lower-body injuries he has had to battle.
5. Julio Jones vs CAR- Julio is a stud, and we always ride our studs this time of year. Josh Norman just had himself a busy day against Odell Beckham Jr., and Jones is more of a physical specimen. Had 7 grabs for 88 yards in their most recent matchup.
6. Larry Fitzgerald vs GB- These two teams seem to always light it up through the air, and Fitzy is probably licking his chops in preparation for a leaky Packers unit.
7. Calvin Johnson* vs SF- Megatron gets himself a date with a team that is barely there in spirit or in person. Ankle issue is a formality.
8. Brandon Marshall vs NE- Marshall saw his streak of 100-yard performances snapped in week 15 but will have another monster workload coming his way against the rival Patriots in week 16.
9. Jarvis Landry vs IND- Landry's workload as a receiver and extension of the running game make him a PPR beast. Miami will need him to thrive on those high-efficiency plays against Indy.
10. DeAndre Hopkins @ TEN- Hopkins' everchanging quarterback situation hasn't helped, but he's a top-10 play based on talent alone. This is the type of matchup that can get him back on track, regardless of whom is under center.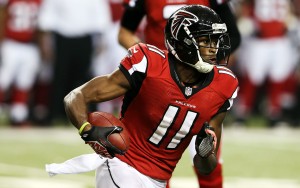 Week 16 Wide Receiver Rankings 11-60
11. Mike Evans vs CHI
12. A.J. Green @ DEN
13. Demaryius Thomas vs CIN
14. Martavis Bryant @ BAL
15. Emmanuel Sanders vs CIN
16. Eric Decker vs NE
17. John Brown vs GB
18. DeSean Jackson @ PHI
19. Michael Crabtree vs SD
20. Randall Cobb @ ARI
21. Doug Baldwin vs STL
22. Sammy Watkins vs DAL
23. Jeremy Maclin vs CLE
24. Allen Hurns @ NO
25. T.Y. Hilton vs MIA
26. Dez Bryant @ BUF
27. Brandin Cooks vs JAX
28. Michael Floyd vs GB
29. Danny Amendola @ NYJ
30. Stevie Johnson* @ OAK
31. Golden Tate vs SF
32. Kamar Aiken vs PIT
33. Tyler Lockett vs STL
34. Amari Cooper vs SD
35. Brandon LaFell @ NYJ
36. Ted Ginn Jr. @ ATL
37. Willie Snead vs JAX
38. Donte Moncrief @ MIA
39. Rueben Randle @ MIN
40. Pierre Garcon @ PHI
41. Travis Benjamin @ KC
42. Stefon Diggs vs NYG
43. Markus Wheaton @ BAL
44. Nate Washington @ TEN
45. Dorial Green-Beckham vs hOU
46. Marvin Jones @ DEN
47. Davante Adams @ ARI
48. Anquan Boldin @ DET
49. Cecil Shorts III @ TEN
50. Jordan Matthews vs WAS
51. Tavon Austin @ SEA
52. Jermaine Kearse vs STL
53. James Jones @ ARI
54. Dontrelle Inman @ OAK
55. Marques Colston vs JAX
56. Robert Woods* vs DAL
57. Malcom Floyd @ OAK
58. Devante Parker vs IND
59. Nelson Agholor vs WAS
60. Devin Funchess @ ATL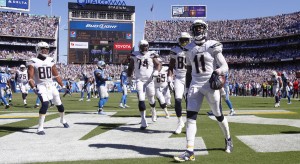 Week 16 Wide Receiver Sleepers
Nate Washington @ TEN- Solid player who should see a few looks in a hashtag revenge game.
Nelson Agholor vs WAS- Had the best game of his rookie year in week 14 and finally looks healthy.
Robert Woods* vs DAL- Woods is as slippery as they come and should be able to exploit a matchup or two against a beatable Dallas secondary. Knee injury does not appear to be a major concern at this point.
Week 16 Wide Receiver Injuries to Monitor
Alshon Jeffery (hamstring)
Calvin Johnson (ankle)
Stevie Johnson (groin)
Robert Woods (knee)
Merry Christmas and good luck in week 16.