Most fantasy leagues have wrapped up, but there are a few that go to the final week of the NFL season. For those leagues, this waiver wire column is for you. Here are my final grabs from the waiver wire this season; good luck in week 17.
Week 16 Recommendations Results (Standard League Scoring) Quarterback
· Matt Moore MIA – 16-30 233 yards 2 touchdowns 1 interception 17 Fantasy Points
· Trevor Siemian DEN – 17-43 183 yards 1 interception 7 Fantasy Points
· Matt Barkley CHI – 24-40 323 yards 2 touchdowns 5 interceptions 14 Fantasy Points
The Dolphins managed an overtime win over the Bills in large part due to the capable play of Moore. From a fantasy perspective he was solid but unspectacular. Siemian, on the other hand, was simply putrid. Barkley was awful as well, but at least he put up some yards in the process. Apparently my prediction of 2 or 3 turnovers by Barkley was conservative to say the least.
Week 16 Recommendations Results (Standard League Scoring) Tight End
· Charles Clay BUF – 8 receptions 85 yards 2 touchdowns 20 Fantasy Points
· Jack Doyle IND – 5 receptions 46 yards 4 Fantasy Points
· Dion Sims – 3 receptions 12 yards 4 carries 30 yards 4 Fantasy Points
The hot streak of Charles Clay continued, but it was not enough to carry his team to a win. Doyle would have been decent in PPR scoring, but standard leagues would be left wanting. Sims mostly faded back to obscurity, although he picked up 30 yards on the ground.
Week 17 Waiver Wire Picks – Quarterback
Sam Bradford MIN 9.3% owned
In two of the past three games Bradford has put up at least 20 fantasy points, but he is still behind a patchwork O-line. The Vikings will be playing a terrible Bears team that has nothing to play for in week 17. Since the Vikings cannot run the ball, that should mean a ton of Bradford checkdown passes. With the porous nature of the Bears defense, a bunch of short passes will probably turn to long gains. Go with Bradford in the finale, quarterback streamers.
The Rest Of The Waiver Wire Picks
Alex Smith KC 22.5% owned
Based on matchups, Alex Smith is one of the better plays. The Chargers are playing uninspired football and just lost to the Browns. Let that sink in for a minute, the Browns beat someone. Smith is not going to run anyone off the field, but he is a solid option likely to put up 15-20 points. He also occasionally racks up some points on the ground. He is one of the better available options for teams with quarterback troubles.
Double Down
Matt Moore MIA 13.9% owned
This game is a scary matchup because Belichick has a bit of tape on Moore after two starts. On the other hand, the Patriots should have a big lead and that will keep Moore throwing. If he can limit his turnovers, which he has been adept at so far, he could put up nice numbers. The matchup makes him less appealing than Bradford or Smith, but Moore is likely to have a nice game.
Week 17 Waiver Wire Picks – Tight End
Keep Rollin'
Charles Clay BUF 16.8% owned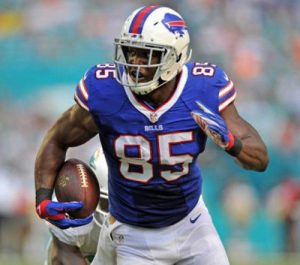 Clay has now scored in three straight contests and his receptions have gone up each week. He has had 3, 7 and 8 catches respectively. Neither of those things are even the best news. The Bills are playing the Jets in week 17 which probably means 3 or 4 Bills players are going to be over 20 fantasy points. There is little reason to believe that Clay will not be one of the players to go nuts in this one.
Dennis Pitta BAL 45.5% owned
There is very little chance of Pitta scoring in a given week, but he is racking up receptions. There have only been two games this season where Pitta caught less than 3 balls. His volume should give him a high ceiling, but he has been limited to short gains much of the time. Next week the Bengals could present a challenge, but if Pitta sees enough targets he could provide a decent return for owners.
Injury Fill In
Xavier Grimble PIT 0% owned
Grimble managed his second touchdown catch of the season on Sunday, but it was the first game in which he produced statistics since week 10. If starting tight end Ladarius Green remains sidelined Grimble will probably be involved in the gameplan. If Green makes it onto the field, however, Grimble is beyond an afterthought. He is probably something like a TE2 without Green. Just monitor the injury report before making a decision, there is no rush to waste a waiver claim early in the week.