Playmakers make plays. This is the unofficial motto of the wide receiver position, and week 1 showed us that the studs are still studs, and there are a few new kids on the block to take note of. Injuries have taken their toll on the position as well, with Dez Bryant having already been ruled out for several weeks, and the likes of T.Y. Hilton and DeSean Jackson facing possible spells on the sidelines. As we rank the top-60 wideouts ahead of week 2, we will place an asterisk next to any player whose status is uncertain at this point.
Here's our other week 2 rankings: Quarterback - Running Back - Tight End - Kicker - Team Defense
Here are our week 2 WR rankings:
Week 2 Wide Receiver rankings 1-5
1. Antonio Brown vs. SF
Whether you're talking standard scoring or PPR formats, Brown is the main man. He should be locked in every week, no matter the matchup. Next up for Brown and the Steelers is San Francisco at home.
2. Julio Jones @ NYG
Julio looked like he was right at home in the schoolyard, making plays all over the field against the Eagles in Atlanta's week 1 win. Another shoe-in starter regardless of opponent or matchup, and he has a tasty one coming up against the Giants.
3. Odell Beckham Jr. vs. ATL
OBJ got off to a slow start against Dallas on Sunday night, finishing with a modest 5/44 line. The Giants' offense struggled for consistency, but they should rebound against an Atlanta unit that saw the Eagles' offense come to life in the second half.
4. Demaryius Thomas* @ KC
Thomas may be a bit of a risk here, entering a short week and coming off a day in which he was bottled up to the tune of a 7/60 line while also sustaining a hand injury. That ailment is said to be minor, and while there will be talk of Peyton Manning's declining arm strength, Thomas' playmaking ability after the catch on designed screens and line passes can not be undervalued. He has a tough matchup on the road at Arrowhead, but history says he and Denver will bounce back, and the volume will be there regardless.
5. Randall Cobb vs. SEA
Cobb put up a 5/38/1 line against the Bears in week 1 playing at less than full strength due to a preseason shoulder injury. He has a tough test coming up Sunday night against Seattle in a rematch of last season's NFC title game, but look for Aaron Rodgers to get his prime target involved early and often at Lambeau.
Week 2 Wide Receiver rankings 6-10
6. A.J. Green vs. SD- Fresh off his well-deserved pay day, Green had a pedestrian week 1 (5/63) against Oakland, but Andy Dalton showed signs of life as a passer, which bodes well heading into week 2 against the Chargers.
7. Calvin Johnson @ MIN- Megatron looked rusty in week 1, but we've all learned our lessons when we've slept on him in the past. Expect a bounceback week 2 against Minny.
8. Alshon Jeffery* vs. ARI- Alshon shook off a lower-leg injury to put together a 5/78 line against the Pack in week 1. He was somewhat limited, but still led the team with 11 targets. Keep him locked in as a WR1.
9. Keenan Allen @ CIN- 15 catches on 17 targets in week 1. It will we hard to top that, but Allen is clearly king of the Castle in the Bolts' passing attack.
10. DeAndre Hopkins @ CAR - Hauled in a pair of scores against the Chiefs, and is the clear-cut top target. If Ryan Mallett takes over from Brian Hoyer, Nuk's value only increases.
10b. Brandon Marshall @ INDY
Marshall was covered by Joe Haden for most of the game but still managed 6 catches for 62 yards including a goal-line fade over Haden in the third quarter. He has WR1 upside as the featured receiver in Chan Gailey's offense. Marshall will face Colts CB Vontae Davis in Week 2.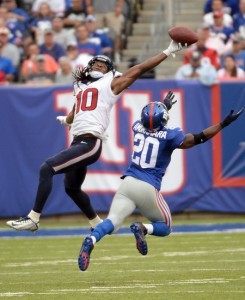 Week 2 Wide Receiver rankings 11-60
11. Brandin Cooks vs. TB
12. Jordan Matthews vs. DAL
13. Jarvis Landry vs. @ JAX
14. Mike Evans* @ NO
15. Emmanuel Sanders @ KC
16. Davante Adams vs. SEA
17. Jeremy Maclin vs. DEN
19. Andre Johnson vs. NYJ
20. Julian Edelman @ BUF
21. Amari Cooper vs. BAL
22. Golden Tate @ MIN
23. Vincent Jackson @ NO
24. Eric Decker @ IND
25. Allen Robinson vs. MIA
26. John Brown @ CHI
27. Roddy White @ NYG
28. Larry Fitzgerald @ CHI
29. Anquan Boldin @ PIT
30. Steve Smith Sr. @ OAK
31. Pierre Garcon vs. STL
32. Terrance Williams @ PHI
33. Marques Colston vs. TB
34. Eddie Royal vs. ARI
35. Kendall Wright @ CLE
36. Rueben Randle vs. ATL
37. Stevie Johnson @ CIN
38. Sammy Watkins vs. NE
39. Nelson Agholor vs. DAL
40. James Jones vs. SEA
41. Doug Baldwin @ GB
42. Devin Funchess vs. HOU
43. Markus Wheaton vs. SF
44. Michael Crabtree vs. BAL
45. Percy Harvin vs. NE
46. Kenny Britt @ WAS
47. Kenny Stills @ JAX
48. Cole Beasley @ PHI
49. Brandon Coleman vs. TB
50. Mike Wallace vs. DET
51. Allen Hurns vs. MIA
52. Donte Moncrief vs. NYJ
53. Mohamed Sanu vs. SD
54. Andrew Hawkins vs. TEN
55. Torrey Smith @ PIT
56. Andre Roberts vs. STL
57. Nate Washington @ CAR
58. Jermaine Kearse @ GB
59. Charles Johnson vs. DET
60. Stedman Bailey @ WAS
Week 2 WR Sleepers
Cole Beasley @ PHI- Role expanded minus Dez Bryant's presence in the offense. Not a major scoring threat but potential PPR boom.
Andre Roberts vs STL- Redskins will need him to step up minus DeSean Jackson.
Brandon Coleman vs TB- Showed red zone chops week 1, and should continue to be a threat in that area of the field.
Mike Wallace vs DET- Nice week 1 for the Vikes with a 6/63 line. Boom-or-bust WR3 against the Lions this weekend.
Week 2 WR Injuries to Monitor
Mike Evans (hamstring)
Michael Floyd (hand)
Demaryius Thomas (hand)
Final Thoughts
It's always daft to draw conclusions after 1 game, bearing in mind that players such as Calvin Johnson played little if any snaps during the preseason, and pieces of offenses throughout the league are still yet to gel. Keep an eye out on the injury report and the waiver wire as we move through the week. Good luck!