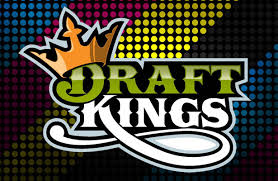 We did pretty good last week, coming in 9th place out of 72 experts in the FantasyPros Daily Fantasy Challenge. The power of our optimal lineup tool this year looks very promising so far. I've went ahead and made a optimal lineup you can use on Draftkings in week 2 and posted it below. Coleman is cheap and a superb value pick entering a plush match up at home against the pitiful Buccaneers. My concern here is that Brees will do so much damage early that Coleman's targets will be limited in the forth quarter. Typically I target wide receivers that are picked to be in a shootout and running backs in a game I know is going to be one-sided. I'll take the RB on the team I've got locked as guaranteed to be ahead early. Teams that are behind pass a lot and teams with the lead usually run more, so you see the logic there it's pretty standard stuff. Use common sense when building you lineups and try to imagine how you think the game will flow based on the factors at your disposal.
DraftKings Lineup, Cash Games Only
Drew Brees
Lamar Miller
Ameer Abdullah
Danny Woodhead
Antonio Brown
Julio Jones
Brandon Coleman
Jason Witten
Denver
Filtered Out Like This
Here's the filter setting I used last week so I'm sticking with them for the most part. I did adjust the value meter to 1 which will improve the cost to projected points (value) player pool by removing any with a value under 1. I honestly didn't pay that much attention to Vegas this week, which could be a bad idea. But the default optimal lineup that our tool gave me looked good enough I didn't see any reason to start manually removing players based on the over/under.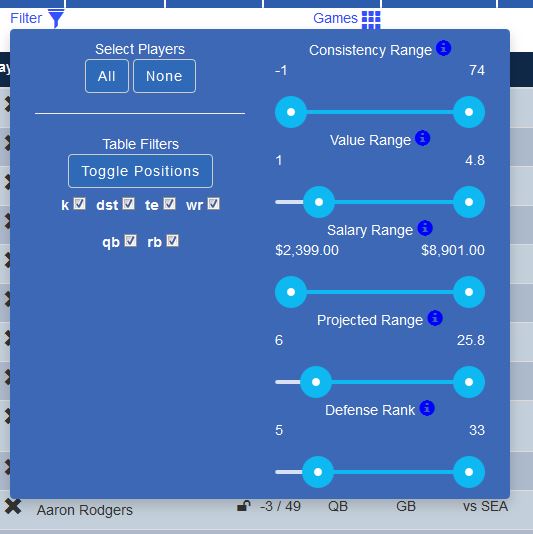 The Actual Optimal Rankings
Here's a screenshot of some of the stats for this weeks players. I'll give you the top wide outs and running backs based on the setting above. These guys are on the top list because of their projected points and that's it. Not upside, value or any other term you want to throw at it.
Let's start with wide receivers.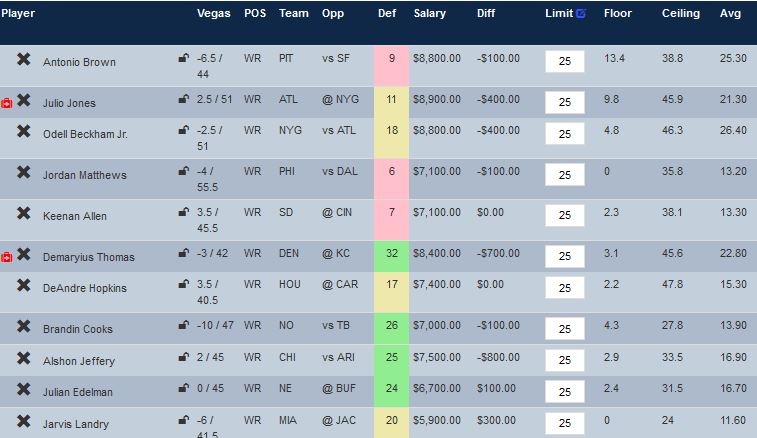 Here's our list of optimal running backs this week.