A week is in the books and there have been a lot of surprises, as always. Bishop Sankey and Marcel Reece were relevant, while C.J. Anderson laid an egg and split carries. As we move into the second week, check in here for some sound advice on which running backs will carry you to a win.
Here's our other week 2 rankings: Quarterback -  Wide Receiver - Tight End - Kicker - Team Defense
Injury Concerns: Andre Ellington  ARI  Doubtful, Lorenzo Taliaferro  BAL  Questionable, C.J. Anderson  DEN  Questionable, Arian Foster HOU  Out, C.J. Spiller  NO  Questionable, Roy Helu  OAK  Day To Day, Reggie Bush  SF  Questionable, Tre Mason  STL  Day To Day
Out: Leveon Bell - Suspension
Elite Tier (Must Starts)
1. Jamaal Charles  KC  vs. DEN - I love Jamaal Charles against the Broncos this week. Denver looked out of sorts in week 1 and if they fall behind again, KC will run it all day long.
2. Jeremy Hill  CIN  vs. SD - Hill looked amazing in week 1 and he should continue bowling over the competition in the second week of the season. Watch for multiple TDs.
3. Marshawn Lynch  SEA  @GB - Seattle loves to run the ball and Beast Mode is the man for the job. He's a safe bet for nice numbers.
4. DeMarco Murray  PHI  vs. DAL - I'm not jumping off the Murray bandwagon after one bad week. Philly looked out of sync in general week 1. Look for a solid rebound versus Murray's old teammates in Dallas.
5. Adrian Peterson  MIN  vs. DET - The Lions have a solid defense, but Peterson is too strong to be kept down for another week. I'm not as high on AP as some people this year, but he is a solid RB1.
6. Eddie Lacy  GB  vs. SEA - Nobody who has Lacy on their team is benching him, but Seattle is not the softest matchup. The numbers will be there, just not in the same quantity as usual.
Strong Plays (Reliable But A Notch Below)
7. Matt Forte  CHI  vs. ARI - I love Forte, but the Arizona defense is legit. I think that the yards will be there, but touchdowns will be tough to come by.
8. Chris Ivory  NYJ  @IND - Ivory looked strong in week 1 and the Jets love to run the ball. The presence of Brandon Marshall is just making the running lanes wider.
9. Carlos Hyde  SF  @PIT - The Steelers aren't the same defense that they once were, but at home they are a tough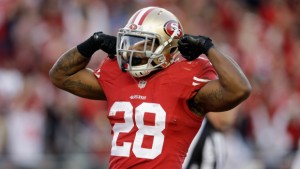 draw. Carlos Hyde is a budding star and he'll produce anyway.
10. LeSean McCoy  BUF  vs. NE - I was not impressed with the Pats defense versus the annually unimpressive Deangelo Williams. Shady McCoy should produce as he inches closer to full strength.
11. Justin Forsett  BAL  @OAK - Baltimore's offense was a dumpster fire in week 1. They can only get better from there and I still believe that Forsett is a RB1.
12. Mark Ingram  NO  vs. TB - Tampa Bay does not have a defense. What else do I need to say?
13. Rashad Jennings  NYG  vs. ATL - The Giants were embarrassed in the closing seconds of week 1 and will come out angry. Jennings is a solid play as he had a solid workload in week 1.
Risk/Reward (Potentially Shaky)
14. Lamar Miller  MIA  @JAC - Another back that I am high on but was weak in week 1. I think that he comes back strong against a sneaky stout Jacksonville defense.
15. Alfred Morris  WAS  vs. STL - The rumors about splitting the workload were just that, Morris is still the man in DC.
16. Ameer Abdullah  DET  @MIN - I don't think that the Vikes defense is that weak, but the Lions will have the ball A LOT.
17. Joseph Randle  DAL  @PHI - Long term, I don't like Randle too much. For this week he is a decent RB2.
18. Doug Martin  TB  @NO - Martin will never be what he once was, but he can get you some ugly points.
19. Jonathan Stewart  CAR  vs. HOU - The Houston defense looked surprisingly beatable in week 1. Look for Stewart to break a couple of big gains.
Question Marks (Could Get You RB2 Numbers)
20. Bishop Sankey  TEN  @CLE - I feel dirty for saying that Sankey should be in anyone's lineup. He isn't great, or even good. He is starting though, and Cleveland will be focusing on Mariota.
21. C.J. Anderson  DEN  @KC - This rank is only if Anderson suits up of course. The split carries in week 1 made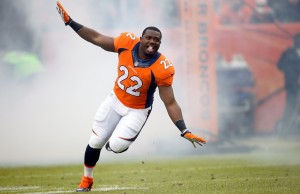 me feel uneasy about C.J. but give him another chance before panicking.
22. Latavius Murray  OAK  vs. BAL - Week 1 was not kind to the Raiders, but Baltimore was WAY worse. Murray should have some chances at the least.
23. Deangelo Williams  PIT  vs. SF - Williams has one more week to be relevant before Bell pushes him to the bench. Enjoy low end starter production then cut him.
24. Danny Woodhead  SD  @CIN - Melvin Gordon is the starter, but Woodhead gets the passing downs and goal line work at the moment.
25. Tevin Coleman  ATL  @NYG - The passing game is Atlanta's strength, but Coleman seems to be in the lead for carries at the moment. Don't discount Freeman in the long run, but this week Coleman is the man.
Flex Appeal (Usable In A Pinch)
26. T.J. Yeldon  JAX  vs. MIA
27. LeGarette Blount  NE  @BUF
28. Melvin Gordon  SD  @CIN
29. Ronnie Hillman  DEN  @KC
30. Frank Gore  IND  vs. NYJ
31. Chris Johnson  ARI  @CHI
32. Ryan Mathews  PHI  vs. DAL
33. Dion Lewis  NE  @BUF
34. Isiah Crowell  CLE  vs. TEN
35. Giovani Bernard  CIN  vs. SD
36. Benny Cunningham  STL  @WAS
37. Darren McFadden  DAL  @PHI
38. David Johnson  ARI  @CHI
39. Joique Bell  DET  @MIN
40. Shane Vereen  NYG  vs. ATL
41. Darren Sproles  PHI  vs. DAL
42. Devonta Freeman  ATL  @NYG
43. Alfred Blue  HOU  @CAR
44. Bilal Powell  NYJ  @IND
45. Denard Robinson  JAX  vs. MIA
Tough Sledding (Last Resorts)
46. Duke Johnson  CLE  vs. TEN
47. C.J. Spiller  NO  vs. TB
48. Andre Williams  NYG  vs. ATL
49. Terrance West  CLE  vs. TEN
50. Lance Dunbar  DAL  @PHI
51. Matt Jones  WAS  vs. STL
52. Khiry Robinson  NO  vs. TB
That's it for this week. As always, keep an eye on the injury report as the games get closer and good luck.