A lot of fantasy owners are scrambling for waiver wire wide receivers after week 1 of the NFL season. Some of these owners just had a rough draft, but a large percentage used to have Keenan Allen as a top wideout. Allen was lost for the season with a torn ACL and now owners are left pawing through the scrap heap to fill the void left by a fallen WR1. The good news is that week 1 is the time to find waiver wire gold. Strap in and check out some players that could potentially save the season after a tough loss.
Week 1 Recommendations: Results (Standard League Scoring)
Kamar Aiken/Mike Wallace BAL - Aiken: 2 rec 14 yards 1 Fantasy Point  Wallace: 3 rec 91 yards 1 touchdown 15 Fantasy Points
Tyler Boyd CIN - 2 rec 24 yards 2 Fantasy Points
Rishard Matthews TEN - 3 rec 26 yards 2 Fantasy Points
Terrelle Pryor CLE - 3 rec 68 yards 6 Fantasy Points
Eli Rogers PIT - (Halftime Stats - Game Is Going On Now) 6 rec 59 yards 1 touchdown 11 Fantasy Points
It is tough to get down on someone after one week. Still, Rishard Matthews is getting out-snapped by Andre Johnson and Tajae Sharp on a run first team. Temper expectations moving forward with Pryor, he has a new quarterback that loves the tight end. Eli Rogers looks legit for the Steelers, he is worth a pickup if he is still available.
Week 2 Waiver Wire Picks
Chris Hogan NE
Jimmy Garopollo seems to be a fan of Chris Hogan. This is good news as he will be the starting quarterback for the next three weeks. Hogan has nice hands but he also has a big play element to his game. He demonstrated this on a 37 yard touchdown strike from Garopollo in week 1. As with all Pats players, weekly game plan could throw a wrench in the works from time to time.
Victor Cruz NYG
After being derailed by injury for the past two seasons, Cruz was back at it in week 1. He managed to corral four passes and score a touchdown. This is a big "if", but if he can stay healthy Cruz should have some good opportunities. OBJ will always draw away coverage and Cruz is shifty enough to make plays on a weekly basis. If he has another good week, the window to grab Cruz for nothing may close.
Davante Adams GB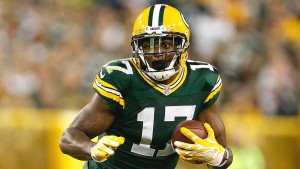 Adams has not historically been a consistent player, which is a potential downfall. The upside is that he has upside...so to speak. Adams is a gifted athlete with a decent share of a high powered passing game. There are worse situations to invest in even if the possibility of a donut exists.
Nelson Agholor PHI
The Philadelphia offense runs through Jordan Matthews, that much is for certain. Still, Agholor looked like a professional receiver in week 1 which is more than could be said last season. Carson Wentz had a nice showing in his first week as a starting quarterback and he targeted Agholor enough to be useful.
Double Down
Mike Wallace BAL and Eli Rogers PIT
Wallace and Rogers were week 1 recommendations and became focal points of their respective offenses in week 1. There is reason to believe that this should continue for the foreseeable future. Wallace has a nice connection with Flacco and a proven track record as a big play threat. Rogers gobbles up targets and has the best receiver in the game to draw away coverage. These are players that you want on your squad.