Week 2 was just as unforgiving as week 1 on the injury front. So it goes in the physical world of the NFL, where the hits literally keep on coming. We will be tracking the following key injuries over the next several days in the buildup to week 3, which gets underway Thursday night with an NFC East rivalry as the Redskins and Giants tangle at MetLife Stadium. It was a particularly difficult week on the quarterback injury front, so owners of Tony Romo and Jay Cutler have already begun to formulate their contingency plans. Remember: the first official team injury reports for the weekend games are published on Wednesday and will be updated through the remainder of the week.
Week 3 Fantasy Football Injury Report
- Tony Romo has suffered a fractured left collarbone for the second time in five years, and is set to miss the next 8 weeks. Romo left Sunday's win over the Eagles in the second half and was replaced by Brandon Weeden. Dallas is already without star wide-out Dez Bryant who will be missing for the next several weeks after breaking his foot in week 1. It's a difficult situation for the Cowboys, and owners of the likes of Romo, Bryant, Terrance Williams, and Cole Beasley, as the team now places its faith and fortunes in the hands of Weeden, who saw out the rest of the game on Sunday nicely as he finished a perfect 7-7 for 73 yards. Weeden is an obvious downgrade from Romo, and the 'Boys will need to lean on the likes of Joseph Randle, Darren McFadden, and Lance Dunbar to get the ground game going in an attempt to support their new quarterback, who struggled mightily in his lone start a season ago. It should be noted that Jason Witten was favoring an ankle injury, though he is not expected to miss any time at this point. Witten is the quintessential iron man, having missed just one game in his long NFL career.
- Jay Cutler was forced from the Bears' loss to Arizona on Sunday with a hamstring injury, and is facing a 1-2 week absence. Cutler's teammate, wideout Alshon Jeffery, missed week 2 with the calf and hamstring ailments that have been bothering him since summer. Jeffery was able to go in week 1, but he could not make it on the field against the Cardinals. Now, he and his quarterback appear to be week-to-week at best.
- Drew Brees appears to have avoided a major injury to his throwing shoulder, though the Saints' future Hall of fame signal-caller did injure the joint during his team's loss on Sunday. Brees reportedly has a bruised rotator cuff, a relief given reports that the Saints were fearing he had picked up a much more serious injury. Brees should be ready for week 3, though his past shoulder trouble and the team's struggles from top to bottom should be kept in mind moving forward. Brees is definitely a name to watch on this week's injury report. Luke McCown is the backup in New Orleans.
- Matthew Stafford is expected to play despite suffering bruised ribs on Sunday against the Vikings. Stafford took part in Monday's walk-through practice and is considered day-to-day.
- Browns' coach Mike Pettine insists that Josh McCown remains the team's starter, though he has yet to be cleared to return from his week 1 concussion. Johnny Manziel shined in his stead during week 2. Things will get interesting if and when McCown is cleared to exit the league's concussion protocol and return to practice.
- Eddie Lacy left Sunday night's win over the Seahawks with an ankle injury in the first quarter. He was replaced in the Green Bay backfield by James Starks. There were initial fears that Lacy would be facing a multi-week absence, though those fears were quelled some on Monday with the news that the 25-year-old is hoping to play in week 3 against the Chiefs despite soreness in the joint. Additionally, the Pack lost receiver Davante Adams to an ankle injury on Sunday night but the second-year man managed to return to the game. Keep an eye on the Packers' injury report this week, as both players are almost certain to miss practice time. Green Bay does not play until Monday night, giving the players an extra day to recover, but making the call even more difficult for fantasy owners who may not have a capable enough replacement on hand.
- Andre Ellington missed week 2 for Arizona, opening the door for Chris Johnson and rookie David Johnson to see extra work. The younger Johnson did not disappoint, and with Ellington likely to miss at least one more game, he will be a sneaky add on waiver wires this week if he has not already been scooped up.
- Arian Foster remains "week-to-week" per Texans' head coach Bill O'Brien, though the 29-year-old has been telling teammates that he feels good and is hopeful of a sooner-than-expected return from his August groin injury. Alfred Blue and Chris Polk would continue to carry the bulk of the mail in his absence.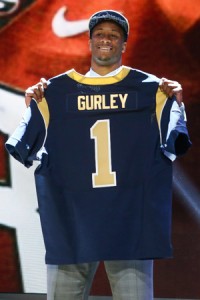 - Falcons' rookie RB Tevin Coleman is expected to miss at least week 3 with a broken rib suffered in Sunday's game with the Giants in New York. Devonta Freeman will be the unquestioned top back in his absence, with Coleman likely to return as soon as he can play through the pain barrier.
- Delanie Walker ended up missing week 2 with a wrist injury, and the Titans' TE faces an uncertain status for week 3, though his return to practice last Friday is an encouraging sign.
- Julius Thomas has a chance to make his season debut against the Patriots on Sunday. Thomas has been nursing a preseason hand injury, and has missed the first two games of the 2015 season.
- Will week 3 be the week that Todd Gurley makes his NFL debut with the Rams? The rookie was said to be close to playing in week 2, having practiced through the week but ruled inactive on gameday. A further week of practice and enhanced conditioning should give Gurley a much better chance at making it onto the field Sunday.
- The 49ers' backfield is one to watch on this week's injury report. Reggie Bush missed Sunday's loss at Pittsburgh with a calf injury, and though he is expecting to return in week 3, the team will be sweating over the status of fellow back Carlos Hyde. Hyde was cleared after suffering a head injury on Sunday, but is reportedly also dealing with a painful thigh contusion, and will be monitored through the week.
- New team, new injury for Jordan Cameron. The mega-talented, yet uber injury-prone tight end picked up a groin injury in Sunday's loss to the Jaguars. He left the game and did not return, leaving his week 3 status up in the air. Meanwhile in Miami, RB Lamar Miller hopes to play in week 3 despite leaving Sunday's game with an ankle injury. Miller said he considered returning to the game, and will likely try and give it a go against Buffalo next week, barring any setbacks in practice.
- Titans wide receiver Kendall Wright left Sunday's loss at Cleveland briefly with a leg injury, though he shook it off and returned to the game. Wright should be fine for week 3.
- Bucs TE Austin Seferian-Jenkins is facing a 4-6 week spell on the sidelines with the shoulder injury he picked up in Sunday's win over the Saints. Brandon Myers and Luke Stocker are the next men up on Tampa Bay's depth chart.
- Eric Decker left the Jets' week 2 win over the Colts on Monday night with a knee injury and was taken to the locker room for further examination. His status will be updated later this week.
- The Jacksonville backfield is another group to follow with both Denard Robinson and Toby Gerhart battling injuries. Gerhart missed Sunday's win, while Robinson has picked up an MCL sprain and could miss some time. T.J. Yeldon's workload shoots through the roof with one or both of Gerhart and Robinson shelved.
Remember to follow the league injury reports through the week, especially if you are planning to start any Giant or Redskins on Thursday. Good luck in week 3.