As we enter week 3 the stars continue to shine and the sleepers continue to sound the alarm bells as the injuries pile up for many top flight starters. In addition to the rankings, we'll give you some injuries to monitor, and some sleepers to set your alarm to. Remember, an asterisk next to the players name denotes a potential injury concern for that player. Here are our week 3 wide receiver rankings:
Week 3 Wide Receiver Rankings 1-10
1. Julio Jones @ DAL- The top-two is interchangeable as far as we're concerned. Keep Julio locked and loaded. He just equaled a franchise record for receptions in a game (13) and has a great matchup against the Cowboys' secondary.
2. Antonio Brown @ STL- See above.
3. Odell Beckham Jr. vs WAS- That 7-146-1 stat line was much more like it. Expect more.
4. A.J. Green @ BAL- The emergence of Tyler Eifert should help loosen things up for A.J. on the outside.
5. Calvin Johnson vs DEN- Megatron had a mega day, particularly in PPR formats with a 10-83-1 line. He gets a primetime matchup with the Broncos next.
6. Demaryius Thomas @ DET- Demaryius plodded along Thursday night until he was able to pad his stats in the fourth quarter. His YAC ability can not be underestimated, as the Broncos look to simplify their offense.
7. Randall Cobb vs KC- Aaron Rodgers' top target is a shoe-in for the top-ten.
8. DeAndre Hopkins vs TB- Nuk continues to make plays. He faces a tricky matchup with Alterraun Verner, but he's a target monster in Houston's offense.
9. Keenan Allen @ MIN- Allen came crashing back down to earth after a scintillating week 1. We like his chances to bounce back up towards a high-end quality performance against the Vikings.
10. Jarvis Landry vs BUF- If you're in a PPR format that rewards points for return yardage, you could argue a case for "Juice" being a top-5 play. Landry has been money, and will continue to operate as a major part of the Dolphins' passing game.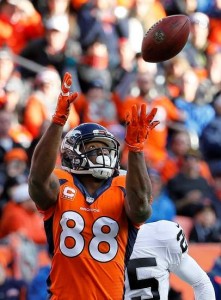 Week 3 Wide Receiver Rankings 11-60
11. Brandin Cooks @ CAR
12. Jordan Matthews @ NYJ
13. Alshon Jeffery* @ SEA
14. T.Y. Hilton @ TEN
15. Emmanuel Sanders @ DET
16. Julian Edelman vs JAX
17. John Brown vs SF
18. Brandon Marshall vs PHI
19. Steve Smith Sr. vs CIN
20. Terrance Williams vs ATL
21. Jeremy Maclin @ GB
22. Allen Robinson @ NE
23. Vincent Jackson @ HOU
24. Davante Adams* vs KC
25. Mike Evans @ HOU
26. Golden Tate vs DEN
27. Larry Fitzgerald vs SF
28. Amari Cooper @ CLE
29. Andre Johnson @ TEN
30. Eric Decker* vs PHI
31. Pierre Garcon @ NYG
32. Roddy White @ DAL
33. Stevie Johnson @ MIN
34. Mike Wallace vs SD
35. Sammy Watkins @ MIA
36. Kendall Wright* vs IND
37. Anquan Boldin @ ARZ
38. James Jones vs KC
39. Donte Moncrief @ TEN
40. Doug Baldwin vs CHI
41. Eddie Royal @ SEA
42. Torrey Smith vs ARZ
43. Charles Johnson vs SD
44. Cole Beasley vs ATL
45. Marques Colston @ CAR
46. Rueben Randle vs WAS
47. Nelson Agholor @ NYJ
48. Brandon Coleman @ CAR
49. Percy Harvin @ MIA
50. Markus Wheaton @ STL
51. Travis Benjamin vs OAK
52. Dorial Green-Beckham vs IND
53. Tavon Austin vs PIT
54. Danny Amendola vs JAX
55. Tyler Lockett vs CHI
56. Kenny Britt vs PIT
57. Mohamed Sanu @ BAL
58. Michael Crabtree @ CLE
59. Jermaine Kearse vs CHI
60. Nate Washington vs TB
Week 3 Wide Receiver Sleepers
-Travis Benjamin had a huge day in week 2, hooking up with Johnny Manziel for two long touchdowns. If Johnny Football remains the quarterback in Cleveland, these two have shown flashes of exciting chemistry, and could produce more big plays down the road.
-Brandon Coleman could be the answer to the Saints' red zone issues.
-Nate Washington is a sneaky play in deeper leagues. He has 9 catches for 168 yards after two games.
Week 3 Wide Receiver injuries to monitor
-Alshon Jeffery (calf)
-Davante Adams (ankle)
-Kendall Wright (leg)
-Eric Decker (knee)
Good luck to all in week 3.