The start of the 2018 season has been a wild one for quarterbacks. Some breakouts were predicted, like Patrick Mahomes. Steadfast veterans were also recommended, like Philip Rivers. It's pretty safe to say that most people were not pushing Ryan Fitzpatrick as a top quarterback option though. This is the way that fantasy football goes though. Even making all of the right calls, there will be some preposterous outliers. With that in mind, here are my (no doubt perfect) quarterback rankings for week 3.
High End Starters
1. Patrick Mahomes KC vs. SF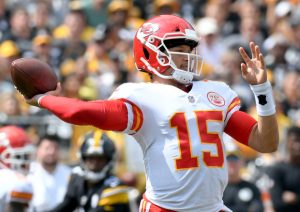 Considering what Mahomes has done so far, there is little argument against him. Especially playing against a middling-at-best 49ers defense at KC. 10 touchdown passes in 2 games, I mean even with regression he is my top dog.
2. Matthew Stafford DET vs. NE
I was tempted to have Brady number two, but I think that the Lions will have to throw more. The Patriots are not stopping anybody, and the Lions are even worse. Take the over in this one folks.
3. Tom Brady NE @DET
If he wanted to, I think that Brady could go for 600 yards against the Detroit defense. There is a good chance that Sony Michel and Rex Burkhead put up a couple of scores on the ground as well though. I think that NE goes up big early and that limits Brady's numbers.
4. Aaron Rodgers GB @WSH
The Redskins are decent on defense, but not "stopping Aaron Rodgers" decent.
5. Ryan Fitzpatrick TB vs. PIT
I'll hate myself for this one; I promised myself I wouldn't fall for it. DeSean Jackson and Mike Evans are playing lights out and Fitzpatrick is running the Tampa offense like a man possessed. I see no reason to think that Pittsburgh will slow any of that down with their porous defense. 
Quality Options
6. Deshaun Watson HOU vs. NYG
It has not been the magical year that I expected from Watson. He is playing very solid ball, however. The Giants should be just what the doctor ordered as far as a nice easy win. Their defense will be exhausted because their offense cannot sustain a drive. Look for the Texans to put up a crooked number.
7. Kirk Cousins MIN vs. BUF
I think that Cousins should have little trouble against the Bills. I also think that he may not need to be on the field much after halftime. The Vikings should be able to put this one away early and rest Kirk (guaranteed money) Cousins.
8. Cam Newton CAR vs. CIN
Every year, Newton is a top quarterback option and 2018 is no exception. He should be a rock-solid option in week 3. Cincinnati's defense is better than advertised, however, and that will keep Newton out of the very top tier of scoring.
9. Drew Brees NO @ATL
Getting down on Brees at all is difficult, but he is definitely not as good on the road. In a divisional game, this feels like a more pedestrian weekend for Brees. Especially given the fact that the Saints will emphasize the run when they have the chance.
Borderline Starters
10. Ben Roethlisberger PIT @TB
It still feels strange to say this, but the Steelers may have to throw a fair amount to keep up with the Buccaneers passing attack. I would have Big Ben higher, but their team is not on the same page right now.
11. Carson Wentz PHI vs. IND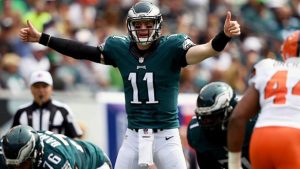 The Eagles have a nice easy matchup to ease Wentz back into starting duties. Their lack of weapons makes me a bit hesistant to rank the young QB higher. I'm expecting big things from Agholor and Ertz in this game. Keep an eye on Corey Clement as a PPR star as well.
12. Russell Wilson SEA vs. DAL
Sometimes he gets it done with smoke and mirrors…and garbage time, but Wilson gets those fantasy points.
13. Matt Ryan ATL vs. NO
The emerging talent of Calvin Ridley along with Julio Jones is going to be a challenge for the Saints secondary. I think that they are good enough to keep Matt Ryan to average totals though.
14. Jimmy Garoppolo SF @KC
Jimmy G will need to make some throws to keep up and that could mean mixed results. The Chiefs are going to come out swinging and it will probably be hard for San Francisco to keep pace. Plenty of opportunities will be there for Garoppolo to make throws, but playing from behind will force some mistakes.
15. Jared Goff LAR vs. LAC
The Chargers defense is depleted by injuries, as always. That should mean that Goff can do enough to be a startable quarterback for week 3.
Less Appealing Options
16. Alex Smith WSH vs. GB
17. Andrew Luck IND @PHI
18. Philip Rivers LAC @LAR
19. Blake Bortles JAC vs. TEN
20. Andy Dalton CIN @CAR
Hard No
21. Tyrod Taylor CLE vs. NYJ
22. Derek Carr OAK @MIA
23. Ryan Tannehill MIA vs. OAK
24. Dak Prescott DAL @SEA
25. Mitchell Trubisky CHI @ARI
26. Case Keenum DEN @BAL
27. Sam Darnold NYJ @CLE
28. Joe Flacco BAL vs. DEN
Thursday night kicks off the action and it is time to set your lineups. Be sure to check out our other positional rankings as well as the waiver wire picks if you need a boost. Look me up on Twitter for some extras: @brendancole16.