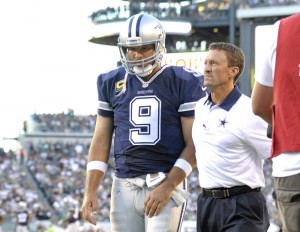 Throughout every regular season, we are reminded that no matter how extensively we examine the statistics, inspect the career splits and absorb the numerous details of every match-up, we still witness surprising results every week. And sometimes what we observe is genuinely astonishing. That certainly occurred last Thursday Night in Kansas City, as Peyton Manning led a memorable comeback that resurrected his standing within the fantasy community, and arguably resuscitated his career. Then on Sunday, Tom Brady radically reshaped the narrative that he would struggle in Buffalo, by registering the week's largest yardage total.
Unfortunately, we also witnessed injuries. And inexplicably poor performances. All of which obliterated even the most well-conceived plans of owners, and might necessitate emergency use of the waiver wire. Some of you will be faced with that reality, in the aftermath of Tony Romo's broken left clavicle. Jay Cutler appears destined to miss this week's contest, and both Drew Brees and Matthew Stafford are candidates to join him on the sidelines. Their situations certainly require monitoring. As does Sam Bradford's, although concerns regarding him are not injury related. If any of these situations apply to you, take solace in the fact that you will not have the additional complication of alternative signal callers for this week's roster being on bye.
Which propels us into the Week 3 rankings and match-ups. Those of you who stream your quarterbacks will not be forgotten, nor will those of you who play in 2QB or Super-flex leagues. Enjoy this week's games, and good luck to everyone.
Top 25 Rankings
1. Tom Brady vs. Jaguars
So much for the notion that Brady would have difficulty with the same Buffalo defense that overwhelmed Andrew Luck and the Colts in Week 1. Brady absolutely shredded the Bills for 466 yards and a trio of touchdowns, which served as a reminder that even an imposing defensive unit can be overpowered by an exceptional quarterback, combined with outstanding execution. Owners who drafted Brady with full knowledge that he may be unavailable for the Patriot's first four contests, have now been the recipients of two excellent outings by the future Hall-Of-Famer. He leads the NFL with 754 yards, and is tied for first with seven touchdowns. He will deliver more high quality numbers this week versus a Jacksonville defense that just surrendered Week 2's fifth highest yardage total to Ryan Tannehill.
2. Ben Roethlisberger at Rams
Roethlisberger dissected the 49ers for 369 yards and three touchdowns in Week 2 and now is second overall with 720 yards in his first two games. The sturdy Ram defense will supply Roethlisberger with his most formidable challenge to this point of the season. But even though DeAngelo Williams has performed admirably during the absence of Le' Veon Bell, the third-year back will intensify the threat of Pittsburgh's ground game. His return also boosts the of octane level of Pittsburgh's second ranked passing attack, and provides with another elite, game breaking target to complement the consistently exceptional Antonio Brown. Expect another excellent outing for Roethlisberger.
3. Carson Palmer vs. 49ers
The 14-year veteran has taken full advantage of two excellent match-ups, after he burned the seemingly helpless Bear secondary for four touchdowns. He has now produced seven touchdowns on the season, which ties him with Brady for the league lead in that category. There is even more favorable news for owners, as this week's opponent should be as exploitable as the substandard New Orleans and Chicago defensive units. San Francisco was just torched by Roethlisberger and the Steelers in Week 2, and Palmer should continue his magnificent September attacking this beatable group on Sunday.
4. Russell Wilson vs. Bears
Wilson is on pace to replicate his output from last season through his first two games. To this point, he has accumulated 457 and three touchdowns, which on a per-game average is comparable to his 2014 totals of 3,475 yards and 20 touchdowns. He has also averaged 54.5 YPG on the ground, which is also consistent with the 53 YPG that he accrued last season. He amassed 284 total yards against Green Bay last Sunday night, and utilized eight different receivers in the process. However, he only located Jimmy Graham once. Although that is a number that can, and should, improve this week. Wilson will make his home debut against a charitable Chicago pass defense, and should deliver very respectable numbers. 
5. Aaron Rodgers vs. Chiefs
Rodgers overcame injuries to Eddie Lacy and Davante Adam, to navigate through the Seahawks' pass defense for 249 yards and two touchdowns in Week 2. Rodgers made extensive use of Randall Cobb, by targeting him 11 times. That enabled the tandem to connect eight times for 116 yards. Rodgers is now tied for fourth with five touchdowns on the season, and has yet to throw an interception. This week's matchup presents a challenge, even though as images of Denver's Week 2 comeback against the Chiefs' pass defense remain fresh. Kansas City's defensive backs are generally proficient, and rookie Marcus Peters appears on the path to becoming elite. Rodgers should still produce multiple touchdowns in this encounter, even though they will not be achieved easily.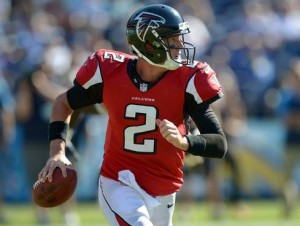 6. Matt Ryan at Cowboys
After accruing 363 yards against the extremely hospitable Giant secondary in Week 2, Ryan has now generated 661 yards for the season. That is the NFL's third highest total, and 276 of those yards have been manufactured through connections with Julio Jones. Ryan has now located his elite receiving weapon 22 times, including 13 during his matchup in New York. Awaiting Ryan and the Falcon offense this week, is a Dallas unit that is yielding just 205 YPG, and has surrendered only one touchdown. The Cowboys just frustrated the Eagle offense in Week 2, and fantasy points will not come as easily for Ryan owners this week. But he should supply a respectable output.
7. Peyton Manning at Lions
The failure of Denver's offense during the first half of their match-up in Kansas City, can be characterized charitably as awkward, and appeared fully capable of becoming catastrophic. Then, Kubiak's shoehorned offense was modified to allow Manning to guide the team, work from the shotgun, and operate without a huddle. Once that occurred, Manning's strengths ascended to the forefront. That ignited Denver's offense, and he eventually produced three touchdowns. If Kubiak allows Manning to lead an attack that enhances his chances to succeed, he can still be a reliable QB1. Even though issues will remain with deep throws, and an often ineffective offensive line. He should remain in all lineups this week, versus a vulnerable Lion pass defense.
8. Andrew Luck at Titans
Indianapolis was out of sorts and out of sync throughout their Week 2 matchup with the Jets, as what is supposed to be their high powered offense, couldn't lift off the runway. While there were many culprits within the Colt offense that were responsible for the surprisingly anemic production, Luck was certainly among them. He did connect on a fourth quarter touchdown with Donte Moncrief, but also threw three interceptions, and lost a fumble. For the year, he has thrown three touchdowns, a league worst five interceptions, and is only 12th in passing yards. Not only is his fantasy point total significantly less than what was expected, but his next assignment will not be easy. Luck must deal with an improved Titan defense on a short week, and increasingly impatient owners should prepare for more frustration.
9. Philip Rivers at Vikings
After generating a league best 404 yards in Week 1, Rivers assembled 241 yards in Cincinnati last Sunday. That has elevated him into fourth overall, with 645 yards for the season. The 9.35 yard per attempt that he is averaging also places him second only to Roethlisberger. He has attained those numbers by distributing the ball to a cluster of weapons, including four different receivers who have collected at least 10 passes. Rivers' efforts have lifted San Diego into fourth overall in passing offense. He should deliver another productive outing this week, although owners should not anticipate exceptional numbers. Minnesota's pass defense has permitted 225 YPG, while surrendering just two touchdowns.
10.Eli Manning vs. Redskins
Manning opened the season with his lowest yardage total since Week 6 of 2014. But he rebounded last Sunday by amassing 292 yards and two touchdowns against Atlanta. The Falcons entered the game ranked just 29th against the pass, after yielding 336 yards to Bradford in Week 1. But Manning was the victim of multiple drops that prohibited an even larger yardage total. He also connected with Odell Beckham Jr. for 146 yards and a touchdown, as the tandem renewed their successful collaboration. The short turnaround before this week's Thursday Night divisional showdown should not deter Manning from replicating his Week 2 success.
11. Ryan Tannehill vs. Bills
Throughout the summer, my stock answer for friends or fellow fantasy analysts who asked me why I was a strong proponent of Tannehill as a QB1, was that I was very comfortable with his floor. My opinion has not changed. Because he is working within a very friendly offensive scheme, and should remain comfortable in his second year running it. Plus, he possesses a talented group of targets that will help him accumulate fantasy points. He performed more proficiently in Week 2, amassing an impressive 359 yards and two touchdowns in Jacksonville. This week's matchup could provide a test toward determining the exact location of that previously mentioned floor. Although it was just proven that the Bill pass defense is not impenetrable.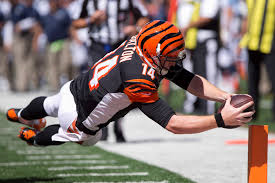 12. Andy Dalton at Ravens
Count me among those in the fantasy community who are not normally supportive of employing Dalton as anything beyond a QB2. However, he deserves credit for accumulating five touchdowns in his first two games, which ties him for fourth among all signal callers. Plus, owners of Romo, Brees, Stafford and Bradford might be involved in a virtual stampede to their waiver wires, in hopes of securing an alternative starter. Given that criteria, Dalton has emerged in this week's top 12 rankings. He will encounter a Raven defense that shredded in Oakland, and should provide favorable numbers once again.
13. Drew Brees at Panthers (injury alert - check his status)
Brees owners have legitimate reason for concern, as the Saints have been consistently ineffective on both sides of the ball. Defensive shortcomings have often left the offense affixed to the sidelines. Once Brees reenters the contest, he has not been particularly proficient in his execution. Plus, his receiving weapons in this post-Graham era have not been delivering big plays. Despite what appeared to be an appealing match-up versus the same Buccaneer defense that allowed four touchdowns to Marcus Mariota in Week 1, he only managed one during their Week 2 encounter. Owners must reassess their expectations for Brees in upcoming weeks, providing that he is able to remain in the lineup. Especially given Sunday's difficult match-up with a Carolina pass defense that has yielded just two touchdowns this season.
14. Cam Newton vs. Saints
15. Marcus Mariota vs. Colts
16. Teddy Bridgewater vs. Chargers
17. Colin Kaepernick at Cardinals
18. Sam Bradford at Jets
19. Matthew Stafford vs. Broncos
20. Derek Carr at Browns

21. Tyrod Taylor at Dolphins
22. Joe Flacco vs. Bengals

23. Nick Foles vs. Steelers

24. Blake Bortles at Patriots
25. Jameis Winston at Texans
Best Matchups
Peyton Manning at Lions
Concerns about Manning's accuracy, his offensive line, and his ability to transition into Kubiak's offensive approach will persist. But the fact that his unnervingly slow start in Kansas City, transformed into a triumphant game winning drive that jump started an action packed Week 2, supplies owners with legitimate reason for hope entering this week's match-up. Detroit's pass defense has certainly struggled, after permitting Rivers to accumulate the highest yardage total in Week 1, then allowing Teddy Bridgewater to generate numbers that were a vast improvement from his inauspicious opening performance. As a result, Detroit currently ranks just 24th versus the pass, while allowing 270 YPG. The Lions' 27th ranked run defense is also vulnerable, which could compel Kubiak to emphasize Denver's ground game in his approach. Still, Manning should deliver another multiple touchdown performance this week.
Russell Wilson vs. Bears
Wilson and the Seahawks will be lining up against a Chicago team that possessed an overabundance of deficiencies on both sides of the ball even before the offense was being guided by Jimmy Clausen. Defensively, the Bears have already surrendered a league worst seven touchdowns through the air, allowed Rodgers and Palmer to complete 74.5 of their passes, and no improvement in their coverage capabilities appears imminent. Plus, the elusive Wilson is unlikely to absorb sacks, as Chicago has failed to generate any this season. Seattle's defense should encounter little difficulty in overpowering the injury riddled Bear offense, and is fully capable of providing multiple turnovers. It is easy to see a pattern forming here, as this should be an enjoyable week for Wilson owners.    
Andy Dalton vs. Ravens
Dalton's commendable production after two games should not be ignored. And he is surrounded by a sufficient degree of talent that can help him perpetuate at least reasonable success and he'll possibly climb our rankings. Logic would dictate that Baltimore's defense will perform much more effectively against its AFC North rival in Week 3. Particularly in view of the unit's extreme embarrassment of Week 2. They were tortured by Derek Carr and the Raiders for 351 yards and three touchdowns, including the game winning score with 0:26 remaining. However, even if they do provide more resistance against the Bengals, Dalton should produce over 250 yards and three touchdowns during their match-up. And continue to provide owners in deeper leagues with a rewarding option this week.
Worst Matchups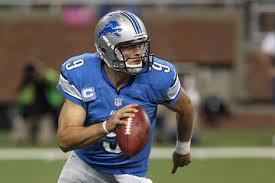 Matthew Stafford vs. Broncos
Stafford has produced a pair of touchdowns during each of his first two matchups, and has averaged 266 YPG in the process. That places him ninth among his peers, which is definitely respectable. However, he is also thrown three interceptions, which ties him for the NFL's second highest total. He is also nursing injuries to his ribs and chest, as he prepares to face the NFL's premier pass defense. Denver's stellar unit ranks first overall, and is yielding a miserly 135 YPG. They have not allowed any touchdowns, and have already collected four interceptions. Cornerbacks Aqib Talib and Chris Harris are highly proficient, which works in tandem with Denver's productive pass rush to create nightmarish issues for opposing offenses. That will be the undesirable state of affairs that awaits Stafford this week, which should persuade owners with other options to strongly consider utilizing them.
Sam Bradford at Jets
The potentially high octane Eagle offense misfired repeatedly in Week 2, as they generated a meager 236 total yards. That includes the 224 that Bradford managed through the air. While he did generate a touchdown, he also served up two interceptions, which expanded his season  total to four. His ability to spearhead Philly's attack will now be under extreme scrutiny, as will numerous other components of the unit that Chip Kelly has assembled. Because he must determine how to ignite an anemic attack that currently ranks just 23rd in total offense. While Bradford will likely continue as Kelly's quarterback, he will be confronted with an arduous task this week. Versus a vastly improved Jet defense that has already produced 10 takeaways, and just stifled the Colts at Indianapolis.
Drew Brees at Panthers
If Brees is back in the Saints' lineup this week despite his shoulder issue, it does not mean that you should start him. He will be performing at less than 100%, which becomes more troublesome considering the various inadequacies within the Saint offense that were discussed earlier. Worse, he would be confronted by a Carolina pass defense that ranks eighth, and is yielding only 204 YPG. The Panthers have only permitted two touchdowns through the air, and have generated six sacks. That is not a favorable combination for Brees, who has already absorbed six sacks himself. Owners that have a viable alternative, should considering utilizing it this week.