In Week 1, I told you to believe in the powers of Sam Bradford against New Orleans' untested secondary. In Week 2, I begged you not to shrug off Trevor Siemian's high floor and efficiency. If you plugged both into your lineups, congratulations on having the 3rd and 2nd highest QB totals, respectively, in standard scoring leagues. (Also, good on you for following the advice of the 3rd sexiest and 2nd smartest writer on this site.)
If you followed the rest of my advice, however...well, I'm sorry for the mediocrity you rostered. But even the best of the best suffer through slow starts to the season. It'll only get better from here, folks.
Quarterback
Jay Cutler, MIA (vs. NYJ)
This pick once again follows the principle of "START EVERYONE THAT PLAYS THE JETS". Cutler's matchup this week is too good to be ignored. The Jets have given up 5 passing touchdowns in just two games, and two of those were to the Bills. They've also allowed 8.1 yards per attempt and that means ol' Smokin' Jay's big arm should be on full display at MetLife Stadium. His immediate rapport with Jarvis Landry should keep defenses focused on the middle of the field and open up DeVante Parker, who should put together big numbers as well.
Bonus Snoozer:  Since my QB picks have gone so well thus far, let me offer some more of that tasty goodness this week. If Cutler isn't your idea of a good time, look to Jared Goff on Thursday night as he continues to test out his shiny new offensive weapons. The sophomore QB hasn't wowed with his play yet, but he's been very efficient and faces a troubled 49ers defense. That's been a recipe for good things so far in this column.
Running Back
Jalen Richard, OAK (vs. WSH)
I know, I know. Marshawn Lynch is the top dawg in Oakland's backfield. But Beast Mode isn't a spring chicken, and the Raiders aren't going to run him into the ground this early in the season unless the game is on the line. Don't expect Kirk Cousins and Company to put up big time numbers this week, as their offense just isn't clicking yet. That should mean more work for Richard, who looks to be the clear-cut No 2 ahead of DeAndre Washington. Not only will he enjoy plenty of "garbage time" opportunities, but his big play ability puts him perpetually on the cusp of ripping through a tired Washington defense for another 50+ yard touchdown.
Bonus Snoozer: Cleveland is still trying to figure out the best way to utilize their running backs, but it appears they've worked out the kinks in Duke Johnson's role. His receiver-ish backfield position gives him plenty of upside against a shaky Colts defense, especially in PPR formats.
Wide Receiver
Geronimo Allison, GB (vs. CIN)
With the massive number of wide receiver injuries floating around, there are plenty of dart throws you could make at the position this week. But the most intriguing resides in Green Bay. Geronimo Allison didn't inspire much hope last week filling in for Jordy Nelson, but it looks like the Pack's No 1 receiver will be ready to play this Sunday, which would shift Allison into Randall Cobb's spot instead. That could mean great things, as that's how Allison racked up 157 yards and a TD at the tail end of last season. If right tackle Bryan Bulaga is taken off the injury list this week, Aaron Rodgers should find it easier sledding and can make a star out of Geronimo once again.
Bonus Snoozer: There's limited time for fantasy owners to take advantage of Brandon Coleman's meaty role in New Orleans before Willie Snead returns from his suspension and ruins this magic carpet ride, but he's absolutely worth streaming this week, even against a tough Carolina defense.
Tight End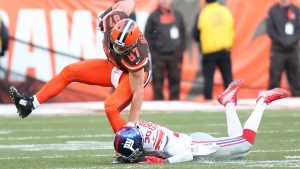 Seth DeValve, CLE (vs. IND)
Here's a fun fact: Seth DeValve has more receiving yards than anyone else on the Browns. Here's another:  The Colts have been about as successful defending against tight ends as George Lucas has been at appeasing Star Wars loyalists the last two decades. (And believe me, no amount of "remastering" will help this defense until Andrew Luck gets back on the field to balance the scoreboard.) With Corey Coleman and his busted metacarpal on the sideline, DeValve offers more big play potential so long as he can fend of David Njoku's encroaching snaps.
Bonus Snoozer: You may clench up hard at the suggestion to start any receiver on the Bears roster, but Zach Miller has been targeted the same number of times as Rob Gronkowski through the first two games and has two more catches to his name. Unclench for a minute and consider Miller against a Steelers defense that's somewhat soft in the middle.
If you already have some of these sleepers on your roster, this is your week to start them. Otherwise head out to the waiver wire and fill the voids in your lineup. Be sure to check back often for more FK exclusive content and as always follow us on Twitter for more: @_knuckleheads and @JakeTrowbridge.