Most people aren't looking for sleeper picks in the first week of the season. In fact, most people won't make a single adjustment to their team in Week 1. Instead opting to leave their lineups as-is, "I picked these guys in the first 6 rounds for a reason!" they say, smugly.
But you still have to play the matchups, even this early on. Remember, it's never to early to seek out a juicy, under-the-radar matchup to give yourself an edge.
Quarterback
Sam Bradford, MIN (vs. NO)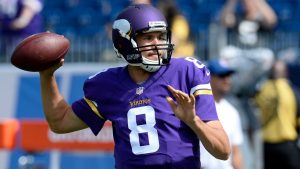 Bradford draws the tastiest matchup of the week in what should be a shootout in Minneapolis. Using the word "shootout" in the same sentence as Sam Bradford might inspire more eye-rolls and exaggerated groans than a late-career M. Night Shyamalan plot twist. The Vikings QB was better than you remember at chucking the deep ball, though. He had the highest accuracy of any quarterback in the league on balls that traveled more than 20 yards...he just wasn't allowed to unleash very often under Pat Shurmur's watchful eye.
Expect Shurmur to loosen the reigns a little more this year, considering Minnesota's improved rushing attack should minimize the dink-and-dunkery of last season. Most importantly, there's no way New Orleans' fresh-faced secondary can keep up with Stefon Diggs, Adam Thielen, and Kyle Rudolph.
Running Back
Matt Forte, NYJ (vs. BUF)
I know. I know. The Jets. And not even the "sexy" Jet, Bilal Powell. But hear me out. Over the first ten games of 2016, Matt Forte averaged 73 rushing yards and 2.3 receptions per game. Is that a staggering stat line? Not by any means, but it was with an offensive coordinator who refused to use Forte as a pass-catcher on third down, which is where the 31-year-old running back buttered his bread for the majority of his career.
The new OC should utilize Forte more effectively this year, which should help offset concerns that Powell will take away his touches. We all know Forte is the old man on the block, but that's exactly why you should put his legs into your fantasy lineup while they're still fresh. The pendulum will swing toward Powell soon enough -- as it did last season -- but expect defenses to get big helpings of Forte in these first few games.
Wide Receiver
Kenny Britt, CLE (vs. PIT)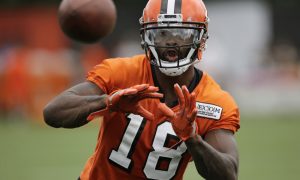 Somebody's going to get the ball in Cleveland. A lot. Ben Roethlisberger is going to get fat off the Browns, and rookie QB DeShone Kizer will be tasked with keeping up. That's good news for Kenny Britt who is, by default, the most reliable receiver in the group. The Pittsburgh defense will likely be focusing a lot of their attention on their old pal Sammie Coates, who the Browns acquired this week, leaving Britt the beneficiary of a boatload of mid-to-long-range throws.
The 28-year-old receiver could be a sneaky option for a TD or two as the Browns attempt to overcome a 45-3 halftime deficit.
Tight End
Evan Engram, NYG (vs. DAL)
You know how they (we) say you shouldn't put too much trust in a rookie tight end? Well forget what they (we) said for this week. Evan Engram is going to get a lot of people's hopes up after he demolishes one of the feeblest secondaries in the business. If healthy, the Giants' entire receiving crew should feast Sunday night. Dallas was especially abysmal against tight ends last season, and Xavier Woods can't fix that all by himself.
Also adding to Engram's stock this week is Odell Beckham's ankle injury. This may or may not keep him from suiting up against the Cowboys. Even if he plays, expect him to be used primarily as a decoy. That should open up even more space for the rookie tight end to make a big ol' splash at AT&T Stadium.
These sleeper picks should help fill out your fantasy lineups. Be sure to get your Dolphins and Bucs out of your active spots. Their game is postponed until week 11 due to Hurricane Irma. For more long term sleepers, check out our deep fantasy sleepers for 2017. Check back every week for more weekly sleepers.