Wide receivers keep posting big fantasy performances and it seems like every week there is a new player worthy of a roster spot. One of the deepest positions in football, receiver presents a bevy of options to players scouting the waiver wire. Things are already thinning out after the first couple of weeks, but there are more useful players to be grabbed before the week 3 contests begin.
Week 2 Recommendations Results (Standard League Scoring)
Chris Hogan NE - 4 receptions 59 yards 5 Fantasy Points
Victor Cruz NYG - 4 receptions 91 yards 9 Fantasy Points
Davante Adams GB - 3 receptions 26 yards 2 Fantasy Points
Nelson Agholor PHI - TBD
Mike Wallace BAL - 4 receptions 41 yards 2 touchdowns 16 Fantasy Points
Eli Rogers PIT - 1 reception 9 yards 0 Fantasy Points
Hogan has played well, but may struggle with the Pats down to their third string quarterback. Cruz looks great and should keep producing barring injury. Adams is still hit or miss; he missed in week 2. Agholor will depend on the play of Carson Wentz and his week 2 game is just starting at this moment. Must start receiver Mike Wallace, it sounds strange but we are just about at that point. The Steelers' struggled in week 2 and Rogers suffered for it like most other offensive players did.
Week 3 Waiver Wire Picks
Tyrell Williams SD
The Chargers have been decimated by injuries, their top two pass catchers are both out for the season (Keenan Allen and Danny Woodhead). Tyrell Williams is a nice looking young player that should be starting opposite Travis Benjamin. In the first two weeks Williams has put up 71 and 61 yards with a touchdown in week 2. Phillip Rivers has made receivers with much less talent look good in past seasons and Williams should be a steady producer for the remainder of the season.
Sammie Coates PIT
While the volume of targets is not there at the moment, Coates is a big play waiting to happen. At the moment Coates is very hit or miss, similar to Travis Benjamin before he broke out. Still, he is in an offense that throws a ton and he has put up 56 and 97 yards in the first two weeks of the season. Fantasy teams looking for wide receiver help could do much worse than taking a flier on a Steelers wideout. Just keep in mind that Pittsburgh's offense may go a different direction in a couple of weeks when LeVeon Bell returns to the fold.
Cole Beasley DAL
The Cowboys are throwing the ball quite a bit early in the 2016 season and Cole Beasley is a big part of their game plan. Rookie Dak Prescott has looked to Beasley to move the chains early and often; there is no reason to believe that this trend will not continue. With 13 receptions through 2 games, Beasley is a quality PPR option. His yardage totals of 65 and 75 make him a borderline flex in standard leagues. If he can reach the end zone a couple of times he would be firmly on the radar.
Double Down
Victor Cruz and Mike Wallace (again)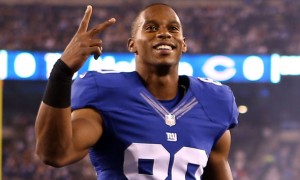 Cruz and Wallace have significant shares of their respective offenses. Cruz is working opposite one of the best receivers in the game and providing Eli Manning with a sure handed second target. This is a great upgrade from the unreliable Rueben Randle. Wallace seems to be target number 1 or at least 1a for Joe Flacco in Baltimore. The touchdown pace is not sustainable for Wallace, but he is a safe bet for one or two big plays per game. These guys should not be on the waiver wire in almost any league.