I'm back, bay-bay! I know it hardly seems like I was gone, since Kurt came in and crushed these rankings last week like he was Clay Matthews and they were Kirk Cousins. (Unnecessary, game-changing penalties are the best, aren't they?) But I'll do my best to get back in your good graces this week with my wide receiver rankings.
After two weeks of NFL games, we can finally start analyzing some numbers. Nothing's set in stone after just a couple of weeks, but there are some useful trends to peak at. For wide receivers, target share and snap counts are huge indicators for what a particular player's role is in the offense. So let's start there.
Target Monsters
Despite his "underwhelming" start, Antonio Brown has been the most heavily targeted receiver in the league through 2 weeks. His numbers are still great for a typical receiver (18-160-1), but they're not the league-winning numbers we're used to from AB. If last week's sideline freakout is any indication, Brown wants the ball a lot more, and this squeaky wheel should get it in a shootout against the Bucs.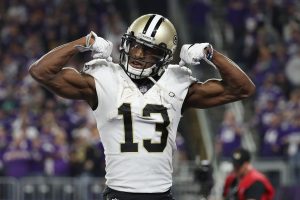 Michael Thomas was this close to being named the top receiver for Week 3, as his 28 receptions lead the league by a wide margin. Thomas is getting his in a reinvigorated, pass-first offense and Drew Brees isn't spreading the ball around as much as he did last year.
Detroit's receiving corp is a group to be reckoned with, and it's Golden Tate leading the charge. With 28 targets under his belt, Tate is tied with Julio Jones for the 3rd most targets thus far, and he's translated that to 14 receptions for 188 yards and 1 TD. Those are identical numbers to Deandre Hopkins. Tate is looking like a draft steal.
...But not nearly as much of a steal as his teammate, Kenny Golladay, who has been targeted an average of 10.5 times per game. Golladay is quickly establishing himself as the No. 2 target in a pass happy offense.
In a depleted Philadelphia receiving group, Nelson Agholor has been targeted 8th-most among all receivers, and has hauled in the 6th-most catches. Agholor hasn't been a super efficient receiver, averaging just 7.6 yards per reception.
Snap Count Studs
Marvin Jones was one of just 4 receivers to be on the field for 100 percent of their team's offensive snaps in Week 2, along with Deandre Hopkins, Brandin Cooks, and Cooper Kupp. Jones has had the poorest showing of Detroit's main pass-catching trio so far, but the coaching staff obviously wants to use him. That level of involvement will eventually be reflected in the stat sheet.
Cooks and Kupp aren't the only ones on the Rams offense seeing a ton of snaps. Robert Woods somehow had a staggering 97% snap share against the Cardinals last week. So long as head coach Sean McVay remains the king of 3 wide receiver sets, Woods remains a sneaky good play.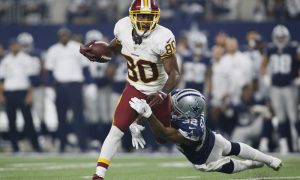 Jamison Crowder has been a disappointment for fantasy owners thus far, but his 93% snap share last week (up from just 62% the week before) suggests it's only a matter of time before he returns value. Jordan Reed and Chris Thompson have been eating up the middle of the field lately, but it only takes one injury between two injury-prone players to get Crowder going again.
Devin Funchess, Josh Doctson, Jordy Nelson, and Taylor Gabriel are all underperforming receivers who have averaged at least 90% of their team's snap share. Keep these guys on your radar.
For more in-depth, in-season lineup advice, make sure to check out Fantasy Knuckleheads premium content!
| Rank | Player | Team | Opponent |
| --- | --- | --- | --- |
| 1 | Antonio Brown | PIT | @TB |
| 2 | Michael Thomas | NO | @ATL |
| 3 | Mike Evans | TB | PIT |
| 4 | Julio Jones | ATL | NO |
| 5 | Tyreek Hill | KC | SF |
| 6 | Deandre Hopkins | HOU | NYG |
| 7 | Keenan Allen | LAC | @LAR |
| 8 | A.J. Green | CIN | @CAR |
| 9 | Stefon Diggs | MIN | BUF |
| 10 | Odell Beckham Jr. | NYG | @HOU |
| 11 | Davante Adams | GB | @WAS |
| 12 | T.Y. Hilton | IND | @PHI |
| 13 | Golden Tate | DET | NE |
| 14 | Brandin Cooks | LAR | LAC |
| 15 | Nelson Agholor | PHI | IND |
| 16 | Emmanuel Sanders | DEN | @BAL |
| 17 | JuJu Smith-Schuster | PIT | @TB |
| 18 | Adam Thielen | MIN | BUF |
| 19 | Jarvis Landry | CLE | NYJ |
| 20 | Kenny Stills | MIA | OAK |
| 21 | Larry Fitzgerald | ARI | CHI |
| 22 | Kenny Golladay | DET | NE |
| 23 | Allen Robinson | CHI | @ARI |
| 24 | Demaryius Thomas | DEN | @BAL |
| 25 | DeSean Jackson | TB | PIT |
| 26 | Cooper Kupp | LAR | LAC |
| 27 | Quincy Enunwa | NYJ | @CLE |
| 28 | Marvin Jones | DET | NE |
| 29 | Chris Hogan | NE | @DET |
| 30 | Will Fuller | HOU | NYG |
| 31 | Amari Cooper | OAK | @MIA |
| 32 | Tyler Lockett | SEA | DAL |
| 33 | Keelan Cole | JAC | TEN |
| 34 | Robert Woods | LAR | LAC |
| 35 | John Brown | BAL | DEN |
| 36 | Corey Davis | TEN | @JAC |
| 37 | Randall Cobb | GB | @WAS |
| 38 | Jamison Crowder | WAS | GB |
| 39 | Chris Godwin | TB | PIT |
| 40 | Michael Crabtree | BAL | DEN |
| 41 | Sammy Watkins | KC | SF |
| 42 | Dante Pettis | SF | @KC |
| 43 | Sterling Shepard | NYG | @HOU |
| 44 | Devin Funchess | CAR | CIN |
| 45 | Geronimo Allison | GB | @WAS |
| 46 | Phillip Dorsett | NE | @DET |
| 47 | Mohamed Sanu | ATL | NO |
| 48 | Robby Anderson | NYJ | @CLE |
| 49 | Tyler Boyd | CIN | @CAR |
| 50 | Marquise Goodwin | SF | @KC |
| 51 | Josh Gordon | NE | @DET |
| 52 | Pierre Garcon | SF | @KC |
| 53 | Brandon Marshall | SEA | DAL |
| 54 | Devante Parker | MIA | OAK |
| 55 | Paul Richardson | WAS | GB |
| 56 | Jarius Wright | CAR | CIN |
| 57 | Calvin Ridley | ATL | NO |
| 58 | Taylor Gabriel | CHI | @ARI |
| 59 | Kelvin Benjamin | BUF | @MIN |
| 60 | Josh Doctson | WAS | GB |
| 61 | Ted Ginn | NO | @ATL |
| 62 | Dede Westbrook | JAC | TEN |
| 63 | Mike Williams | LAC | @LAR |
| 64 | Jakeem Grant | MIA | OAK |
| 65 | Allen Hurns | DAL | @SEA |
| 66 | Tyrell Williams | LAC | @LAR |
| 67 | Ryan Grant | IND | @PHI |
| 68 | Jordy Nelson | OAK | @MIA |
| 69 | Cole Beasley | DAL | @SEA |
| 70 | Donte Moncrief | JAC | TEN |
| 71 | Antonio Callaway | CLE | NYJ |
| 72 | Danny Amendola | MIA | OAK |
| 73 | D.J. Moore | CAR | CIN |
| 74 | Tavon Austin | DAL | @SEA |
| 75 | Bruce Ellington | HOU | NYG |
| 76 | Albert Wilson | MIA | OAK |
| 77 | Courtland Sutton | DEN | @BAL |
| 78 | Zay Jones | BUF | @MIN |
| 79 | Rashard Higgins | CLE | NYJ |
| 80 | John Ross | CIN | @CAR |
| 81 | Taywan Taylor | TEN | @JAC |
| 82 | Willie Snead | BAL | DEN |
| 83 | Torrey Smith | CAR | CIN |
| 84 | James Washington | PIT | @TB |
| 85 | Jaron Brown | SEA | DAL |
| 86 | Terrance Williams | DAL | @SEA |
| 87 | Michael Gallup | DAL | @SEA |
| 88 | Trent Taylor | SF | @KC |
| 89 | Kamar Aiken | PHI | IND |
| 90 | Laquon Treadwell | MIN | BUF |
| 91 | Deonte Thompson | DAL | @SEA |
| 92 | Chris Conley | KC | SF |
| 93 | Chester Rogers | IND | @PHI |
| 94 | Christian Kirk | ARI | CHI |
| 95 | Adam Humphries | TB | PIT |
| 96 | Cordarelle Patterson | NE | @DET |
| 97 | Chad Williams | ARI | CHI |
| 98 | Tre'Quan Smith | NO | @ATL |
| 99 | Seth Roberts | OAK | @MIA |
| 100 | Jermaine Kearse | NYJ | @CLE |