This is it, the week where we find out if Patrick Mahomes is matchup proof. Oh, and there are some other quarterbacks playing this week as well. After the Monday night game we'll be a quarter of the way through the season already. Here we go with the week 4 quarterback rankings, just in time to get those lineups set for action.
Top Tier Starters
1.Tom Brady NE vs. MIA
The Patriots have been bad defensively so far and the Dolphins are putting up some points. All indications are that Brady and the Pats will need a few scores to keep up. Although things have been a bit rough in New England, I think that this could be a breakout game for TB12 and the offense.
2. Drew Brees NO @NYG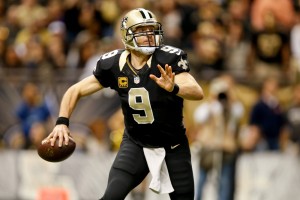 Speaking of veteran quarterbacks, I'm also high on Brees this week. The Saints are putting up points in bunches and allowing them just as prolifically. Look for a high scoring game at the Meadowlands and lots of fantasy points for Breesus.
3. Patrick Mahomes KC @DEN
This is going to be a very tough test on the road for a young quarterback. The Broncos defense is vicious but there is room to be found in the passing game. Tight ends have presented a problem for the Denver defense and Travis Kelce is ready to capitalize on that weakness.
4. Philip Rivers LAC vs. SF
There is a good possibility that the Chargers are going to end up ahead for much of this game. Normally that would temper my expectations for the quarterback, but not with Rivers. So much of the offense runs through passes to Melvin Gordon and Austin Ekeler that I still like the upside here.
Strong Starters
5. Russell Wilson SEA @ARI
Offense is not easy to come by for the Seahawks, but Wilson accounts for almost all of it. Even in low scoring games, Wilson will tend to get his fantasy points because there are no other weapons on the team. On the ground or through the air, Russell Wilson will be a nice option against a bad Cardinals team.
6. Aaron Rodgers GB vs. BUF
Will the juggernaut Bills team that steamrolled the Vikings show up at Lambeau? No. This game will be business as usual with Aaron Rodgers throwing for multiple touchdown passes on the way to a Packers win. I would rank him higher, but the Bills do have a few legitimate players on defense.
7. Deshaun Watson HOU @IND
Defensively, the Colts are better than people think this year. There is a good chance that noodle armed Andrew Luck will get Indy out to a lead and things could shape up like last week for the Texans. The upside there would be the plentiful garbage time points that Watson can roll up late in games.
8. Ben Roethlisberger PIT vs. BAL
A solid defense is coming to town on Sunday and the Steelers are still going to score plenty of fantasy points. The Ravens offense has the ability to score some points this year and the Steelers do not have the ability to stop anyone. That means Big Ben chucking the ball all over the yard for a respectable fantasy total.
Decent Options
9. Matt Ryan ATL vs. CIN
The receiving game in Atlanta has basically been the Julio Jones show for a few years. With a breakout game last week, Calvin Ridley has served notice that there is a second viable option for Matt Ryan. These two talented receivers should finally be able to spread the field and open things up for everyone else.
10. Carson Wentz PHI @TEN
Even missing some pieces from their Super Bowl run, the Eagles offense is dangerous. Last week they got big contributions from rookie tight end Dallas Goedert. This week, who knows where the ball will go. Wentz is great at spreading out the offense and putting the ball where it needs to be. In a tough defensive matchup, look for Wentz to do enough to be worth a start.
11. Andy Dalton CIN @ATL
Nobody feels great about starting Andy Dalton, but he is often a viable option. He is basically working with Tyler Boyd as a top option as A.J. Green is dinged up, but the numbers are there. Factor in Giovani Bernard and a healthy Tyler Eiftert and the Bengals still have enough weapons to give Dalton around 20 fantasy points.
12. Eli Manning NYG vs. NO
Another quarterback that nobody really wants to start is Eli Manning. He has elite offensive weapons all over the field, but is still no better than a matchup based starter. This is one of those matchups where he could warrant a start though. The Saints aren't stopping anybody and there is no reason to believe that they will start with Beckham, Shepard and Barkley.
Only In A Pinch
13. Andrew Luck IND vs. HOU
14. Kirk Cousins MIN @LAR
15. Matt Stafford DET @DAL
16. Jared Goff LAR vs. MIN
17. Case Keenum DEN vs. KC
18. Ryan Fitzpatrick TB @CHI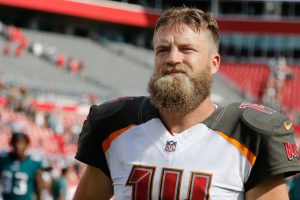 19. Joe Flacco BAL @PIT
20. Derek Carr OAK vs. CLE
Just Say No
21. Ryan Tannehill MIA @NE
22. Mitchell Trubisky CHI vs. TB
23. Blake Bortles JAC vs. NYJ
24. Marcus Mariota TEN vs. PHI
25. Dak Prescott DAL vs. DET
26. Josh Allen BUF @GB
27. Baker Mayfield CLE @OAK
28. Josh Rosen ARI vs. SEA
29. Sam Darnold NYJ @JAC
30. C.J. Beathard SF @LAC
Be sure to check out the rest of the positional rankings before the action starts tomorrow. Follow me on Twitter for more insights and analysis: @brendancole16.