The rankings for QB, RB, WR and TE have been updated going in to week 4. Our system is excellent, but the human element can make for some interesting adjustments. If you would like to have a second opinion before you fill your lineup based on the rankings, this is it. Strap in and hold on to something, because here comes the ranking report gut check.
(All Reactions Based On Weekly PPR Rankings)
Quarterback Rankings Report - Undervalued
1.Tyrod Taylor BUF  Ranked #16     My Ranking #9
Taylor has lost his best weapons and been beaten to a pulp, but he keeps producing. This week he faces an Atlanta defense that has been solid against the pass, but I still like him. His rushing potential gives him a high weekly floor and he is syncing up with his targets. Jordan Matthews looks like he is ready to give the Bills a downfield threat and Charles Clay has been a beast. If LeSean McCoy can get it going on the ground then I like this pick even more.
2. Philip Rivers LAC  Ranked #24   My Ranking #12
The Chargers offense started the year strong before dropping off the map in week 3. Every player gets an outlier week for me and that was it. The Chiefs look Super Bowl strong this year and they dominated the Chargers on every front. This week Rivers has the Eagles coming to town and he should rebound nicely. The Eagles allow a high completion rate (8th highest in the league), and that plays to Rivers' strengths. With Melvin Gordon dinged up, the passing game should see more action and Rivers will rise to the occasion.
Quarterback Rankings Report - Overvalued
1.Alex Smith KC  Ranked #8   My Ranking #15
The Redskins have been very solid on defense this year, forcing multiple turnovers in each game. Although Smith is at home, he could revert to his conservative nature against an opportunistic defense. Kareem Hunt opens things up for Smith, but Smith has thrown 3 touchdown passes combined in the last two weeks. Odds are Smith is putting up about 15-18 fantasy points, fine but not great.
2. Cam Newton CAR  Ranked #12   My Ranking #20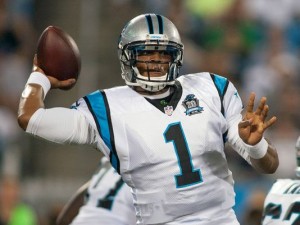 For a former MVP, Cam Newton is certainly not playing up to his potential. He may still be injured or it could be something else, but 2015 is really starting to look like an outlier. So far this season he has not topped 15 fantasy points despite his shiny new weapons. I would rather start Deshaun Watson or Deshone Kizer than Newton at this point.
Running Back Rankings Report - Undervalued
1.Todd Gurley LAR  Ranked #8   My Ranking #2
The talk of Todd Gurley's NFL demise was certainly premature. He has had a cake schedule so far, but that never mattered last season. He finally has weapons around him and his confidence is back. The Cowboys held up well against the run last week, but that was the ghost of Chris Johnson. Gurley is going to run over the Cowboys on the ground and in his newfound passing game role.
2. Chris Carson SEA   Ranked #22  My Ranking #13
The offensive gameplan of the Seahawks can be baffling at times. One thing that they have gotten right is starting Chris Carson, though. He is clearly the most talented runner on their roster and he has a juicy matchup this week. The Colts are awful, to call them a trainwreck would be insulting to actual trainwrecks. Russell Wilson is not going to have to do a whole lot in this one, because Carson will do the heavy lifting. I have him ranked at 13 and that may be conservative.
Running Back Rankings Report - Overvalued
1.Ty Montgomery GB   Ranked #4   My Ranking #15
Last season the Bears were a running back's dream matchup, but this is 2017. This year opposing rushers are averaging 3.4 yards per carry against the Bears. Yes, I know that Montgomery is a cog in the passing game as well, but his workload is grinding him down. The Packers are going to start working in Jamaal Williams, so hopefully that helps Ty stay on the field. I see him as a RB2 this week rather than a bellcow RB1.
2. Christian McCaffrey CAR   Ranked #15  My Ranking #30
The Panthers have been shockingly unable to get a lot of value from "Dairy Sanders" so far. The preseason hype has turned out to be just that as McCaffrey has been corralled all season. There is no way that the Patriots will not have a game plan for stopping a player like McCaffrey. He will have value this season, but week 4 could be tough.
Wide Receiver Rankings Report - Undervalued
1.Alshon Jeffery PHI   Ranked #18  My Ranking #10
The Eagles have not seen the best of Alshon Jeffery yet. He has faced some brutal cornerback matchups to start the year.  Carson Wentz is great at spreading the ball around and has not gambled much against these premier corners. This week Philly heads to San Diego and they will face a defensive backfield minus Jason Verrett. Look for Wentz to target the Eagles big offseason acquisition early and often.
2. Rishard Matthews TEN   Ranked #48  My Ranking #20
It is going to be a tough week for Marcus Mariota and the Titans. They have to face the high octane defense of the Texans and that will hold down values a bit. When there is a tough matchup, Mariota turns to Rishard Matthews often. It does not always play out as fantasy gold, but there will be opportunities. I think that Matthews has a good shot to score this week and he should see close to double digit targets. He may score the Titans only touchdown, but I like him to see pay dirt.
Wide Receiver Rankings Report - Overvalued
1.Tyreek Hill KC   Ranked #6  My Ranking #25
This one comes down to a young receiver trying to get over on Josh Norman. If Norman shadows Hill as he has been wont to do with teams best receivers...game over. Hill is a freak and a great weekly play, but not in this particular week. This game should be a whole lot of Kareem Hunt punching the Redskins in the mouth with some short passes to Kelce to move the chains.
2. Larry Fitzgerald ARI   Ranked #10  My Ranking #26
The Cowboys defense did everything they could to stop JJ Nelson from beating them deep. As a result they were gouged underneath by Fitzgerald all night. While the 49ers are not a stellar defense, they have been solid aside from the Thursday night insanity with the Rams. I think that week 3 was an outlier for Fitzgerald and he returns to more of a 5 catches for 50 yards role.
Tight End Rankings Report - Undervalued
1.Austin Seferian-Jenkins NYJ   Ranked #14  My Ranking #7
Full disclosure, I have been calling for an ASJ breakout since his rookie season. I have been wrong so far, but now he is one of two NFL caliber pass catchers on his team. If Seferian-Jenkins does not pan out this season, he is dead to me. The Jets face a greatly improved Jacksonville defense in week 4. It will be tough sledding to get into the end zone. Regardless, I think that Seferian-Jenkins will see a ton of passes. He could end up with ten catches at the end of the game; PPR GOLD!
2 . Cameron Brate TB   Ranked #20   My Ranking #10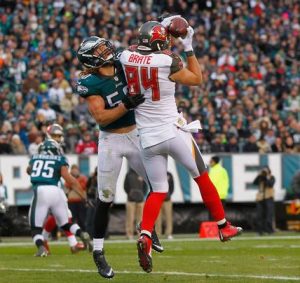 The Giants have allowed a touchdown to an opposing tight end in every game this season. The Buccaneers offensive coordinator is not going to miss this statistic in his game planning. There is not much more to say here. The Bucs are playing the Giants; the Giants cannot stop tight ends.
Tight End Rankings Report - Overvalued
1.Jason Witten DAL Ranked #4 My Ranking #11
The Cowboys offense came alive against the Cardinals and Witten was not part of it. He has had a nice couple of games to start the season but his prime is in the rear view. I like Zeke to have a big game Sunday and Dez as well. Witten will have his weeks, but they will be few and far between going forward. The only caveat here is that if Zeke's suspension happens this season, Witten becomes a big time tight end again.
2. Coby Fleener NO Ranked #10 My Ranking #20
This is a pretty simple one, Willie Snead is coming back. In games where Snead does not play, Fleener climbs up near the elite tight ends. That is coming to an end as Snead's suspension is up. The party is over for Coby Fleener owners.
Keep in mind the rankings generated by the system are a great starting point when setting your lineup. After you consult them, look at matchups and trends to make the final call. Check back daily for more of our exclusive fantasy football content. As always, follow us on Twitter for some extra tidbits: @_knuckleheads and @brendancole16.