The running back ranks are getting a bit murkier with some confusing backfield situations. Teams like the Redskins and the Broncos have talented players but also the potential to torpedo your week. Other teams, like the Bills and Seahawks, have notable injuries that could mean a change in starting running back. We'll delve into these and other issues as we sort out the mess in the week 4 running back rankings.
Injury Concerns:
Andre Ellington ARI - Questionable, Tevin Coleman ATL - Doubtful, LeSean McCoy BUF - Questionable, Arian Foster HOU - Questionable, Knile Davis KC - Questionable, Chris Ivory NYJ - Questionable, DeMarco Murray PHI - Questionable, Marshawn Lynch SEA - Questionable
Elite Tier - Must Starts
LeVeon Bell PIT vs. BAL
Latavius Murray OAK @CHI
Jamaal Charles  KC @CIN
Adrian Peterson MIN @DEN
Elite running backs are few and far between these days. LeVeon Bell should benefit in some ways from having Michael Vick as his quarterback. The Steelers will likely try to lean on the run game for the forseeable future. Latavius Murray has a great matchup against a Bears team that seems to be quitting for the second year in a row. Jamaal Charles is amazing, but Cincy has been putting up numbers and the Chiefs may have to throw to keep up. Adrian Peterson faces a stout defense in Denver, but I'm not worried.
Strong Plays - Reliable, But A Notch Below
5. Eddie Lacy GB @SF
6. Mark Ingram NO vs. DAL
7. Melvin Gordon SD vs. CLE
8. Matt Forte CHI vs. OAK
9. Joseph Randle DAL @NO
10. Carlos Hyde SF vs. GB
Lacy should be spending a large portion of the game killing clock as the Packers smoke San Fran. Ingram should continue to be an integral part of the gameplan for New Orleans versus a suspect Cowboys defense. The Chargers continue to work Gordon more and he could see the century mark in week 4. The Bears may be terrible, but Matt Forte is still productive. He should be useful as always. Joseph Randle had quite a first half versus the Falcons, look for a more balanced but still positive game versus New Orleans. Hyde has had a couple of subpar weeks in a row, but he should find a bit of room to run at home against Green Bay.
Week 4 Waiver Wire- QB and Tight End / Running Back / Wide Receiver
Risk/Reward - Potentially Shaky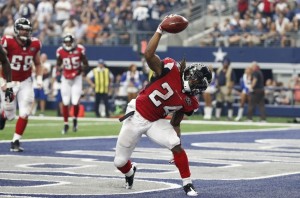 11. Karlos Williams BUF vs. NYG
12. Arian Foster HOU @ATL Questionable
13. Frank Gore IND vs. JAC
14. Justin Forsett BAL @PIT
15. Devonta Freeman ATL vs. HOU
16. Marshawn Lynch SEA vs. DET Questionable
17. Jeremy Hill CIN vs. KC
18. Matt Jones WAS vs. PHI
It looks like McCoy will probably not go this week, making Williams a nice option. If Shady is out for more than one week, Williams may drop off as teams start to game plan for him. Foster may come back this week, if he does he may be a nice start versus a porous Atlanta defense. I see a lot of people high on Gore this week, but don't forget the Colts have been just plain bad so far. Forsett has not looked impressive so far this year, but he has a lot of talent and will break out one of these weeks. Freeman looked great last week, but I'm not completely convinced that he can do it again. Lynch may not play, in which case Rawls would be a decent option again. Hill is going to explode one of these weeks, his struggles so far are hard to explain. Matt Jones should see a return to form in week 4 as long as he can hold on to the ball.
Week 4 Positional Rankings - Quarterback / Wide Receiver / Tight End
Question Marks - RB2 Upside
19. Ryan Mathews PHI @WAS
20. Jonathan Stewart CAR @TB
21. T.J. Yeldon JAC @IND
22. Giovani Bernard CIN vs. KC
23. Danny Woodhead SD vs. CLE
24. Christopher Ivory NYJ @MIA Questionable
25. Lance Dunbar DAL @NO
26. C.J. Anderson DEN vs. MIN
27. Alfred Morris WAS vs. PHI
28. Andre Ellington ARI vs. STL Questionable
29. Isiah Crowell CLE @SD
30. DeMarco Murray PHI @WAS
Ryan Mathews looked very good in his start for the Eagles last week. I think that for at least one more week, Mathews sees the lion's share of the carries. Jonathan Stewart gets to face a mediocre Bucs team, although I'd rather start Cam Newton at RB. Yeldon should find some room against the Colts, though I don't foresee a huge game. Bernard is clearly still a part of the Bengals rushing attack and will continue to steal value from Hill. Ditto for Woodhead in San Diego. Ivory is always a nice play if he is healthy, but we don't know if he is. Lance Dunbar is becoming the de facto number one receiver for the Cowboys, PPR gold. C.J. Anderson is in a bad situation as the Broncos can't run the ball. He is in danger of falling out of flex range soon. Alfred Morris has not been officially been replaced by Jones, but the writing is on the wall. Ellington is working his way back to full strength, but can he stay healthy? Crowell is still the back to use in the Browns backfield, though I think that Duke Johnson Jr. is more talented. Murray is likely not back to full strength and will share carries at best.
Flex Appeal - Usable In A Pinch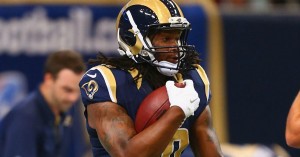 31. Lamar Miller MIA vs. NYJ
32. Ameer Abdullah DET @SEA
33. Ronnie Hillman DEN vs. MIN
34. Doug Martin TB vs. CAR
35. Darren Sproles PHI @WAS
36. Todd Gurley STL @ARI
37. Rashad Jennings NYG @BUF
38. Chris Johnson ARI vs. STL
39. C.J. Spiller NO vs. DAL
40. LeSean McCoy BUF vs. NYG Questionable
Miller is a huge disappointment and he faces the Jets monster run defense, a touchdown or some catches could make him useful. Abdullah and the Lions are in disarray and head into Seattle, no thank you. Hillman was a hot pickup a couple of weeks ago, but like Anderson he has found little room to run. Doug Martin would not be starting for most teams, tread lightly. Sproles could be used a bit more than normal with Murray likely still hobbled. Gurley is working his way to full strength, but Arizona is not the place for running backs to get right. Jennings loses too many touches to Vereen and Williams. Chris Johnson should be losing most of the carries to Ellington, but still has some value. Spiller is not an appealing option. McCoy likely will not suit up, but if he plays he won't see many carries.
Tough Sledding - Let Them Be Someone Else's Problem
41. David Johnson ARI vs. STL
42. Duke Johnson Jr. CLE @SD
43. Bilal Powell NYJ @MIA
44. Shane Vereen NYG @BUF
45. Tre Mason STL @ARI
46. Thomas Rawls SEA vs. DET (If Lynch sits, Rawls is top-15)
47. Alfred Blue HOU @ATL (If Foster sits, Blue is top-25)
48. Darren McFadden DAL @NO
49. Fred Jackson SEA vs. DET
50. Joique Bell DET @SEA
51. Andre Williams NYG @BUF
52. Khiry Robinson NO vs. DAL
53. DeAngelo Williams PIT vs. BAL
54. Charles Sims TB vs. CAR
55. Lorenzo Taliaferro BAL @PIT
Keep an eye on the injuries this week. Players like Lynch, Foster, McCoy and Murray will have a huge effect on the rankings when their statuses clear up. Make sure to scout the waiver wires in case someone like Karlos Williams is somehow still available in your league as well. Good luck to everyone on their week 4 matchups.